Throughout the week of October 24-28, Pakhuis de Zwijger's Designing Cities for All (DCFA) team collaborated with TU Eindhoven and took part in the renowned Dutch Design Week design festival. Through a series of talks at the university campus, DCFA invited speakers to share their thoughts and expertise on designing for all. At the core of each session was the question of how everyone involved in design processes – designers, engineers, policymakers, but also civilians and artists – can carry out their work with inclusivity and accessibility at the forefront of their minds.
Design for diversity
The week kicked off with Designing Products and Practices for Plurality. Joined by social designer Anna Noyons, Philips Design vice president Paul Gardien, design professor Caroline Hummels, designer Femke Coops, Head of Business and Industry at the Swedish Industrial Design Foundation Fredrik Forsman, co-design expert Sietske Klooster and ecosystems design expert Ambra Trotto, the discussion of this session focused on empowering ethics through design and the responsibility of designers to consider this.Students, designers, and educators came together to discuss what it can look like to design with this idea of ​​​​​​plurality in mind.
A key finding was that the structures that make up our educational systems are consolidated, which means that it is incredibly difficult to alter curriculums to become more socially informed. But students and young people are a part of the generation that has to deal with the consequences of all of the current societal shifts and crises, which means they often feel an urgent need to look through this interdisciplinary lens at the design field.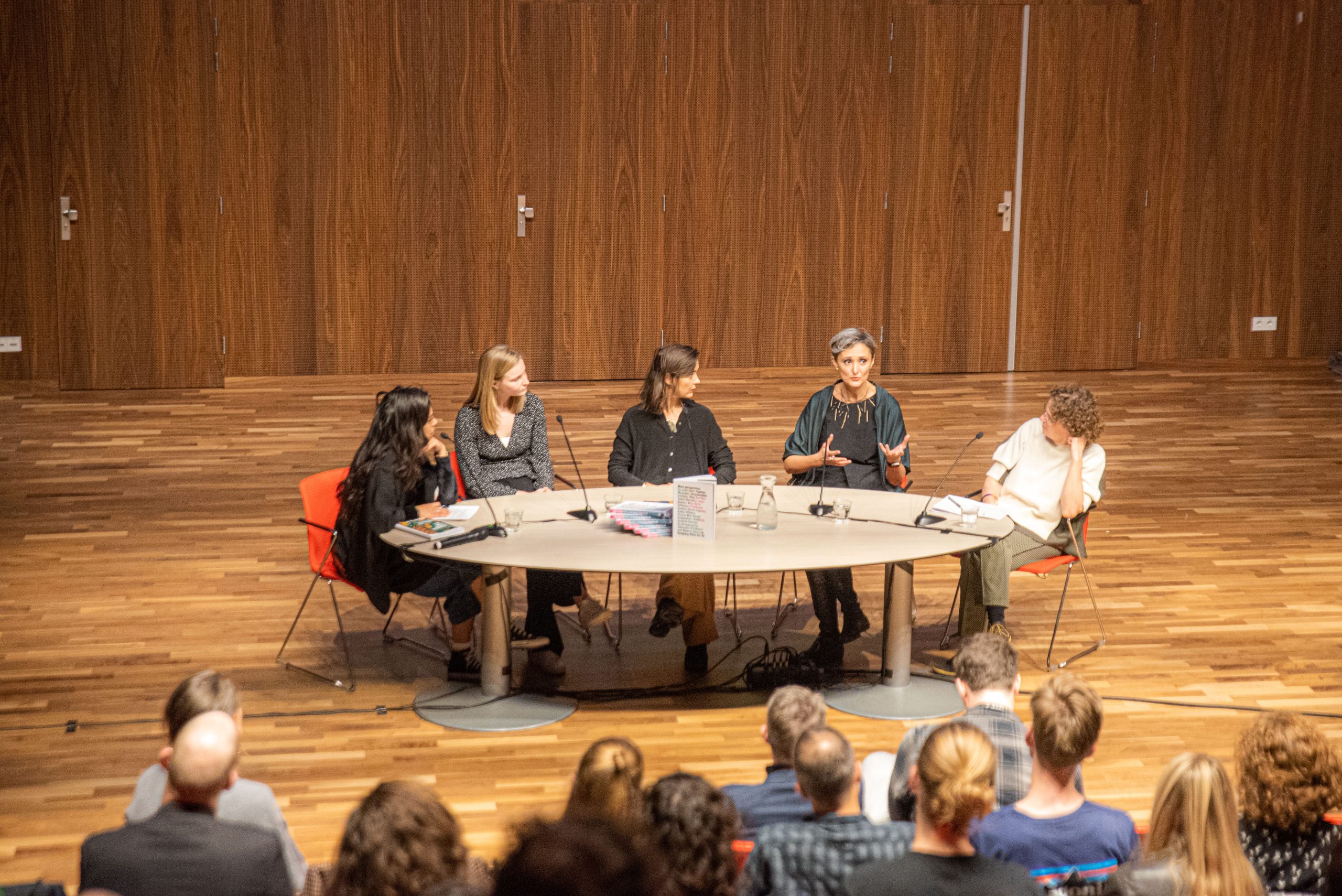 Dymphie Braun, Femke Coops, Anna Noyons, Ambra Trotto and Caroline Hummels during a panel discussion at TU Eindhoven during Dutch Design Week | Picture taken by Jelle de Ru
How do we belong?
The second session, Designing Places of Belonging, explored how not only products and practices should foster plurality – the places we inhabit and interact with should, too. Why is there such a noticeable lack of representation in the built environment field? And how can we change that? Speakers archtivist Nyasha Harper-Michon, Built Environment professor Sergio M. Figueiredo, healing spaces designer Kornelia Dimitrova, child participation researcher Özlemnur Ataol and architectural researcher Igor Sladoljev shared their perspectives and practices when it comes to implementing representation.
One of the examples was Living Lab Vrederust, a neighbourhood in The Hague known for its cultural diversity but lack of socio-economic capital. A so-called 'vulnerable urban area', where livability and safety are often under pressure. With the help of the The Hague housing corporation Haag Wonen and the Creative Industries Fund NL Spatial Design Voucher, Igor Sladoljev and Pınar Balat organised a successful, human-centred co-creation process, in which they explored the wishes, needs, complaints and remarks of Vrederust's residents. Watch the trailer here (Dutch).
Towards the commons
Broadening the scope on Wednesday, DCFA x TU Eindhoven teamed up with Studium Generale and TU Delft around the topic of Designing the Just City. With architects and associate professors Caroline Newton and Roberto Rocco, we explored topics related to socio-spatial justice and its impact on phenomena like inequality and how we engage with the idea of ​​the 'urban commons'. Both Caroline and Roberto recognise that an understanding of socio-spatial justice issues is a critical step in moving towards a future in which our cities are just, sustainable and inclusive for all.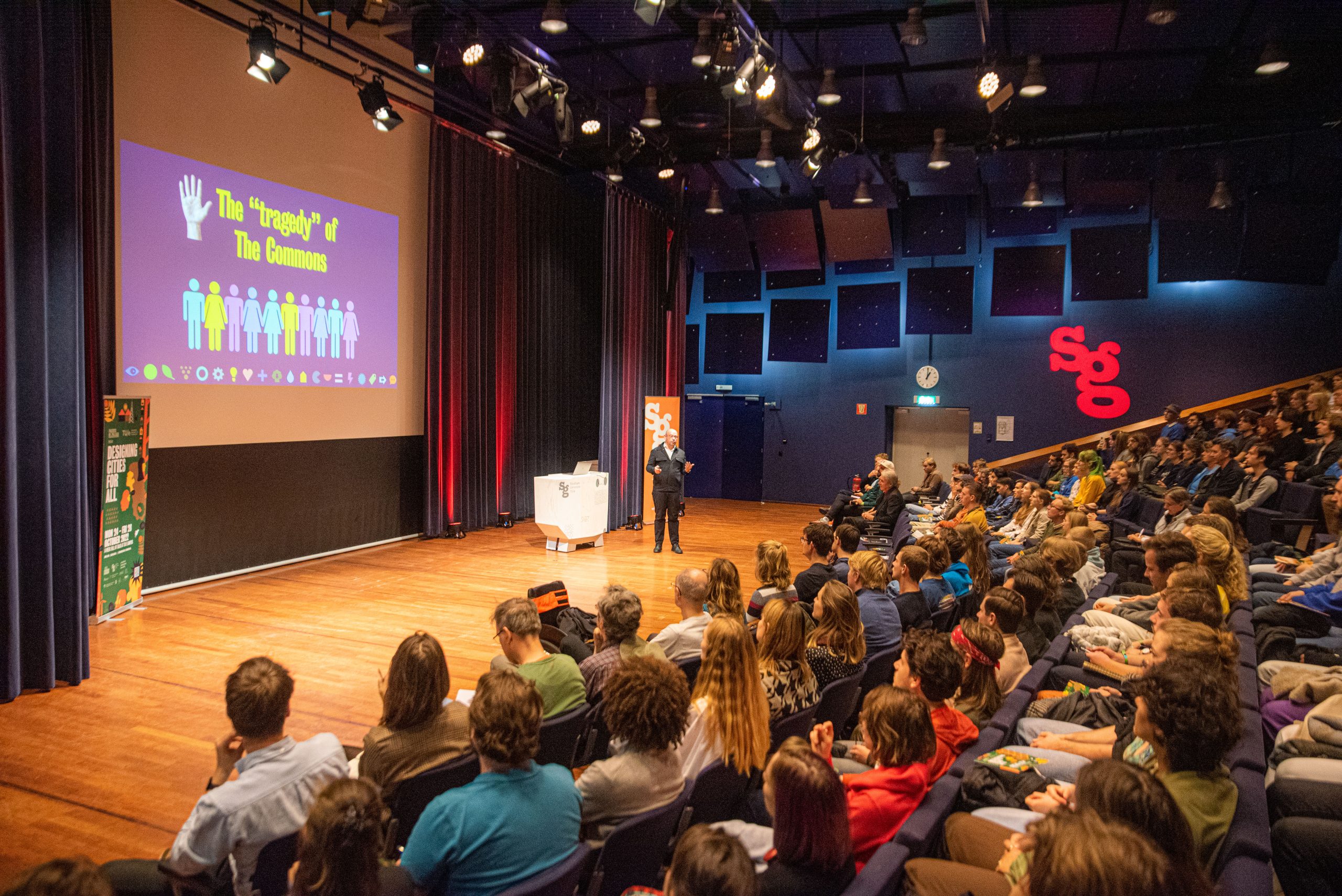 Roberto Rocco presenting at TU Eindhoven during Dutch Design Week | Picture taken by Jelle de Ru
During his presentation, Roberto explained that he believes there is a solution to be found in setting up a new type of commons. To explain the basic economics of commons and how we might change our way of thinking, he re-iterated the Tragedy of the Commons theory. Find a TED talk on it below!
To tech or not to tech
Thursday's session, titled Designing a Just Digital Society, marked a shift to the domain of technology, as techno-futurist Galit Ariel, digital sociologist Lisa Talia Moretti, innovation-focused professional Eve Logunova-Parker, engineer and researcher Astrid Linder and responsible AI lecturer Oumaima Hajri explored how the issues of inequality and exclusion that are evident in the so-called 'real world' can also emerge in the digital world. Technology is an undeniable force in our society, and this talk explored how we can make use of it in a way to promote just, inclusive digital spaces for all.
Galit gave us her fiery plea on deciding not to make money any more – limiting her funds, but also breaking free of capitalist and neoliberal chains of commerce and transactionalism. Galit believes we should use less tech, that public spaces should be rid of cameras, AI and other surveillance interventions. Because although these devices and structures are put there to increase safety, ironically, they only make the people who are subject to them feel less safe. Watch back DCFA's Fellowship with Galit Ariel called Hacking the City here.
Undesign
We rounded off our DDW collaboration with the Friday programme: Creating a Future for All. Building off of the previous sessions from the week, trend expert Zuzanna Skalska, artist and educator Hala Ali, digital transformation designer Mari Fujiwara, TU Eindhoven bachelors' dean Ines Lopez Arteaga, Design Academy head of Social Design Marina Otero Verzier, architect Lyongo Juliana and Dutch Design Week director Miriam van der Lubbe highlighted the necessity of designers collaborating with others beyond the field of design.
Zuzanna Skalska started off the programme with yet another heated presentation, in which she criticised the way we currently think about design: just like 15 or 20 years ago, it still primarily focuses on, as she called it, bullshit stuff. Zuzanna believes this doesn't match the issues of our time: overconsumption, inequality, climate crisis and a myriad of other crises. We need to design less, she pleads, to undesign. Might next year's DDW be called 'Dutch Undesign Week', instead?
—
Bringing the perspectives from other fields into design can diversify the way we think about design, which can then lead us closer to the ideas explored in the sessions of this week: designing for plurality, designing places where people belong, cities and digital societies that are just, and ultimately, creating a future for all.
Want to learn more? Check out the overview page here!
Are you excited for, and interested in the Designing Cities for All programmes? Sign up for the Designing Cities for All newsletter here to stay up-to-date about future programmes and activities!