With increasing globalization and polarisation, how can both products and practices anticipate and support diversity and social sustainability? This first episode of our special week full of talks at the TU Eindhoven Campus we will talk with our guests about how to empower ethics trough design and the responsibility designers have for a future for all. A dialogue session with designers, educators and students!
In 2021, Pakhuis de Zwijger launched the program Designing Cities for All, with the support of the Creative Industry Fund NL. This extensive two-year program focuses on the role of designers in shaping and creating cities for, by and with everyone. Inspired by this programme, Pakhuis de Zwijger and the TU Eindhoven decided to team up. During the renowned Dutch Design Week, they will host a series of events based on the subject of designing for all. The week will be filled to the brim with inspiring talks and creative sessions.
Anna Noyons is a social designer, founder & creative director of (ink) . Anna identifies as a designer, very much from the idea that everything is a design. Design is not just the logo on the door of a company. Our laws are also a design. Our society is a design. In principle, they are all consciously or subconsciously created structures. All this determines the space we live in. At (ink) , they create products, services and systems that bring out the best in people. They are helping organizations (small and large, commercial and governmental) reach their goals and make positive impact by improving their strategies, products and services.(ink) combines design, psychology and a start-up mentality to transform big societal challenges into concrete solutions.
Caroline Hummels is professor Design and Theory for Transformative Qualities at the department of Industrial Design at the Eindhoven University of Technology (TU/e). Her activities concentrate on designing and researching transforming practices. With her team and external stakeholders, including the Provence of North-Brabant, Philips Design, RISE, Rijkswaterstaat, Enpuls and ZET, she leverages emerging technologies through which they jointly change practices to navigate transforming societies towards sustainable futures. Doing so, she focuses on being-in-the-world theories, embodied and aesthetics interactions, imagination, data-enabled design and participatory sensemaking. She researches and questiones transforming practices and societies through theoretical lenses, including design-philosophy correspondence, in which philosophy informs design practice and design practice is used to philosophise, in order to tackle imminent societal challenges.
Paul Gardien is the Vice President of Philips Design, and responsible for, among other things, the Forward-Looking Projects: projects that are not only important now, but also have an impact on the future of the related products. To design their products, they look holistically – so that the chance that the product is a good solution is as high as possible. He is also a member of the Philips Design Board responsible for both the strategic development of the global design function and the Design Research & Innovation program. In his strategy role, he has been instrumental in transforming Philips Design from a service unit into a global function. The Design Research & Innovation program creates new design competences, future visions and new propositions for Philips and has won numerous awards.
Ambra Trotto is the Design and Research Director of d.centre, a European endeavour that catalyses ecosystems into transforming existing practices into sustainable ones, through design, by initiating and curating multidimensional and transdisciplinary synergies based on beauty, diversity and meaning, to realise sustainable futures. She is also senior advisor for the Digital Ethics initiative, setting the foundations of how RISE will take ethics into account, when designing transformation with technology as a material. Ambra Trotto's fascinations lie in how to empower ethics, through design, using digital and non-digital technologies as materials. Strongly believing in the power of Design and Making, Ambra works with makers, builders, craftsmen, dancers and designers to shape societal transformation.
Femke Coops is a design researcher working at the Design Impact Transition (DIT) Platform and pursuing her PhD at Eindhoven University of Technology (TU/e). In her work, she researches the role of design within complex societal challenges. More specifically, she is currently discovering how the disciplines of design and transition can learn from each other and how we can use this in practice. As a design researcher, Femke firmly believes in the power of design to make futures experienceable and tangible.
Fredrik Forsman is Head of Business and Industry and Senior Transition Design Strategist at the Swedish Industrial Design Foundation working with sustainable design strategies, innovation and system development for urban transitions. He is experienced in managing interdisciplinary projects with architects and designers, engineers, producers, end users and clients and thrives in multidisciplinary teams that have the ability to create sustainable solutions with long-term goals.
As a designer Sietske Klooster is specialised in initiating, facilitating and consulting in systemic change and innovation trajectories. Sietske works as an independent designer, hence being able to work in a networked manner, forming multi-expert and multi stakeholder coalitions and alliances that fit with the systemic quest. Her specialisation involves working on long term trajectories, that unfold through series of short in-practice interventions. Embodied cognition, co-experience and multiperspective cocreation are key, together with ongoing reflection on and in action, with all involved parties. This way systemic transformation is developed, through progressive insight and wisdom of the crowd.
Instructions to get to TU Eindhoven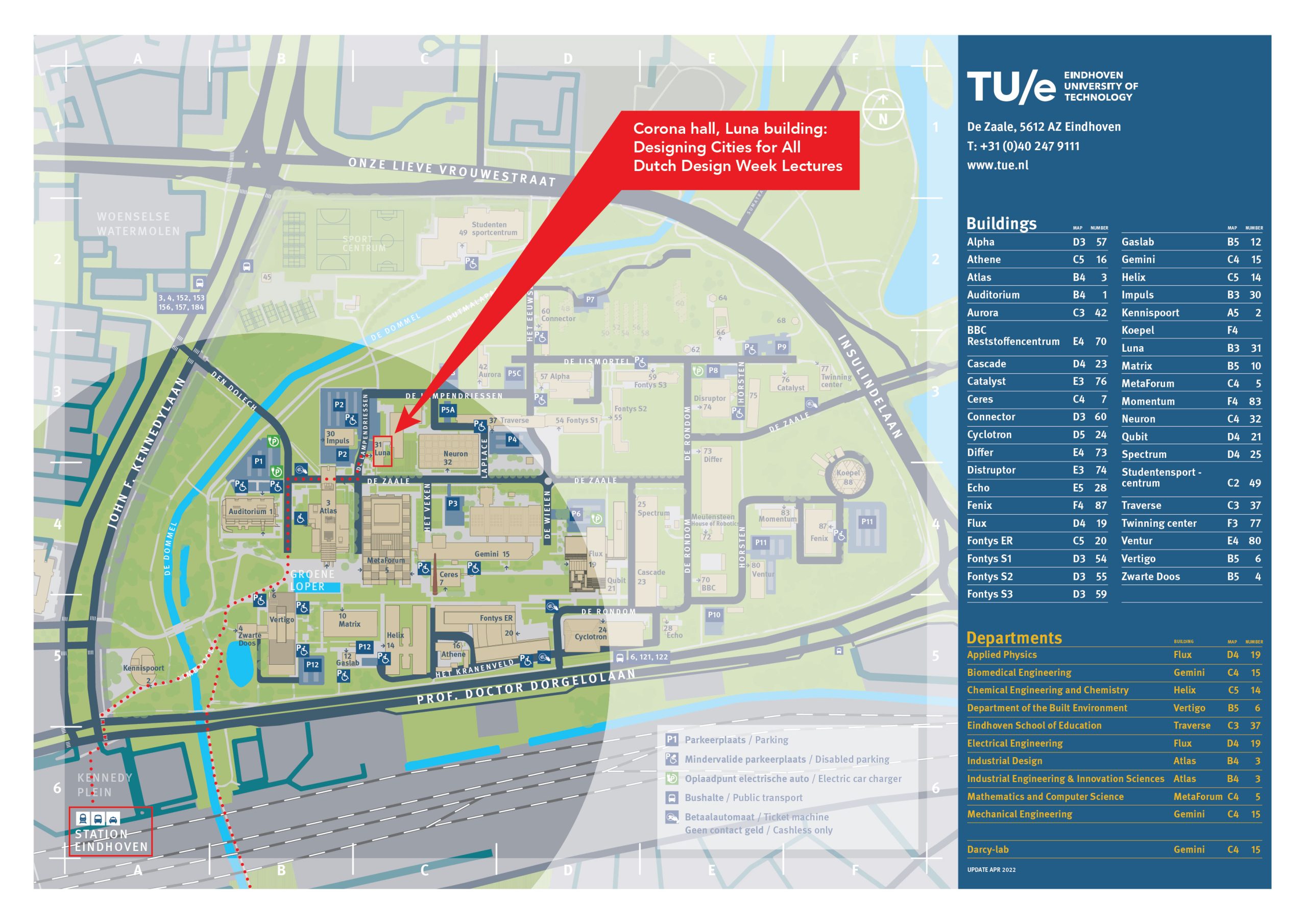 Coronazaal in Luna (De Lampendriessen 31, Eindhoven) is easily accessible by public transport, and bicycle. From the Eindhoven Central Station you can take 10 minutes walk or 5 minutes bike. By car you can check this link for parking guidance on the campus.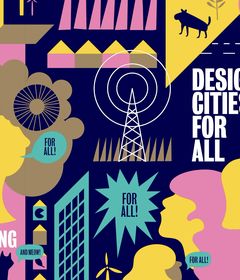 Dossier
Designing Cities for All
The call for a fair, safe and healthy living environment for everyone.