Inequality and exclusion are not limited to our built environment, but also seep into our digital world. In this session, we will explore different forms of in- and exclusion in the digital space. How can we harness the power of technology to create more just societies?
In 2021, Pakhuis de Zwijger launched the programme Designing Cities for All, with the support of the Creative Industry Fund NL. This extensive two-year programme focuses on the role of designers in shaping and creating cities for, by and with everyone. Inspired by this programme, Pakhuis de Zwijger and the TU Eindhoven decided to team up. During the renowned Dutch Design Week, they will host a series of events based on the subject of designing for all. The week will be filled to the brim with inspiring talks and creative sessions.
This event can only be attended physically at our studio. The recordings will be made available later on and can be viewed via
dezwijger.nl/terugkijken
or via our YouTube channel.
Galit Ariel is a TechnoFuturist, author, and creative who explores the wild and imaginative side of immersive technologies. She is the author of Augmenting Alice – The Future of Identity, Experience and Reality, a book that explores the way Augmented Reality's diffusion will shift core paradigms and interactions related to culture, space, embodiment, agency, and ethics. Through her art/tech futures agency Future Memory Inc. she helps organisations and policymakers shape their technological futures and develop immersive experiences, interaction tools, and narratives. Galit is currently conducting her research-by-design Ph.D. at York University, exploring paradigms of immersive presence. In her DCFA Fellowship, Galit will explore the impact of tech-infused urban environments on agency, representation, and self-expression, evoking new ways to hack the city (for good).
Galit Ariel's book 'Augmenting Alice' will be available during DDW for a 20% discount. You can order it through the website of BIS publishing using the code alice20.
Lisa Talia Moretti is an award-winning Digital Sociologist and Tech Ethics Activist. She is an Associate Lecturer in the Institute of Management Studies at Goldsmiths (University of London), a Visiting Lecturer at Cardiff University in the School of Journalism, PR and Cultural Studies, and currently working at the Ministry of Justice in the UK on projects like The Power of Attorney. For more than a decade, Lisa has researched and written about the relationship between technology, information, and society, and has presented keynotes and run workshops to global audiences from a wide range of business backgrounds on the impact, opportunities, and challenges of emerging technologies. Passionate about diversity in all its forms, Lisa believes that the key to unlocking the true value of advanced technologies lies in making them democratic and accessible for the many, not the few. Lisa will present some lessons today about digital identity, how to build an inclusive digital identity service, and what improved data governance looks like.
Astrid Linder is Professor & Research Director of Traffic Safety at VTI, the Swedish National Road and Transport Research Institute, where she is responsible for the development of the research area crash safety and biomechanics. Se is also the coordinator of the VIRTUAL project. Traffic safety, models of the human in crash testing, injury prevention, and crash-related countermeasures are the main fields of her research activity. Astrid has been involved in injury prevention since the late 1990s and is renowned for her work in developing both physical and virtual models of the average female for crash testing. In crash test laboratories, the average male is the norm (!) of the crash test dummy representing the human in the crash. According to Astrid, occupant diversity of both males and females should be addressed when designing and evaluating vehicle safety systems.
Eve Logunova-Parker is a visionary and an innovation-focused professional from Amsterdam, the Netherlands. In 2021, Eve was recognized as one of the AI leaders to follow and one of Top 10 powerhouse female ecosystem builders of Amsterdam's tech domain. For the last 15 years Eve is dedicated to help people and businesses embrace growth and become future-proof by applying emerging technologies, such as AI, Extended Reality (XR), Web 3.0 and Blockchain. In 2020, she founded Evenness, a fast scaling startup that democratizes XR by making technology accessible to everyone, on any device. Last year Evenness scaled to the US and now builds its own virtual space, a so called Metaverse, for social collaboration and learning. Eve's life mission is to make technology more inclusive and accessible for people of all walks of life, with a special emphasis on building inclusive solutions by DeepTech companies themselves. With data becoming every company's best asset, Eve truly believes that AI ethics, Inclusion by design, diverse datasets as well as tech teams are vital in achieving progress toward a more inclusive workplace as well as society at large.
Oumaima Hajri is a researcher and lectures at the Hogeschool Rotterdam and her work focuses on the intersection of AI, ethics and society. For the Designing Responsible AI Media Applications project, she is investigating, in collaboration with media organizations, how AI can be applied in a responsible manner. She also deals with regulations (such as the AI ​​Act), in particular how ethical guidelines can make an important contribution in translating strategic interventions into practice. She is currently part of the first cohort of the Master studies AI Ethics & Society at the University of Cambridge, where she conducts research on the social impact of AI, mainly focusing on decolonization and demystification.
Instructions to get to TU Eindhoven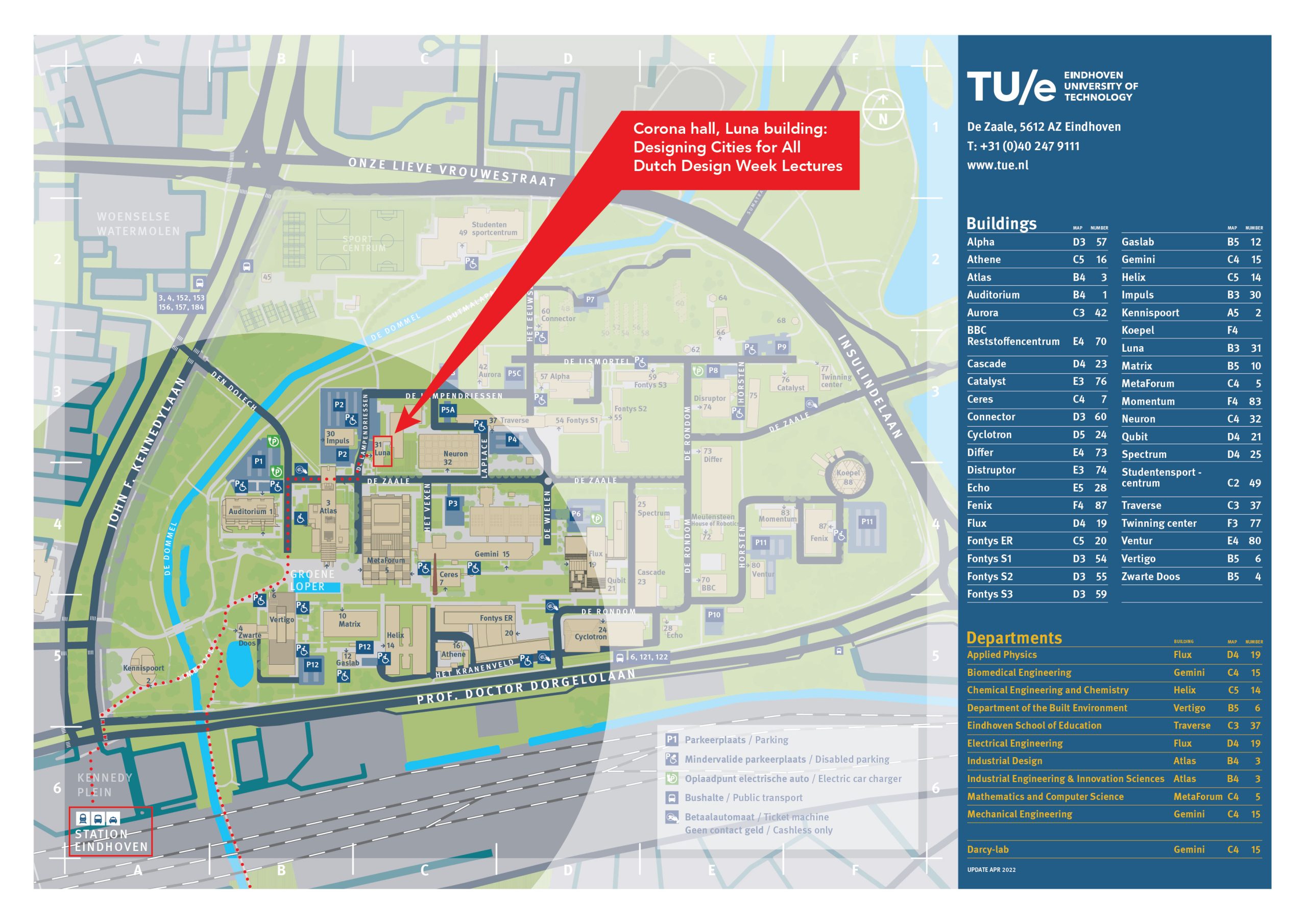 Coronazaal in Luna (De Lampendriessen 31, Eindhoven) is easily accessible by public transport, and bicycle. From the Eindhoven Central Station you can take 10 minutes walk or 5 minutes bike. By car you can check this link for parking guidance in the campus.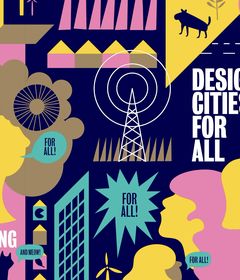 Dossier
Designing Cities for All
The call for a fair, safe and healthy living environment for everyone.