As our society continues to face more challenges, with growing inequalities, injustices and the climate crisis, designers can no longer think in silos. Collaboration and transdisciplinary thinking is essential. In the last session of this week, we will explore why it is important to start imagining a future for all. We will also take a close look at the role of (design) education in our society – together with designers, teachers, professors, and of course, students.
In 2021, Pakhuis de Zwijger launched the programme Designing Cities for All, with the support of the Creative Industry Fund NL. This extensive two-year programme focuses on the role of designers in shaping and creating cities for, by and with everyone. Inspired by this programme, Pakhuis de Zwijger and the TU Eindhoven decided to team up. During the renowned Dutch Design Week, they will host a series of events based on the subject of designing for all. The week will be filled to the brim with inspiring talks and creative sessions.
Lyongo Juliana fell in love with Architecture when he was a student in Architectural Engineering at TU/Eindhoven. During his Architect in Residency at ARCAM Architecture Center Amsterdam, he investigated the degree of diversity and inclusiveness of architecture in Amsterdam. The outcome of his research: 'We need to pay more attention to the end-user, regardless of ethnicity.' Last year Lyongo was the first fellow of the Designing Cities for All project.
Zuzanna Skalska inspires leaders and decision-makers to pivot their perspective on long term vision by implementing cross-fertilization process. She operates as a Strategic Trends advisor for Up-Front Innovation to businesses, public institutions and NGOs. In her way of working she is importing and mixing ideas from different places, markets or connecting people, to help business to step out their comfort zone. Her no-nonsense approach gives companies the insights needed for future business development. Zuzanna Skalska brings trends to life in a clear, distinctive and passionate way!
OluTimehin Kukoyi
is a writer, speaker, and advocate whose work exists at the intersection of social justice, human rights, and inclusion.
She is known for her insightful analyses of issues related to gender equality and justice, inclusive urbanisation, feminism and the rights of women and LGBTQIA+ people, and literature.
As
Othering correspondent
, she wrote for
The Correspondent
about what divides us, in order to discover what units us.
In her TED talk on urban inclusion
Who Belongs in a City?
(2017), she holds our governments and ourselves accountable for keeping our cities safe for everyone.
What does it entail to design
for all
?
Roberto Rocco is an Associate Professor of Spatial Planning and Strategy at the Department of Urbanism (TU Delft). He is a specialist in governance for the built environment. This includes issues of spatial justice and social sustainability as crucial dimensions of sustainability transitions. He also leads the discussion on diversity and inclusion at the faculty he works for and he is one of the people behind A Manifesto for the Just City
Marina Otero Verzier is Head of the Social Design Masters at Design Academy Eindhoven. The program focuses on new social roles for designers attuned to contemporary ecological and social challenges.
Miriam van der Lubbe is a well-known name in the design field. She is an experienced designer with a demonstrated history of working in the design industry. Together with Niels van Eijk, she launched the design studio Van Eijk & Van der Lubbe in 1998. Using design as a strategic tool, Van Eijk & Van der Lubbe creates a better living environment. The products and places they design are distinct and do good. Miriam is a Co-founder of Dutch Design Week and has recently been appointed as Creative Head of DDW22.
Ines Lopez Arteaga is a Full Professor at the Dynamics and Control group of the Mechanical Engineering Department and Chair of Acoustic and Noise Control at Eindhoven University of Technology (TU/e). Besides that she is also Dean Bachelor College at the TU/e.
Mari Fujiwara was a trainee at the Digital Transformation Design at the Digital Society School . She did research on how we might use (speculative) design as a vehicle to speculate about the potential or alternate futures of the Amsterdam University of Applied Sciences. What is the role of knowledge institutions in our future cities?
Hala Ali, obtained her interior design degree from the Faculty of Fine Arts at Damascus university. She knew that visual art has more power than just creating art. In 2017, she was delighted to do her master's degree in Art-Education. This unique study program IMAE gave her the opportunity to become an agent of change and an artist-educator who can transfer the use of art to others. During her master's, she discovered that visual art has a transformative impact on survivors that are traumatized from war or conflicts.
She continues her professional journey as a researcher. Her research and projects focus on the principles of art education, Trauma prevention, community healing, enabling social inclusion, unlocking suppressed voices, and critical pedagogy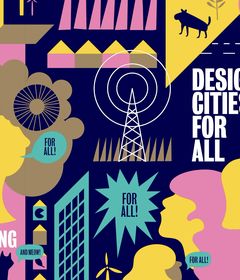 Dossier
Designing Cities for All
The call for a fair, safe and healthy living environment for everyone.