As societies embrace their social and cultural diversity, the lack of representation in the built environment becomes increasingly noticeable. Beyond current conditions, this session will discuss strategies for and approaches to designing cities (and places) for all.
In 2021, Pakhuis de Zwijger launched the program Designing Cities for All, with the support of the Creative Industry Fund NL. This extensive two-year program focuses on the role of designers in shaping and creating cities for, by and with everyone. Inspired by this programme, Pakhuis de Zwijger and the TU Eindhoven decided to team up. During the renowned Dutch Design Week, they will host a series of events based on the subject of designing for all. The week will be filled to the brim with inspiring talks and creative sessions.
As a creative thinker and a purpose-driven architect, business developer, and marketer, Nyasha Harper-Michon (Amsterdam) strives to lead by example, and empower and incite others to act for a resilient, sustainable, and circular future. Nyasha sees herself as an Architect – a term she introduced in her MArch thesis at the Academy of Architecture, and which is used for architecture and design professionals driving economic, environmental, and social reform to foster positive changes in society. Challenging the status quo and the question of 'why' play a central role in the thought process.Having an open-minded and empathetic outlook are essential skills for designers and an essential source of inspiration that continues to enhance creativity. For Nyasha, it has inspired her to work hard to contribute to fostering diversity and inclusion within the architecture and design field.
Sergio M. Figueiredo (Eindhoven) is an Assistant Professor at the Chair of Architectural History and Theory in the Department of the Built Environment at Eindhoven University of Technology (TU/e). His areas of expertise include the history of arts and architecture, as well as architecture museums and exhibitions. His research focuses on architectural institutions and how they operate within architectural culture. His group, the Curatorial Research Collective, brings research and education together to further our understanding of how architecture communicates to a broad audience, commonly using architectural exhibitions both as a research object and as an output platform for a scholarship.
Kornelia Dimitrova (Eindhoven) is an architect and social designer who founded the Studio Kornelia Dimitrova , a design and research practice specializing in future thinking and action for sustainable, inclusive, and healing environments. The focus is on connecting societal needs with concrete perspectives for action, visionary scenarios, and tailor-made participation and spatial strategies. In 2021 she was commissioned by GGzE to publish the Playbook for healing environments, a visual spatial strategy for the transformation of Landgoed De Grote Beek in the next 15 years.
Özlemnur Ataol (Maastricht) is an urban researcher specializing in participatory urban research. Her research analyzes how cities can benefit from participatory approaches for better inclusive and just development & management. Her experience includes collaborations with locals as well as with public and private institutions, such as local governments, NGOs, and foundations within the fields of evidence-driven policymaking and participatory urban planning & management with underrepresented groups, such as children and women. Ataol advocates for children's right to participate in every matter children think matters, including their cities, and believes in inclusive development for urban environments. She holds a Ph.D.in Urbanism and Urban Architecture and is currently a postdoctoral researcher at Maastricht University.
Igor Sladoljev (Amsterdam) is an architect and urbanist working in practice and research. Comfortable in mediums ranging from digital animation and filmmaking to traditional, ie, drawings and text, he crafts narratives and offers fresh perspectives on contemporary spatial practice. As Head of Research at Amsterdam-based office de Architekten Cie. he applies these skills in urban strategy and design as well as content creation, curation, and writing. In his recent independent work, Living Lab Vrederust, he explores the role digital tools (digital twin, game engines) can play in improving spatial justice through participation and co-creation.
Instructions to get to Eindhoven University of Technology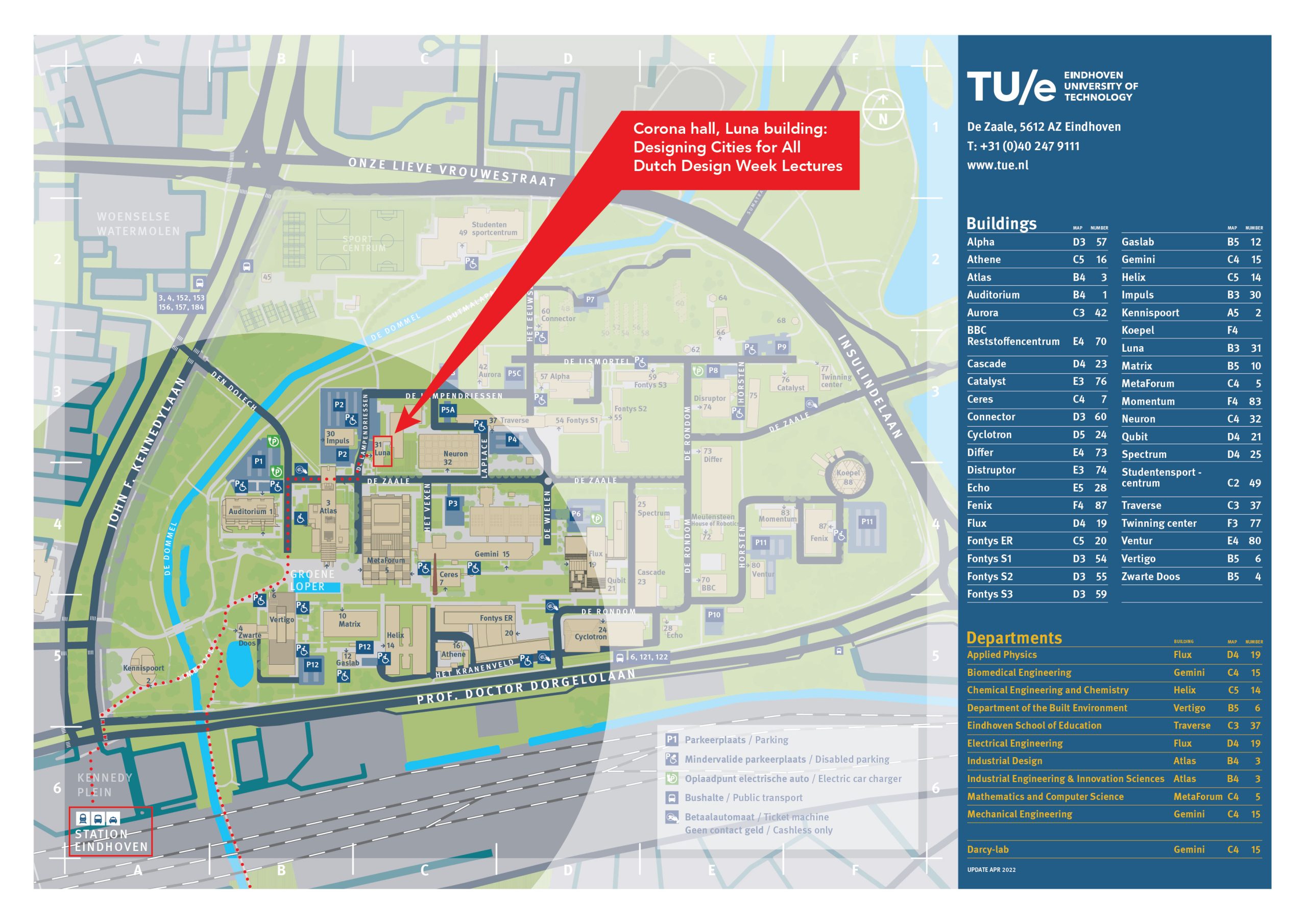 Coronazaal in Luna (De Lampendriessen 31, Eindhoven) is easily accessible by public transport, and bicycle. From the Eindhoven Central Station you can take 10 minutes walk or 5 minutes bike. By car you can check this link for parking guidance in the campus.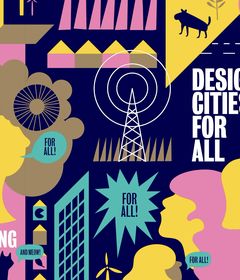 Dossier
Designing Cities for All
The call for a fair, safe and healthy living environment for everyone.