Pakhuis de Zwijger is involved in the European REFLOW project on closing material loops in cities, with a pilot on textiles in Amsterdam. For those who want to know more: the Amsterdam REFLOW pilot now presents the first 7 chapters of a booklet that describes all the steps needed for a circular textile flow, including the current facts & figures and the steps we all need to take to get there.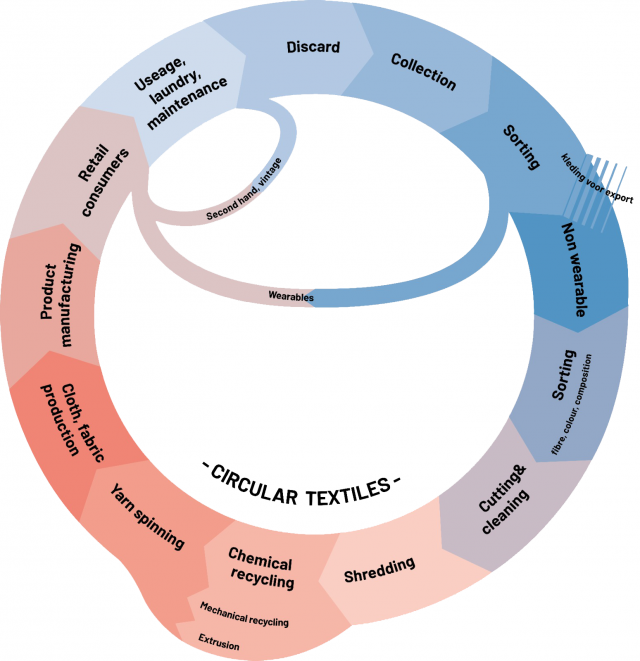 From discarding old clothes and textiles, through collecting, sorting, recycling, designing and manufacturing products ready for recycling to re-using, repairing and repurposing old textile; every chapter of the booklet corresponds to one segment in the wheel presented in the figure above.
The booklet shares the background of each step and the do's and don't for all those involved.
Waag Society – who is leading the Amsterdam pilot's efforts, together with the Amsterdam municipality, BMA Techne and Pakhuis de Zwijger – publishes one chapter of the booklet each week. The first 7 chapters are now online, with a total of 16 chapters planned.
List of content (updated weekly)
Chapter 1: Discarding Textiles
Chapter 2: Collecting Discarded Textiles
Chapter 3: Sorting Textile Waste
Chapter 4: Sorting for Recycling
Chapter 5: Cutting and Cleaning
Chapter 6: Shredding for Recycling
Chapter 7: Chemical Recycling
Chapter 8: Mechanical Recycling
Chapter 9: Recycling by Extrusion
If you want to contact the Amsterdam Reflow pilot, please send us an email at [email protected]