Needless to say that streets are part of public spaces. They can define the cultural, social, economic, and political functions of cities. With that being said, streets are also political spaces! The politics of streets can vary from creating equal space, and reclaiming city streets from cars to protests taking place in them. In the case of inequality and injustice, streets can become both places of oppression and protest. We have seen many examples from all around the world. How can streets facilitate political and social activation? Together with researchers, urbanists, and citizen activists, we aim to discuss this.
You can attend this event physically or online. When making your reservation, choose between a physical spot or an online reservation.
About Designing Cities for All: RE generation
Over the past two years of Designing Cities for All (DCFA) we've learned about exclusion by design and the (re)-design of inclusive cities. Along the journey, a certain question kept popping up: what exactly does 'for all' entail? After focusing mostly on the 'who' over the past two years, DCFA is rebooting as Designing Cities for All: RE-generation . This time around, the series is also incorporating the 'what' by looking through the fresh lens of regenerative design . This emerging field might very well be a promising answer to the challenges of our time, as it focuses on the (re)-design of products, services, and ecological recovery that keep the systems healthy.
About the speakers
Meredith Glaser serves as the Executive Director of the Urban Cycling Institute , a research institute in Amsterdam. She brings an interdisciplinary perspective to urban mobility, with her background in public health, urban planning, and environmental science. She has (co-)produced many events and programs on the cycling city and her focus lies on policy innovation, knowledge transfer, and sustainable transport goals.
Kenneth Aidoo is an artist who explores the positioning of black people in society through film, paintings, drawings, and video installations. He graduated from the Gerrit Rietveld Academy in 2019 with a portrait series, exploring daily life experiences he had in the Netherlands. He was also one of the participating artists in the group project A Funeral for Street Culture (2021), curated by Rita Ouédraogo and Metro54 at Framer Framed, Amsterdam.
Femke Kaulingfreks is a political philosopher, anthropologist, researcher, and educator. She is the author of the book Street Politics . Since 2018, she has been a lecturer at the Inholland University of Applied Science for Youth and Society where she deals with complex and current social issues around growing up and parenting. At the University of Amsterdam, Femke is part of the Wibaut Chair and does research into the development of the city with a special focus on the relationship between the individual and the collective.
Dre Urhahn is a producer of social art projects, public speaker, and founder of the United Painting Foundation. His mission is to create inspiring works of art in collaboration with local communities. Dre has been working on large-scale social art projects in places ranging from favelas in Brazil and communities in North Philadelphia to slum areas in Haiti and refugee camps around Europe. United Painting is a growing movement of creative activism, embracing anyone who likes to join.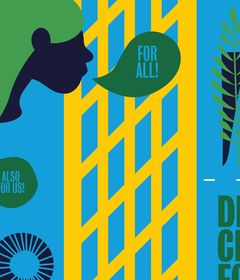 Dossier
Designing Cities For All: RE-generation
The call for social and ecological recovery for everyone and everything.