We expect cities to be formally organized and regulated, especially when it comes to housing. Urban informality, however, is a phenomenon we are seeing in cities around the world. By definition, informal settlements are areas where houses have been constructed on lands without legal claim or occupation. High prices, discrimination, etc. push people to these informal settlements, as they are left with little to no other options. These settlements are known to be unplanned due to not following the planning and building regulations. Not following these regulations can lead these neighborhoods to struggle with different issues, such as lacking basic services and infrastructures to name a few.In this special of Designing Cities For All, we aim not only to understand the city government 's attitudes toward these informal settlements but also to explore what actions need to be taken to regulate and upgrade them. We will reflect on these topics with designers, urban planners, researchers, and practitioners.
This program will be subtitled live! To follow with live subtitles, click this link .
You can attend this event physically or online. When making your reservation, choose between a physical spot or an online reservation.
Roberto Rocco (Delft)is an Associate Professor of Spatial Planning and Strategy at the Department of Urbanism (TU Delft). He is a specialist in governance for the built environment. This includes issues of spatial justice and social sustainability as crucial dimensions of sustainability transitions. He co-edited The Routledge Handbook on Informal Urbanization which investigates the mutual relationship between the struggle for political inclusion and processes of informal urbanization in different socio-political and cultural settings. He also leads the discussion on diversity and inclusion at the faculty he works for and he is one of the people behind A Manifesto for the Just City .
As an architect and a planner, Ana Rosa Chagas Cavalcanti (Sao Paulo) devotes much of her professional and personal life to improving the housing condition of underprivileged people living in slums. She has experience as both a researcher and practicing architect in the field of informal settlement studies, with a focus on redevelopment housing projects. Her current role is as a post-doctoral researcher and professor collaborator at the University of São Paulo (Program of Attraction and Retention of Talents/PART July 2021- July 2022) in Brazil, on the topic of the common good(s) with respect to urban studies. Ana Rosa is the author of the book Housing Shaped by Labour: The Architecture of Scarcity in Informal Settlements, published by Jovis Press, and she has given talks at several universities such as Harvard GSD.
With teaching, research, and consultancy expertise in urban planning and management, Simbarashe Chereni considers himself a mid-career academic with interests in urban governance; urban informality and housing policy; sustainability transitions; and urban resilience. He uses Geo-information systems and other social science methods to understand and deal with these urban management challenges. He is also optimistic about innovative governance tools such as Land sharing, Land value capture, Densification, and Co-production. Simbarashe earned his Ph.D. after completion of his thesis titled 'Understanding flood risk perceptions and motivations for damage mitigation' using a case of Kampala, Uganda.At the beginning of December, he will assume the role of Postdoctoral researcher (Redesigning deltas) in the Urbanism Department of TU Delft.
Hubert Klumpner is an architect and co-founder of Urban-Think Tank. As Design Principal and CEO of urbanthinktank_next, he is considered one of the originators of the turn to socio-environmental design. He is also a full Professor at the Swiss Institute of Technology in Zurich, ETHZ, where he holds the Chair of Architecture and Urban Design, directs the Center for Social Housing (Wohnforum), and the Network City Landscape (NSL), serving as the UN-Habitat University Hub for informal housing. In partnership with ETHZ, SECO, and IDB, Klumpner is currently constructing urban prototype projects in the framework of the Colombia Urban Transformation Project, Fabrica de Cultura, in Barranquilla / CO, Model School for 2000 children in Cartagena / CO, and developing the General Urban Plan for the of the City of Sarajevo in BiH. Torre David : Informal Vertical Communities is a book co-authored by Klumpner in which he and Alfredo Brillembourg highlight their research on what could be considered the world's tallest vertical slum in Caracas, Venezuela.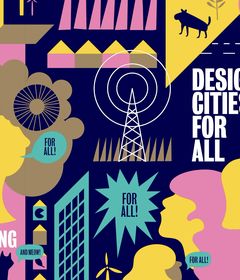 Dossier
Designing Cities for All
The call for a fair, safe and healthy living environment for everyone.