In earlier episodes of Designing Cities for All, we have seen that design is everywhere, and everything around us is designed. We have also seen that there are flaws in these designs because what we tend to do in this world is design for the middle and forget about the margins. Wouldn't we create and build stronger structures for everyone, when we design for the people who are actually living with the failures of our designed products, spaces, and systems?
You can attend this event physically or online. When making your reservation, choose between a physical spot or an online reservation.
Eve Aronson (Washington) and Laura Adèr (Rotterdam) launched Fairspace in 2017 out of a shared passion for intersectional and co-creative approaches to building inclusive public space in The Netherlands. Eve yields from many years in the gender, development, and social design sectors; Laura brings expertise from the humanitarian and development sector. They both have an extensive track record in comprehensive, education- and human-centred approaches to building more inclusive streets and workplaces with clients ranging from global companies to educational institutions to community organisations and international non-profits.
Last year, Fairspace partnered with L'Oreal Paris and launched Stand Up Netherlands, part of a first-of-its-kind global campaign to create awareness about street harassment and to share practical strategies for bystander intervention.
How do we design spaces of racial, social, and cultural justice? Design Justice advocate Bryan Lee (New Orleans) is an architect, educator, and writer. He is the founder and Design Principal of Colloqate Design, a nonprofit multidisciplinary design practice dedicated to expanding community access to design and creating spaces of racial, social, and cultural equity. Brian is also a Design Critic at Harvard GSD and has led two award-winning youth community design programs. He is a founding co-organiser of the Design As Protest Collective and Dark Matter University. He was most recently honored as one of the 2018 Fast Company Most Creative People in Business, a USC Annenberg MacArthur Civic Media Fellow, and the youngest design firm to win the Architectural League's Emerging Voices award in 2019.
Natalie Dixon (Amsterdam) is the founder of affect lab, a women-led creative studio and research practice, and loves exploring questions of gender, race, and belonging through the lens of technology. Natalie believes in community-based co-creation. At Affect lab, she collaborates with artists, neighbours, gender activists, urbanists, architects, designers, writers and theorists to tell stories about techno-culture. Right now, she is working on the project Good Neighbours, a documentary and public art project about intimate surveillance and the micro-politics of neighbourhoods, in collaboration with artist Klasien van de Zandschulp.
In October 2020, Good Neighbours Live premiered at York Mediale as a live performance and mobile app that played out on the streets of York in the UK. Creative producer Yinka Danmole (London) – whose work is situated between the arts, architecture, and technology – was part of the project team. Visitors joined a weirdly familiar neighbourhood watch group on WhatsApp and were led on a surreal and slightly surprising journey by blending live actors with fictional storylines through WhatsApp messages.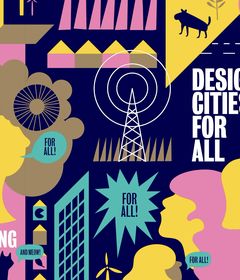 Dossier
Designing Cities for All
The call for a fair, safe and healthy living environment for everyone.