Countries are 'nowhere close to the level of action needed to fight global warming', according to a recent UN climate action report. At the same time, climate change also proves to be a threat to our democracies, as it deepens inequality, fuels civil unrest and leads to political deadlock. If it is so difficult for representative democracies to reach agreement on insufficient climate measures, and if even these mild measures lead to this much civil unrest, what will happen if measures need to get more rigid? Climate change won't wait for us, so how do we break through this political deadlock and gain more public support for effective climate policies? Can Citizens' Assemblies offer a model to help reduce the level of polarization around climate change. And if so, how?
Pakhuis de Zwijger broadcasts daily online programs via
LIVECAST
. You can also join the conversation via the Zoom url in your reservation mail.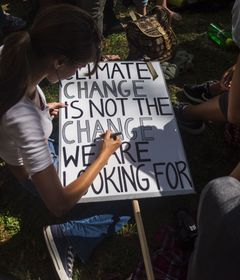 Dossier
Climate Citizens' Assemblies
A European exploration on how citizens can help us strengthen democracy and fight climate change
About the project
This is the fourth LIVECAST of a series connected to the international research project "Climate Citizens' Assemblies: learning with, from and for Europe". From April – September 2021, Pakhuis de Zwijger, Bureau Burgerberaad, Extinction Rebellion NL and De Transitiemotor join forces to investigate how Citizens' Assemblies can help us strengthen democracy and fight climate change.
Through the development of an online knowledge platform, and by bringing different keyplayers from Europe together in LIVECAST sessions, the project aims to exchange knowledge and best practices, enhance collective learning and develop guidelines for impactful and just implementation of Climate Citizens' Assemblies in Europe. With as overall goal: to contribute to effective, sustainable and just climate policies and a 21st century proof democracy in Europe.