Mainstream media's reporting on migration does not do justice to the lived reality of migrants in Europe. Migrant communities and individuals across Europe, therefore, have started their own media-initiatives, reclaiming their rights to self-representation -rather than being sidelined as subjects of the public debate. In the past year, the project Re:Framing migrants in European media has brought together a group of mediamakers with a migrant background. Together they have developed tools and new forms of media that challenge inequalities in the media sphere.
During this final event, a broader group of (inter)national journalists, mediamakers and media-activists come together for the launch of the project's magazine "SHIFT! Actions for Migrating Perspectives". Join our community assembly, share experiences and initiatives in interactive breakout sessions, dance in a TikTok challenge, take part in 'the anti-racist meme battle' and learn from the hands-on experiences of the first decolonised newsroom.
About the magazine
The magazine "SHIFT! Actions for Migrating Perspectives" is acknowledging the alarming reality of journalists with migrant backgrounds in Europe. Many have experienced discrimination and exclusion within mainstream media, causing the need for independent initiatives and platforms. These initiatives provide best practices for creating inclusive newsrooms representing racialised and marginalised communities. These best practices include selecting topics that encompass the diversity of migrant communities and encouraging the inclusive representation of diverse communities in reporting. The people and initiatives highlighted in the magazine have distinguished themselves through their independent reporting on asylum, immigration, and media issues.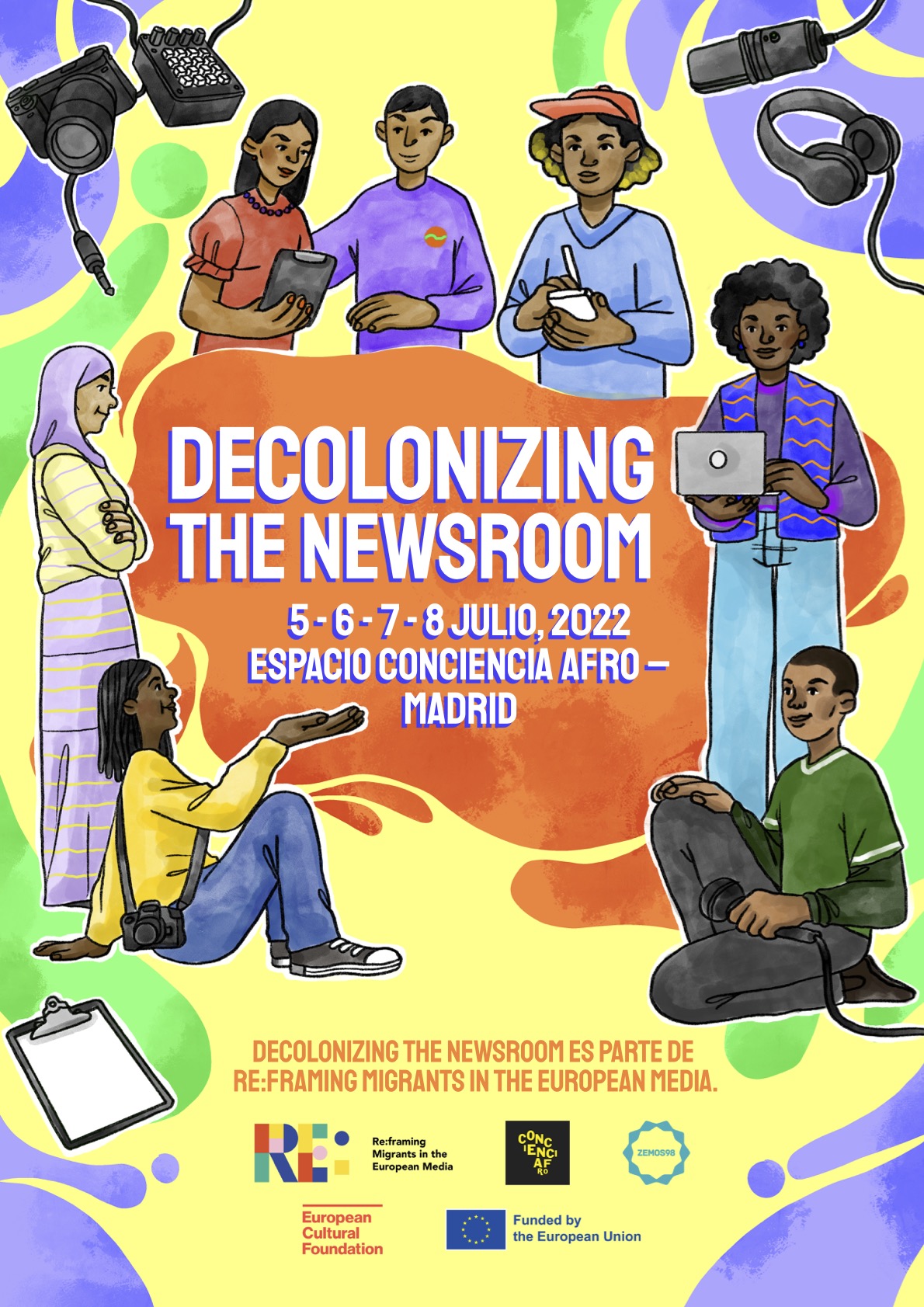 The magazine was made in three weeks in Amsterdam, in a pop-up editorial event 'Decolonised newsroom' organised by Here to Support and Unbias the News, which enabled the content team to work in person. The editorial team consisted of members of communities in Europe, reflecting on their own approaches. It builds upon the network of Decolonising the Newsroom, a community event coordinated by ZEMOS98 and Conciencia Afro in Madrid in July 2022, and the research by Eticas.
The Magazine is financially supported by Fonds Democratie en Media, European Cultural Foundation and the European Commission and will be distributed for free at the event on May 12.
About the project
Re:framing Migrants in the European Media is a pilot project aiming to change current media narratives by assuring appropriate media representation of migrant and refugee communities across Europe. Through an inclusive and empowering manner, providing for a space of self-representation for migrants and refugees.
The visibility of migrants and refugees in the public sphere is almost always peripheral. Migrants and refugees are devoid of agency and are side-lined into playing a symbolic role in media narratives around them in Europe. Several "migrant crises" have revealed the importance of an inclusive European media space in which newcomers can engage as participants, rather than subjects of public debate. But refugees and other migrants who came to Europe in the past decade frequently ended up being portrayed as one-dimensional characters, as "others" on a simplistic binary of perpetrators and victims. Their own stories, perspectives and opinions, as multi-faceted person's dreams, fears, friends and family are rarely shared.
The project Re:framing Migrants in the European Media is a pilot project, co-funded by the European Union. The European Cultural Foundation is leading a consortium of five European organisations under this programme and this project supports the development of a European public sphere, inclusive to the perspectives of refugees and migrants. It was launched in February 2022.