Mainstream media's reporting on migration does not do justice to the lived reality of migrants in Europe. Migrant communities and individuals across Europe, therefore, have started their own media-initiatives, reclaiming their rights to self-representation -rather than being sidelined as subjects of the public debate. In the past year, the project Re:Framing migrants in European media has brought together a group of mediamakers with a migrant background. Together they have developed tools and new forms of media that challenge inequalities in the media sphere. During this final event, a broader group of (inter)national journalists, mediamakers and media-activists come together for the launch of the project's magazine "SHIFT! Actions for Migrating Perspectives". Join our community assembly, share experiences and initiatives in interactive breakout sessions, take part in 'the anti-racist meme battle' and learn from the hands-on experiences of the first decolonised newsroom.
19:00-19:30 | Hang-out mediaroom
Explore the hang-out media room with an exposition of the work of artist Barly Tshibanda (his work is also for sale!), start reading the magazine SHIFT! and discover the various videos with examples of migrant-led media initiatives.
19:30-20:30 | Plenary opening
Opening of the evening in the 'Grote Zaal', with the presentation of the project Re:framing Migrants in the European Media, the launch of the magazine SHIFT, talks with various (inter)national guests on the practice of decolonizing newsrooms and inspiring examples of migrant-led media initiatives.
20:45-21:45 | Breakout sessions
Join one of the four breakout sessions of your choice. See below for more information. You can only choose one, so choose wisely!
22:00-22:30 | Anti-racist meme battle
After the breakout sessions we will come back to the 'Grote Zaal' for a very special ending of the evening: an anti-racist meme battle! Be there, or be square!
22:30 | Drinks at the café
More information on the breakout sessions
Please note! These sessions take place at the same time. When making your reservation for this evening, please choose only one!
20:45-21:45 | Challenging narratives with solidarity and collaboration across sectors
In this session we will host a conversation of crossing and intersecting methodologies between journalists, activists and artists; three different sectors, often working on similar topics, stories and goals. What are the challenges and benefits they face in collaborating? Bringing together their methods, their platforms, their skills, can amplify and stimulate the impact of each work. To spark inspiration, we also showcase two examples of collaborations fitting in the frame of the power of using multi-media methodologies to amplify the causes and voices of people with a migration background in Europe.
For more info on the event and speakers, click here.
20:45-21:45 | Decolonising funding structures
In the magazine SHIFT: Actions for migrating perspectives and during this assembly, many inspiring examples of practices within migrant-led (new) media are featured and highlighted. They create their own safe space and platforms for themselves and their communities' and stories paving the way for a new media space in Europe together with many other media makers.
But all that glitters is not gold. The communities have to become creative to overcome financial constraints, build sustainable models for their work and stay healthy in this, sometimes draining process of reframing and challenging racist narratives. Funding structures are mostly aimed at more established institutes. What are those creative solutions and practices that a new generation of media makers in experimenting with and implementing in their day-to-day work? How can foundations offer more sustainability to this new media platforms?
For more info on the event and speakers, click here.
20:45-21:45 | Challenging the narrative: Challenging language and Image in Europe
There is no challenging and reframing the narrative of migration, without challenging and reframing our language and image use. With the many languages spoken in Europe, local language cultures and behavior differ enormously. What is perceived as 'woke' in one language might be problematic in another language culture. Language is how we describe the world around us, how we get grip and shape narratives, it is crucial for the human understanding of concept and thus also one of the most powerful tools for change.
But words are not alone, image shapes our imagination and understanding as much. What happens when we are faced with new images showing people in different activities, circumstances, jobs or clothes than we would imagine them from our presumptions or given descriptions. This will be a circle of deep inspiration on the practices of people who are paving the way in changing and challenging the language and image use in Europe's media space. We are not looking into alternatives, we are looking into the future of decolonial and fair representation of migrants in European media.
For more info on the event and speakers, click here.
20:45-21:45 | Taking the media into your own hands
Every day mainstream media covering the places of arrival for refugees at the borders of Europe. But this framing is mainly made by journalists, who come in as reporters and leave again. Self-representation is one of the most important instruments in the process of reframing the narratives around migration in European media. But with the limitation of access to mainstream media, people with a migrant background have found their own tools, instruments and platforms to both practice direct reporting as well as learn from each other how take the media into their own hands.
During this session we will dive into three examples of refugees and migrants becoming storytellers, and creating their own platforms and media outlets. They were courageous enough to take the audiences along in their journey full of violence, racism and bureaucratic opposition.
For more info on the event and speakers, click here.
About the magazine
The magazine "SHIFT! Actions for Migrating Perspectives" is acknowledging the alarming reality of journalists with migrant backgrounds in Europe. Many have experienced discrimination and exclusion within mainstream media, causing the need for independent initiatives and platforms. These initiatives provide best practices for creating inclusive newsrooms representing racialised and marginalised communities. These best practices include selecting topics that encompass the diversity of migrant communities and encouraging the inclusive representation of diverse communities in reporting. The people and initiatives highlighted in the magazine have distinguished themselves through their independent reporting on asylum, immigration, and media issues.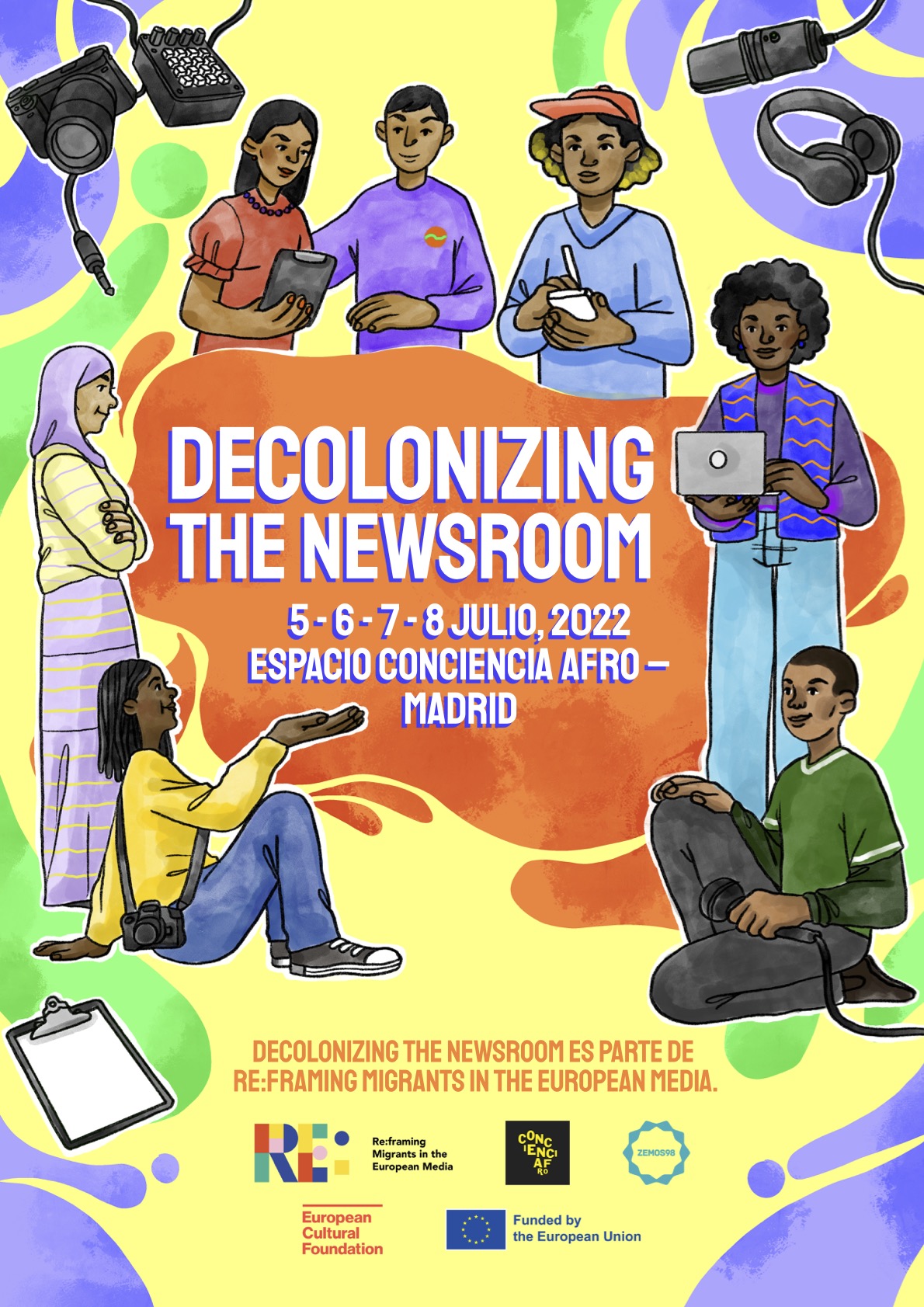 The magazine was made in three weeks in Amsterdam, in a pop-up editorial event 'Decolonised newsroom' organised by Here to Support and Unbias the News, which enabled the content team to work in person. The editorial team consisted of members of communities in Europe, reflecting on their own approaches. It builds upon the network of Decolonising the Newsroom, a community event coordinated by ZEMOS98 and Conciencia Afro in Madrid in July 2022, and the research by Eticas.
The Magazine is financially supported by Fonds Democratie en Media, European Cultural Foundation and the European Commission and will be distributed for free at the event on May 12.
About the project
Re:framing Migrants in the European Media is a pilot project aiming to change current media narratives by assuring appropriate media representation of migrant and refugee communities across Europe. Through an inclusive and empowering manner, providing for a space of self-representation for migrants and refugees.
The visibility of migrants and refugees in the public sphere is almost always peripheral. Migrants and refugees are devoid of agency and are side-lined into playing a symbolic role in media narratives around them in Europe. Several "migrant crises" have revealed the importance of an inclusive European media space in which newcomers can engage as participants, rather than subjects of public debate. But refugees and other migrants who came to Europe in the past decade frequently ended up being portrayed as one-dimensional characters, as "others" on a simplistic binary of perpetrators and victims. Their own stories, perspectives and opinions, as multi-faceted person's dreams, fears, friends and family are rarely shared.
The project Re:framing Migrants in the European Media is a pilot project, co-funded by the European Union. The European Cultural Foundation is leading a consortium of five European organisations under this programme and this project supports the development of a European public sphere, inclusive to the perspectives of refugees and migrants. It was launched in February 2022.
______
© beeld Saied Al-Karim: B. Carrot.