In this program, we take a look at the relationship between Hip Hop lyrics and anti-racism. Dj, singer and producer Bamba Al Mansour talks to Daddy-O, a US-based Hip Hop artist from the legendary rap group Stetsasonic – to analyze this concept through the lyrics of his hip hop track Blood Got Shot. What is the history of anti-racism in Hip Hop culture, how are the two connected? How did these particular lyrics come to be, and what was the creator's motivation?
This event can only be attended physically at our studio. The recordings will be made available later on and can be viewed via
dezwijger.nl/terugkijken
or via our YouTube channel.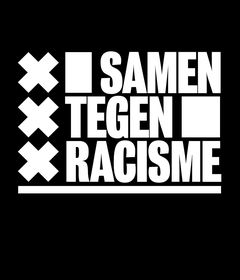 Dossier
Samen Tegen Racisme
Een Amsterdamse coalitie die zich inzet tegen racisme en discriminatie
About the speakers
Bamba Al Mansour is an artist, producer and activist who utilizes music as a means to broadcast messages that empower, inspire and motivate.
Daddy-O is the founding member of the legendary hip hop group Stetsasonic. He is known for being the one of the most vocal activists in Hip Hop, along with Krs 1 and Chuck D of Public Enemy.