The Roots Guide interactive guidebook takes an inclusive, out-of-the-box approach to address anti-immigration sentiment in the Netherlands. Through written, visual, audio and experiential means, its guides with diverse migration backgrounds bring Roots Guide users on inner and outer journeys that enable them to revisit what they think they know about life in the Netherlands, starting on their very own doorsteps.

During this special of Designing Cities for All, we will uncover the story behind the creation of Roots Guide, and get to know the guides and approach: reflect on your own experiences and perceptions, connect deeply with the lives of others, explore the world with a fresh view, and share what you've gained along the way.
This programme will be subtitled live! To follow with live subtitles, click this link.
You can attend this event physically or online. When making your reservation, choose between a physical spot or an online reservation.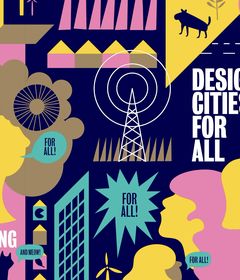 Dossier
Designing Cities for All
The call for a fair, safe and healthy living environment for everyone.
Ingi Mehus (Haarlem) was given her name at four months old after being adopted from Korea to Norway. Her first migration journey as a baby resulted into a lifelong balancing act between identities, triggering innate curiosity of everything that was different. After falling in love with personal storytelling as an 11-year-old, "story listening" became her tool to discover and learn about the world around her. Ingi earned a bachelor's degree in communication and a master's degree in politics of global development in Australia. She later worked for international migration across four continents with local NGOs, the UNHCR, and the International Migration Organization. Dissatisfaction with the current personal and global narratives about migration encouraged Ingi to found Pocket Stories, an organisation that connects people with unheard voices through storytelling to celebrate diversity and broaden our understanding of migration. Listening to and recording hundreds of personal stories from around the world has helped Ingi better understand how we are all interconnected because of human migration.
Meghann Ormond (Wageningen) is Associate Professor in Cultural Geography at Wageningen University & Research. Her research, teaching and societal engagement reflect her deep concern with how differently mobile people's roots, rights and vulnerabilities are recognised and included in the places they visit and in which they live. Her main research interests focus on the intersections between tourism, migration and heritage; transnational health and social care; and transformative and participatory learning. Meghann curated Roots Guide: Nederland . She is heavily involved in the expansion of the Migrantour network throughout Europe and, together with De Voorkamer and community partners in Utrecht's Lombok neigbourhood, currently co-creating the Netherlands' first Migrantour guided walking tour.
Daan Wurpel loves life in all its facets. He received his PhD in Molecular Microbiology from the University of Queensland in Australia and is currently working as a science entrepreneur. He was mainly involved as a concept developer, co-writer, and translator in Roots Guide.
Rehab Eldalil (Cairo) is an award winning documentary photographer and visual storyteller based in Cairo, Egypt. Her work focuses on the broad theme of identity explored through participatory creative practices. Rehab has received her photography MA from Falmouth University, UK 2020. Most recently, Rehab was awarded the Fotoevidence W Award 2022 to publish her long term personal project in a book form and she has won the World Press Photo Regional Award 2022 (Open Format/Africa).
Matthijs van de Sande Bakhuyzen started acting twenty years ago as a kid in the series De Daltons. As a child and teenager he became a well known actor thanks to roles in Cloaca, Leef!, Afblijven, Bloedbroeders and many more. Later he starred in films like Schemer, Kenau, De Ontsnapping and the blockbuster Boy 7 directed by Lourens Blok, for which he received a Dutch Academy Award nomination. In 2015 he established, together with three other actors, the theatre collective Lars Doberman. They made successful plays like A Bebop Story and The Family Mansøn. He will soon star in the feature film BO by Joost van Ginkel and the series Legacy by Diederik van Rooijen.
You can order Roots Guide (Dutch version) through this link.