From buildings and products to policies, systems, and spaces – everything around us was once designed. In past DCFA episodes, we zoomed in on the challenges we are facing of individual, institutional, and systemic inequity, and highlighted that inclusion happens by design, or not at all. We have also seen that the dominant narrative of design and design thinking is often rooted in systems of oppression and exclusion. In this DCFA series, we see everyone as a (re)designer and will host a dialogue with an interdisciplinary group of artists, researchers, activists, educators, and students to uncover these topics. How can we untangle these forms of exclusion and (re)design a more equitable world, grounded in values of inclusion, trust, liberation, and healing?
You can attend this event physically or online. When making your reservation, choose between a physical spot or an online reservation.
Lotte van Eijk (Rotterdam) is a fashion model and founder of House of Lovaeij. She graduated from Willem de Kooning Academy in Photography where she used her Instagram @lovaeij as a key part for her graduation project. The celebration of a fat shell, the celebration of loving ones body, the celebration of being, wrapped in vulnerable imagery. This celebration is also the common thread in House of Lovaeij, which Lotte founded with the goal to make a difference in the fashion industry. Since the fashion industry only produces clothing that makes sure fat people are hidden, Lotte wanted to do the opposite. She wanted fat people to be seen. She wanted a brand that represented how she sees the world; Fluid, inclusive, bold, sexy, daring and simply connected to what she stands for. She wanted everyone to feel at home within the brand and her clothing. House of Lovaeij is therefore more than a fashion house; it's a home.
Sarah Naqvi (Mumbai / Amsterdam) is an Indian artist whose work engages in narratives themed around religious and societal polarisation, centering art as their tool for activism. The materiality and techniques in their work are at play to create familiarity with the viewer, with satire, whimsical props, and softness you are made to believe something joyous awaits. Once these thematics are established and make one comfortable, the visuals are then layered with confronting truths scripted based on prominent sociopolitical developments in their environment. Primarily working with textile, embroidery, songs, found objects, and performance, Sarah has developed a keen interest in puppetry and stop-motion. The usage of these mediums has been intentional, as they continue to challenge visibility amongst 'domestic' art and reach audiences beyond the art world.
Ali T. As'ad (Amsterdam) is a curator, researcher, and educator with a critical background in architecture. Since 2019, he has managed the "Museum-nation/ state" doctoral research project within the Curatorial Research Collective (crc) at the Eindhoven University of Technology. Ali has previously managed multi-disciplinary teams and various research projects within architecture and urban research practices, as well as cultural, academic, and educational institutions across the Middle East, India, Turkey, the U.K., and the U.S. In addition, Ali co-curated the recent 'Safe Spaces' exhibition at the Amsterdam Centre for Architecture (ARCAM), which questioned how designers, architects, policymakers and the residents of the city can contribute towards an open and inclusive Amsterdam, where safety is a right for everyone.
Jacquie Shaw (Tkaronto/Toronto) is a strategic futurist and design anthropologist, with a hybrid practice that combines design, research, education, and consulting, Their work is grounded in and supports critical explorations of design's role and use in creating the future. Inspired by understanding their own lived experience as a Filipinx-Bermudian settler in what is currently Canada, their work orients towards inclusive, equitable, and liberatory futures informed by decolonial, feminist, respectful design, design justice, anti-oppressive oriented praxis. Jacquie holds a MDes in strategic foresight and innovation from OCAD University and a BDes in communication design from Emily Carr University of Art and Design.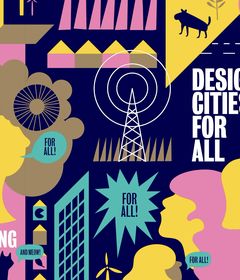 Dossier
Designing Cities for All
The call for a fair, safe and healthy living environment for everyone.