From buildings and products to policies, systems, and spaces – everything around us was once designed. In past DCFA episodes, we zoomed in on the challenges we are facing of individual, institutional, and systemic inequity, and highlighted that inclusion happens by design, or not at all. We have also seen that the dominant narrative of design and design thinking is often rooted in systems of oppression and exclusion. In this DCFA series, we see everyone as a (re)designer and will host a dialogue with an interdisciplinary group of artists, researchers, activists, educators, and students to uncover these topics. How can we untangle these forms of exclusion and (re)design a more equitable world, grounded in values of inclusion, trust, liberation, and healing?
In this first part we will reflect on the various layers of ones' identity and how equity-centred design thinking can be used to redesign the mindset that often causes or perpetuates exclusion.
You can attend this event physically or online. When making your reservation, choose between a physical spot or an online reservation.
'Disrupting narratives and shifting frames' lies at the core of everything that Nadine Ridder (Amsterdam) does. As an independent creative strategist Nadine works with the narrative power of brands, as a writer and speaker it's her own voice that she amplifies, and through Diversity, Equity & Inclusion (DEI) training she provides the groundwork for others to learn and develop their ability to think critically. Nadine connects the dots, combining her passions and moving through each different world seamlessly.
He's just your friendly neighbourhood designer!! Kevin Rooi (Amsterdam) is a multidisciplinary designer and lettering artist – born in the Caribbean, and now living in the Netherlands. Like the Caribbean, Kevin is full of energy and passion which he integrates into each of his designs with a splash of multi-culture that makes them awesome and unique. An out-of-the-box creative who has a fondness for typography which he showcases – next to working at Media.Monks as a Junior Designer – in his personal side project Typomento.
Maha Eljak (Sneek) has been working in the event industry since she was 16. Her passion for music led her to study event management. The primary reason? Being able to visit all concerts 'for school' that her parents did not allow her to go to. From her large network, mainly built up during volunteer work, she ended up at festivals such as 'Welcome to The Village', 'Explore the North' & 'Clash XXL'. In addition, Maha is a model at Vein Agency. You may have seen her in various clothing campaigns and fashion magazines. Recently, Maha launched her self-published zine 'Mahazine', which represents herself and gives readers a glimpse into her inner and outer world. Because she is so much more than a Black girl with a hijab.
Amanda Pinatih (Amsterdam) is Design Curator at the Stedelijk Museum Amsterdam. Here she provides the vast design collection with new perspectives. Her experimental working method is characterized by developing other forms of knowledge transfer and explores how historical collections can work participatively and associatively on younger generations. Through exhibitions and projects, she responds to today's social, political, decolonial, environmental and economic issues. In addition, Amanda co-founded the Design Museum Dharavi in Mumbai (IN), the first museum of its kind, that was based in the homegrown neighbourhood of Dharavi. It showcased local talent through a nomadic exhibition space and employed design as a tool to promote social change and innovation on a global scale.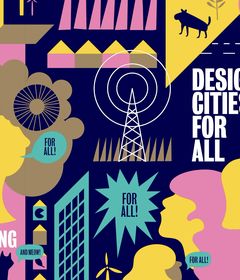 Dossier
Designing Cities for All
The call for a fair, safe and healthy living environment for everyone.