From buildings and products to policies, systems, and spaces – everything around us was once designed. In past DCFA episodes, we zoomed in on the challenges we are facing of individual, institutional, and systemic inequity, and highlighted that inclusion happens by design, or not at all. We have also seen that the dominant narrative of design and design thinking is often rooted in systems of oppression and exclusion. In this DCFA series, we see everyone as a (re)designer and will host a dialogue with an interdisciplinary group of artists, researchers, activists, educators, and students to uncover these topics. How can we untangle these forms of exclusion and (re)design a more equitable world, grounded in values of inclusion, trust, liberation, and healing?
In this second part we apply the equitable mindset and zoom in on different design examples and initiatives that highlight equitable opportunities.
You can attend this event physically or online. When making your reservation, choose between a physical spot or an online reservation.
Emilio is a creative at heart. A connector and bridge builder with Mexican-Dutch roots. He is one of the founding partners and executive creative directors of HERC. An Amsterdam boutique agency that is named after the Godfather of Hip Hop, DJ Kool HERC. HERC acts on the boundaries where advertising and popular culture meet. Emilio has a muliticultural perspective on creativity and brand culture that changes the way brands think and act. He truly believes that increased creativity and innovation will come from the difference and diversity of its makers. Clients include Tony's Chocolonely, G-Star, HP, Young Capital, Van Gogh Museum, Daily Paper, Jobbird, Redline (x A$AP Ferg) and Bols. Next to HERC, Emilio co-founded plusplusone. A program that accelerates and provide career acces to underrepresented ethnic creative people between 16-28.
Learn more about Emilio's story in this episode of the OWRU podcast (only available in Dutch). A show that highlights stories behind storytellers and creatives.
Inspired by the positive effects of skateboarding on women worldwide, at home and as skateboard coaches in Palestine, Greece and Iraqi Kurdistan, Women Skate the World was co- founded in 2018 by Nanja van Rijsse (Amsterdam). As young female skateboarders, they decided to join forces to inspire, connect and empower girls and women worldwide. Skateboarding taught Nanja lessons about perseverance, claiming your place, falling and getting back up again. Based on their passion, they organize events and skate lessons in various places in the Netherlands, including in Amsterdam Southeast. They recently started a series of open skate nights, New Wave, meant for queer people and women, from beginners to advanced. This place is not about the best tricks, but about being able to be yourself and to have fun in the skatepark. Respect each other and above all: enjoy skateboarding.
Belle Phromchanya (Bangkok/ Rotterdam) was trained as a graphic designer before relocating to Amsterdam in 2011 to study a MA Design at the Sandberg Instituut. She continues her artistic practice between The Netherlands and Thailand until today. Her works address subjects such as digital legacy, marginalized-transborder identities, and contemporary migration, many of which are rooted in the unsettling relationship between herself and the globalized society. Belle is also a co-founder of Non Native Native (NNN), a cultural platform which looks into the Asian creative landscape in The Netherlands through the lens of the outsiders from within. The platform serves as an alternative point of exchange for critical creative practitioners between the Asian and Dutch cultural landscape with the focus on contemporary visual culture.
Dr Annika Frye (Kiel) is a designer, researcher, design theorist and educator interested in the fields of experimental industrial design, the aesthetics of serial production and interfaces as post-digital, hybrid spaces between the digital and the analogue. She currently holds the professorship for design science and –research at Muthesius Academy of fine Arts in Kiel, and recently started a professorship, researching 'The Non-School' at Design Academy Eindhoven (DAE). What if design education was open, accessible and participatory? Overturning traditional concepts of the 'design school' and questions how design education is designed, Dr Frye will experiment with new practices of networking, communication and digital learning spaces to challenge the idea of the school as an enclosed, spatial entity. It aims to recognise learning as 'becoming'—the core notion behind DAE's current research programme—using technology as an instrument of evolution and democratisation of design education.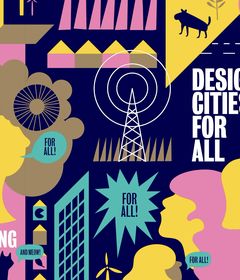 Dossier
Designing Cities for All
The call for a fair, safe and healthy living environment for everyone.