Join us for this panel talk that aims to share collective ideas on navigating spaces that often label Black Indigenous and People of Colour (BIPOC) AND queer bodies as marginal or 'other'. Rather than dwell on the harm, we instead shift the narrative to consider ways we can uplift ourselves in the face of (discrimination) fatigue and the pressure of excellence.
To further compliment this discussion, moments of musical interactions are embedded within the conversation, empahsising that we all have something to gain by encouraging spaces for queer and BIPOC openness.
Here, we question whether it's possible to challenge boundaries that seek to limit us by dancing in the morning? If relief awaits us in the forming of community? What does it really mean for us to claim our joy, and how exactly do we do it?
You can attend this event physically or online. When making your reservation, choose between a physical spot or an online reservation.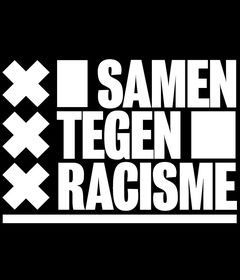 Dossier
Samen Tegen Racisme
Een Amsterdamse coalitie die zich inzet tegen racisme en discriminatie
Bio's:
Shishani is a singer-songwriter whose music transcends genres and cultures, loved for her soothing voice and powerful lyrics. During her career, Shishani has received multiple awards and nominations and has toured internationally. Her roots are Namibian and Belgian, but she grew up mainly in the Netherlands. Through her work, these worlds come together. Her work has a strong social consciousness centralizing women and indigenous knowledge. She is known for her work with Shishani & Namibian Tales; an acoustic quartet delving into the musical heritage of Namibia, highlighting the beauty & importance of San culture in the Kalahari desert. She is the founder of Miss Catharsis; centralizing women of colour through music. Her new EP is out and can be listened to here.
Black Pearl de Almeida Lima (b.1994, Brazil) is a multidisciplinary Afro- Latinx Trans Artist living in Berlin, Germany. She graduated from the Staatliche Hochschule für Musik und Darstellende Kunst Mannheim, has performed professionally in different Art institutions, renowned professional dance companies in Germany and is currently a member of the Iconic House of Saint Laurent Europe. Her research work explores the use of the body as an artistic and political platform to subvert the invisibility (physical and symbolic) of trans entities through their life stories. Black Pearl aims to deconstruct the colonial narrative of all classical forms of movement and, through her body experiences, translate potentialities and bring to light aspects related to the representation and representativeness of dissident bodies in art.
Joy Mariama Smith (1976, United States) is an installation and movement artist, activist, educator, and architectural designer. They* studied at the Dutch Art Institute in Arnhem; the NewSchool of Architecture & Design in San Diego; L'École Internationale de Théâtre Jacques Lecoq in Paris; and Oberlin College in Ohio. Their work has been performed internationally, including at If I Can't Dance Edition VI – Event and Duration, Amsterdam; SoLow Festival, Philadelphia; Freedom of Movement, Stedelijk Museum, Amsterdam; and Ponderosa Movement & Discovery in Stolzenhagen, Germany. Currently, they teach at the School for New Dance Development (SNDO) in Amsterdam and was a BAK fellow 2019-2020.
Sharona Lautoe is the co-founder of Black Trans Art & Joy Fund. The Black Trans Art & Joy Fund is a private initiative that centers community care for Black Trans people in The Netherlands and Belgium. The Black Trans Art & Joy Fund does this by organizing crowdfunding initiatives, as well as sharing and connecting networks, and offering practical support to provide the community with space to create, share their art, and above all: experience joy. Since their start in Aug. 2020, they have redistributed approx. € 19.000,- directly to black trans individuals via crowdfunding and connected numerous networks to amplify art and joy. Their team is based in the Netherlands and a combination of black trans and black and white cis people who are focused on tangible change for (primarily) for the black trans community in the Netherlands & Belgium.
Sevval Kayhan is an ambassador for peace and unity. A young world's child, singer and songwriter. Inspired by her Turkish Roots, she wants to connect people through melodic and holistic guidance. Sevval has the strong believe that in order to change your environment and to make a better world, your need to change yourself first. As written in the Holy book the Quran, " chapter thirteen verse eleven; Indeed, Allah will not change the condition of a people until they change what is in themselves." This is what moved Sevval to perform and promote here artistic way of life on several stages and at places both in her home country the Netherlands as well as across the borders.