In their Designing Cities for All Fellowship, de Chrononauten rethink the shape of trust and democracy in the digital age. The third episode of this three-part series zooms in on digital public governance. Institutional trust is failing all over the world. How can we build a new foundation for the shift to a digital society? Who do we trust to create and oversee the emerging structures of the electric age? And how do we make sure everyone has a voice in this new context of democracy?
In this programme, futurists, experts and designers consider how to build a fresh architecture of trust with, for and by all. But first, de Chrononauten will take you on a brief journey to the future.
You can attend this event physically or online. When making your reservation, choose between a physical spot or an online reservation.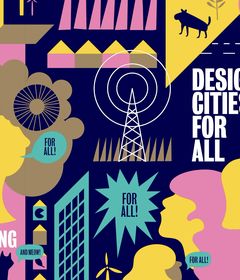 Dossier
Designing Cities for All
The call for a fair, safe and healthy living environment for everyone.
About de Chrononauten:
Edwin Gardner and Christiaan Fruneaux are two futurists who have been researching our era for over ten years. In the Atlas of the Long Now, they interpret our rapidly changing world from the perspective of the great history, the long now, and the deep future. If we stretch the moment we think we live in, to decades, centuries, and even millennia – what do we see?
Edwin was once trained as an architect at TU Delft and Christiaan studied history at the University of Amsterdam. In 2012, they started Studio Monnik because they were curious about the contours of a truly sustainable and equal society. How could such a future society work and feel? And, in line with that question: how can you think about the future in a credible way at all? After five years of research, they presented the World Tree model, a historical-futuristic lens with which they could develop credible future scenarios. Ever since, they have been helping companies and governments to get a grip on the rapidly changing society.
The next step for them is to make their societal analyses, future scenarios, and imaginations part of the public debate in the hope it will inspire long-term thinking.
About the speakers:
Tara Karpinski is a designer and one of the founders of the design collective de Ponies – pioneers in 'research through making'. The collective works at the intersection of research, design and society. Their projects are realised in the Netherlands and abroad, at locations where there is friction between citizens and government. Through installations in public space, their work offers new perspectives on complex social issues.
Martijn de Waal is AUAS Professor of the research group Civic Interaction Design at the Amsterdam University of Applied Sciences. He has a background in journalism, media studies and practical philosophy. His research focus is on the relation between digital media and public space, with specific interest in civic media and digital placemaking.
Lisa Talia Moretti is an award-winning Digital Sociologist and Tech Ethics Activist. She is an Associate Lecturer in the Institute of Management Studies at Goldsmiths (University of London), a Visiting Lecturer at Cardiff University in the School of Journalism, PR and Cultural Studies, and currently working at the Ministry of Justice in the UK on projects like The Power of Attorney. For more than a decade, Lisa has researched and written about the relationship between technology, information, and society, and has presented keynotes and run workshops to global audiences from a wide range of business backgrounds on the impact, opportunities, and challenges of emerging technologies. Passionate about diversity in all its forms, Lisa believes that the key to unlocking the true value of advanced technologies lies in making them democratic and accessible for the many, not the few. Lisa will present some lessons today about digital identity, how to build an inclusive digital identity service, and what improved data governance looks like.