Windmills, solar panels, electric cars; like in the fossil economy, technology used in the sustainable energy transition requires the extraction of raw materials. Materials such as copper, nickel, cobalt, bauxite, manganese and platinum are mined mainly in Africa, South America and Asia. Often with disastrous consequences for both humans and the environment. How can we avoid repeating mistakes from the past as we transition to a sustainable economy?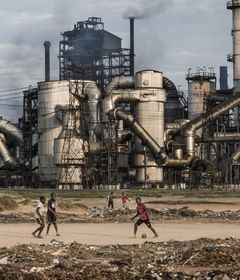 Hoe kunnen we de groene transitie ook rechtvaardig maken?
Daryl Bosu is the deputy national director of A Rocha in Ghana. This conservation organisation engages in scientific research, environmental education and community-based conservation projects. Daryl will elaborate on research performed by A Rocha on the bauxite mining which endangers Accra's water reserves and the Atewa forest.
Jaybee Garganera is one of the founders and National Coordinator of Alyansa Tigil Mina (Alliance to Stop Mining) in the Philippines. He is campaigning against destructive large-scale mining in the Philippines and includes engaging national platforms on Indigenous Peoples, climate justice and revenue transparency.
Mark van der Wal is a senior ecologist and advisor at the Dutch branch of the International Union for Conservation of Nature (IUCN). He has over 15 years of experience working with civil society for better governance of natural resources. At IUCN he connects nature conservation and the extractive industry.
Sophie Kwizera is a policy advisor at the international human rights organisation ActionAid, which supports people in standing up for their rights. Sophie investigates, among other things, the consequences of mining and the extraction of raw materials for the environment and society.
David Molenaar is the CEO of Siemens Gamesa Renewable Energy. Siemens Gamesa is one of the largest producer of offshore wind farms in the world. They work to reduce the amount of virgin resources used in wind turbines. In August Siemens Gamesa celebrated the first ever commercial installation of fully recyclable wind turbine blades at RWE's Kaskasi offshore wind power project
Pieter van Exter leads Metabolic's circular industries team. Metabolic advises governments, businesses, and NGOs on how to adapt to a fast-changing global context. Pieter's role is to support companies in their transition to a sustainable state by undertaking analysis and developing strategies based on advanced systems thinking. He also plays the saxophone in the instrumental collective Jungle By Night.
Marga Veeneman is the coordinator for raw materials in energy at the Dutch Ministry of Foreign Affairs. In a pre-recorded interview Marga will elaborate on the resources strategy of the Ministry and especially on responsible mineral supply chains.