During this event we will reflect on the way that racism has been translated into Dutch migration/ refugee policies and the way bureaucracies treat undocumented people. Recent examples are the public outrage about the situation in Ter Apel and the double standard that were applied by giving special treatment towards Ukrainian refugees compared to refugees that were already here from Africa and the SWANA region (Southwest Asia and North Africa, also known as the Middle East). During this event, we will listen to stories from people without documents who are illigalized and reflect on the way they face institutional racism in the Netherlands. Next to this, we will platform local initiatives that try to make a difference for these groups so people can join and support them.

This event can only be attended physically at our studio. The recordings will be made available later on and can be viewed via
dezwijger.nl/terugkijken
or via our YouTube channel.
Alejandra Ortiz, writer, and grassroots activist. A trans woman with a history of marginalization and violence. Her history includes sex work, use of drugs, having a refugee, and undocumented migrant experience among other intersections. Living in the Netherlands since 2015. Alejandra devotes her activism to the visibility of empowerment of marginalized communities. Her book "De waarheid zal me bevrijden" has been published by Lebowski Publishers."

Dan Borjal came to the Netherlands as a political refugee, applied for asylum and was granted status as a refugee. Since then, he has done volunteer work among migrants and refugees, particularly the undocumented, joining them in their struggle for their rights and welfare. He is currently connected with the FNV Migrant Domestic Workers Union (FNV-MDWU) and Kabalikat (a Filipino migrant organization). Through the FNV-MDWU, he also works with other Filipino, Indonesian and Latino migrant organizations, and cooperates with other organizations that fight for the rights of migrants and refugees such as Amsterdam City Rights.
Mohamed Bah is an activist, living in Amsterdam. Mohamed is the communication manager at Amsterdam City Rights and the host of the podcast City Rights Radio where is actively working on giving the community of people who are undocumented in the city a voice.
Fernando Chironda contributes to empower and reinforce the network of refugees and asylum seekers in Italy, as well as advocate for the recognition of the date of 3rd October 2013, a shipwreck that occurred in Lampedusa, as national day of remembrance and solidarity at Italian level. With the Committee 3 October, he is committed to matching DNA with found bodies to reunite them with their families. Now he wants to make 3 October a day of remembrance across Europe.
Sahar Shirzad is a writer, lawyer specializing in human rights, moderator, programmaker and activist. Sahar has a broad commitment as an activist, including organizing protests for women's rights in Iran and Afghanistan and making the program series The refugee millennial, in which she explored with generational peers what it is like to be a millennial with a refugee background.
Hidaya Nampiima is a human rights activist from Uganda who has to live as an undocumented person in the city of Amsterdam. At this moment she is one of the main project coordinators for the new project: Amsterdam City Rights, striving for urban citizenship in the city of Amsterdam. She talks to politicians, policy makers and citizens of Amsterdam to advocate for CITY-IDcard for undocumented people.
Roos Ykema is the founder and chair of MiGreat, an organisation that campaigns for migration as a human right. MiGreat also protests to expose the violent and deadly border policies of Europe and provides emergency support for people on the move, in Bosnia, Romania and Ter Apel.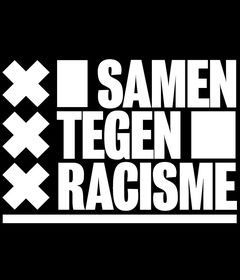 Dossier
Samen Tegen Racisme
Een Amsterdamse coalitie die zich inzet tegen racisme en discriminatie