In the new Designing Cities for All: RE-generation series In Common , DCFA Fellow Roberto Rocco (spatial planner and researcher at TU Delft) delves into the concept of 'the commons' as a tool for re-generation from three dimensions: social, economic, and ecological. How can we learn to understand how they are intertwined and indissociable? And how do we use this knowledge to reshape our relationship with the planet, through bottom-up collective initiatives, joint responsibility, collective care and action?
In this third and last episode with Roberto Rocco, we focus on the ecological dimension. To address ecological regeneration we need to design just pathways for the regeneration of ecosystems that are integral to the lives of people and to their livelihoods. This also means that we need to lift the false dichotomy between urban and nature. Together with researchers, practitioners, and designers, we take a deep dive into 'pathways for change' to explore a regenerative and sustainable environment.
You can attend this event physically or online. When making your reservation, choose between a physical spot or an online reservation.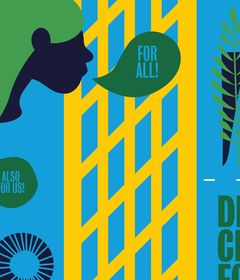 Dossier
Designing Cities For All: RE-generation
The call for social and ecological recovery for everyone and everything.
About the DCFA Fellow
Roberto Rocco is an Associate Professor of Spatial Planning and Strategy at the Department of Urbanism (TU Delft). He is a specialist in governance for the built environment. This includes issues of spatial justice and social sustainability as crucial dimensions of sustainability transitions. He also leads the discussion on diversity and inclusion at the faculty he works for and he is one of the people behind A Manifesto for the Just City .
About the speakers
Samir Amin is an experienced researcher specialized in community mobilization and social equity in sustainability transitions. He works as a project manager on a number of Horizon Europe projects at the ISOCARP Institute, the research spin-off of the International Society of City and Regional Planners focusing on knowledge brokerage in research, citizen engagement, urban advocacy, and professional training . He is passionate about in-situ and interdisciplinary approaches to global development challenges through the amplification of less-heard voices and diverse forms of knowledge.His work is positioned at the interface of social and natural sciences and uses a range of novel methods to increase capacities, tell stories, and platform different ways of knowing.
Shahryar Sarabi is a postdoctoral researcher at the Social, Health, and Organizational Psychology Department at Utrecht University. He is specialized in planning and governance of urban sustainability transitions. With expertise in this field, he has conducted extensive research on various aspects of the adoption of Nature-based Solutions in urban settings. His work encompasses exploring the governance challenges associated with implementing Nature-Based Solutions, leveraging information systems for urban nature planning, and addressing justice in urban transitions. Currently, Shahryar is engaged in studying approaches to enhance the connection between humans and nature, as well as the significance of collective actions in fostering sustainability. As a member of the EWUU alliance, he spearheads the development of a comprehensive justice framework for urban sustainability transitions, aiming to ensure a holistic and equitable approach.
Martine Doppen (She/They) is a climate justice activist connected to different grass-roots groups in the Netherlands and beyond. They are involved in campaigning for a fossil ad ban with the worldwide Fossil Free movement. They have a study background in Global Health and are organizing with healthcare workers to push for climate policy from a health justice perspective. Besides, she is involved with Extinction Rebellion since its first uprising in the Netherlands five years ago. As a campaigner, trainers, and facilitators in the movement, they believe that grassroots groups hold the power to change cities, countries, and finally our entire world.
About Designing Cities for All: RE generation
Over the past two years of Designing Cities for All (DCFA) we've learned about exclusion by design and the (re)-design of inclusive cities. Along the journey, a certain question kept popping up: what exactly does 'for all' entail? After focusing mostly on the 'who' over the past two years, DCFA is rebooting as Designing Cities for All: RE-generation . This time around, the series is also incorporating the 'what' by looking through the fresh lens of regenerative design . This emerging field might very well be a promising answer to the challenges of our time, as it focuses on the (re)-design of products, services and ecologicalrecovery, that keep the systems healthy.