In the new Designing Cities for All: RE-generation series In Common, DCFA Fellow Roberto Rocco (spatial planner and researcher at TU Delft) delves into the concept of 'the commons' as a tool for re-generation from three dimensions: social, economic, and environmental. How can we learn to understand how they are intertwined and indissociable? And how do we use this knowledge to reshape our relationship with the planet, through bottom-up collective initiatives, joint responsibility, collective care, and action?
In this second episode with Roberto Rocco, we will focus on the economic dimension. We need a new economy that fosters life rather than profit and whose main objectives are happiness, fulfillment, and inclusion. The struggle is about how to move the power from the capitalistic status quo to the grassroots through collective actions. Together with researchers, practitioners, and designers, we take a deep dive into 'less profit, more planet' to explore a regenerative and sustainable economy.
You can attend this event physically or online. When making your reservation, choose between a physical spot or an online reservation.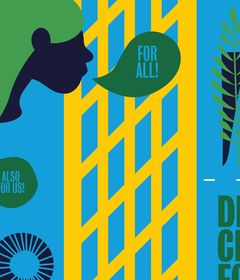 Dossier
Designing Cities For All: RE-generation
The call for social and ecological recovery for everyone and everything.
About the DCFA Fellow
Roberto Rocco is an Associate Professor of Spatial Planning and Strategy at the Department of Urbanism (TU Delft). He is a specialist in governance for the built environment. This includes issues of spatial justice and social sustainability as crucial dimensions of sustainability transitions. He also leads the discussion on diversity and inclusion at the faculty he works for and he is one of the people behind A Manifesto for the Just City .
About the speakers
Erik Uitenbogaard has a professional background in Communication Design, combined with a master's in Strategic Management. He combines the design of communication with that of processes, aiming for sustainable results. Over the last ten years, his work focused on a forgotten public area in the city of Utrecht now called Werkspoorkwartier, a successful and rapidly growing area for creative professionals and others. Currently, he is head of diverse economies at Casco Art Institute, where he focuses on non-monetisation: what are the possibilities to create meaning and purpose without needing money?
Shinta Oosterwaal describes herself as an 'uneconomist' because she is convinced that we are inherently an ecological society. She has (co-)written multiple books about shifting our economic worldview to a more holistic approach. Her aim is to facilitate people and the environment to thrive together.
Girma Segaar explores the human experience and its impact on society firsthand, writing and speaking about his findings. His eclectic background, ranging from the construction sector to defense, and from the music industry to advising mission-driven organizations, offers a unique perspective on humanity, society, and the Earth. His interim conclusion is that a just relationship between these three aspects is essential for the human experience. Girma is committed to social and ecological justice through his role as a community organizer in the Ethiopian diaspora community, his involvement in Amsterdam politics, and his position as Branding & Marketing Steward at steward-owned Tierrafino. This is the oldest Dutch company producing natural clay plaster and clay paint, located in the heart of Amsterdam.
Najah Aouaki is an economist and urban strategist for creative and inclusive cities. She develops strategies, concepts and innovative projects aimed at challenging the current economic paradigm and the way we imagine our futures — from initiating cultural projects, organizing community initiatives, to developing strategic policies. Najah approaches the city as a living ecosystem, the software of the city as she describes it. She is currently working on developing a community wealth building strategy for the city of Amsterdam with special attention for urban communities of color, as an answer to biased perspectives and market forces that threaten inclusiveness.
Jefferson Yaw Frempong-Manson is a an allround artist: actor, musician and model. After feigning an emergency at the beach at the age of four, he realised that acting was his thing. In 2021 he started at De Amsterdamse Toneelschool en Kleinkunst Academie.
About Designing Cities for All: RE generation
Over the past two years of Designing Cities for All (DCFA) we've learned about exclusion by design and the (re)-design of inclusive cities. Along the journey, a certain question kept popping up: what exactly does 'for all' entail? After focusing mostly on the 'who' over the past two years, DCFA is rebooting as Designing Cities for All: RE-generation . This time around, the series is also incorporating the 'what' by looking through the fresh lens of regenerative design . This emerging field might very well be a promising answer to the challenges of our time, as it focuses on the (re)-design of products, services and ecological recovery, that keep the systems healthy.