The European border is the deadliest in the world. It is surrounded by thousands of kilometres of fence and guarded by violent border guards. Migration, especially from former colonies, is stopped at all cost. In the midst of this 'war on migrants', radically different approaches to migration are voiced too. Migration could be a right instead of a privilege, an expression of freedom of movement, an essential human right. It is an indispensable force in the struggle for global equality and a powerful tool to fight neocolonial wealth & power disbalances. What role can migration play in the fight for an anti-racist, decolonised world?
Location of event: New Metropolis Nieuw-West (Burgemeester Rendorpstraat 1, Amsterdam).
You can attend this event physically or online. When making your reservation, choose between a physical spot or an online reservation.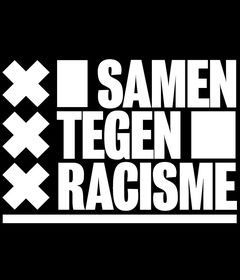 Dossier
Samen Tegen Racisme
Een Amsterdamse coalitie die zich inzet tegen racisme en discriminatie
About the Speakers
Nilab Ahmadi, 31 years old. Law graduate turned politician with a special focus on anti-imperialism, anti-militarism and the geopolitical reality that perpetuates warfare in the Global South.
Hidaya Nampiima is ugandan, the Co-founder of Amsterdam City rights, a Queer member and Activist, undocumented and an advocate for women's rights in limbo.
David Odiyeye, Nigerian born and partially raised, is an introverted young male in his twenties who is passionate about music, culture, and above all equality. Even though he is rather shy his passions have always pushed him toward the crowd, whether it's for music, learning from other cultures, or being an activist for equality. Most recently he moved to the Netherlands as he always felt he had to battle for his rights and the rights of people who look like him in his home country. Although David now lives in the Netherlands which is considered a multicultural country, he is constantly facing systematic racism, reminding him that the battle for equality never ends.
Tina Farifteh is a Dutch-Iranian photographer and filmmaker whose work lies at the intersection between arts, politics, and philosophy. In her work, she reflects on the impact of man-made power structures such as nation-states and corporations on the lives of ordinary people. She analyzes how people are not only excluded from the privileges granted by the ruling political and economic systems but often damaged by these to make the system 'work'. For her audiovisual installation The Flood (2021/2022) she did extensive research on the situation of refugees on the move or stuck at European borders focusing on borders, bodies, camps, and the political language used to normalize the absurdity of how we are currently dealing with these topics. In her new project 'Kitten or Refugee?' she investigates the human capacity for empathy, 'how empathy works', and how words and images influence our empathic or xenophobic behaviour.
Chris Kaspar de Ploeg (1994) is an investigative journalist, affiliated with 'Platform Authentieke Journalistiek'. He has published in Follow the Money and in De Groene Amsterdammer, among others. He also wrote the book Oekraïne in het Kruisvuur and is co-founder of Aralez, a grassroots organization for decolonization.