ATTENTION: The panel discussion will be streamed live on this page after the documentary finishes playing, around 8:40 p.m. CET.
Great Pla/ns is an audiovisual journey by architect Janna Bystrykh. It takes us across the Great Plains in the US, capturing stretches of the landscape from North Dakota to the Texas Panhandle. Encountering loss of topsoil and environmental degradation to thriving communities, wildlife and harvest celebrations, the documentary shows 57 regenerative farmers working on newly rooted agricultural futures. Across the Plains, a growing number of farmers (big and small), ranchers, community leaders, policymakers, and researchers, are finding inspiration in regenerative practices, the urgently needed change, and new ways to (re)connect to their land and the food it produces.
After the documentary screening, we talk to some of the farmers live: what lessons are they learning from their regenerative efforts? Also, we bring the subject to the Dutch context. How is regenerative farming taking place here?
You can attend this event physically or online. When making your reservation, choose between a physical spot or an online reservation.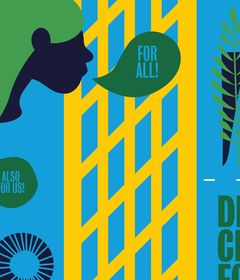 Dossier
Designing Cities For All: RE-generation
The call for social and ecological recovery for everyone and everything.
About the director
Janna Bystrykh is an architect and researcher based in Rotterdam. Janna's experience extends to design and implementation of complex urban projects, museum transformations, experimental educational efforts, and more recently installations on the transformations of rural and natural landscapes. In 2019, she founded BYSTRYKH, a design and research agency for the natural and built environment. Janna has also practiced at KCAP and was an associate at OMA*AMO. Great Pla/ns is Janna's first film. Since January 2022, she is Head of the Master's Programme in Architecture, at the Amsterdam Academy of Architecture, where she is leading the development of a Climate focused curriculum for architecture.
About the speakers
Kelsey Scott is a fourth-generation tribal rancher in South Dakota, where she owns a direct-to-consumer regenerative beef operation called DX Beef. She also works as Director of programs at the Intertribal Agriculture Council. Here, she interacts with land managers and producers driven by the mission to design Indian land use practices that benefit the Indian people. Additionally, she forms an active member of the local community where she especially encourages girls and women in her field.
Clemens Driessen works as a cultural geographer (previously philosopher) at Wageningen University. He is interested in the ways in which animals, plants, humans, and other organisms shape each other in our contemporary technological cultures. Often in collaboration with designers, conservationists, farmers, scientists, and the occasional willing nonhuman, he studies new forms of building lives together. After earlier work on milking robots, playing video games with pigs, cultured meat, rewilding, and the material environment of Rene Descartes, he currently studies greenhouse horticulture, agro-ecological robots, beavers, and eco-social design.
Esther Turnhout is the chair of Science, Technology & Society at the University of Twente and works as Scientific Director at the Netherlands Graduate Research School o Science, Technology and Modern Culture. She describes herself as an interdisciplinary social scientist who mostly focuses on environmentalism, biodiversity, and sustainability. Recently, she investigates the transformative potential of science to contribute more effectively to the societal shift towards sustainability.
An international leader in the soil health movement, Jimmy Emmons served as the regional coordinator for USDA's Farm Production and Conservation Programme. He recently joined the Oklahoma Conservation Commission as its Soil Health Mentoring Coordinator. Jimmy and his wife Ginger manage 2.000 cropland acres and 5.000 rangeland acres with regenerative agriculture techniques in Dewey County Oklahoma. They received Oklahoma's first Leopold Conservation Award in 2017.
Roy Michielsen is an ecological farmer and vegetable grower who also researches nature-based solutions for agriculture in the Netherlands. As Controller/staff employee at B.V. Exploitatie Reservegronden Flevoland, Roy works for the main partner for the temporary management of agricultural land in Flevoland. The focus of their work lies on soil improvement through organic cultivation.