Environment, social justice, economy – it's become clear that our dominant systems are broken. In her 3-month DCFA Fellowship, Singapore-based urbanist Sarah Ichioka dives deeper into the possibilities for systemic change. What promising alternative systems and regenerative practices are already emerging around the world? And who are taking the first steps towards these essential changes?
In the second part of Designing Cities for All: RE-generation's series Regenerative Design with DCFA Fellow Sarah Ichioka, we look at the concept of stewardship, together with designers, storytellers, creatives, experts and others. How does (and should) the human relate to the rest of Nature? How do we design in a way that takes responsibility for this position of stewardship? And what is the role of decolonising design?
*This programme will be recorded during the day in Amsterdam, so Sarah Ichioka can join live from Singapore. It will be broadcast live at 11:30 a.m. CET, so you can ask your questions from abroad while watching online. We will broadcast it again during our usual slot on Monday, Feb 13, 8:00 p.m. CET.
You can attend this event physically or online. When making your reservation, choose between a physical spot or an online reservation.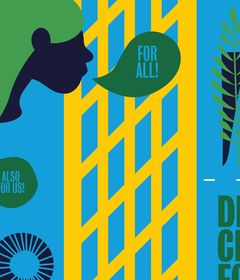 Dossier
Designing Cities For All: RE-generation
The call for social and ecological recovery for everyone and everything.
About the DCFA Fellow
Sarah Mineko Ichioka is an urbanist, strategist, curator and writer. She leads Desire Lines, a strategic consultancy for environmental, cultural, and social-impact initiatives and organizations. Her latest book, Flourish: Design Paradigms for Our Planetary Emergency, co-authored with Michael Pawlyn, proposes a bold set of regenerative design principles for addressing our compound environmental and social crises. In previous roles Sarah has explored the intersections of cities, society and ecology within leading international institutions of culture, policy and research, including as Director of The Architecture Foundation (UK) and Co-Director of the London Festival of Architecture (both from 2008-2014).
Watch Sarah's introduction of her DCFA Fellowship on Regenerative Design below!
About the speakers
Dr. Lyla June Johnston (aka Lyla June) is an Indigenous musician, scholar, and community organizer of Diné (Navajo), Tsétsêhéstâhese (Cheyenne) and European lineages. Her messages focus on Indigenous rights, supporting youth, traditional land stewardship practices and healing inter-generational and inter-cultural trauma. She blends her study of Human Ecology at Stanford, graduate work in Indigenous Pedagogy, and the traditional worldview she grew up with to inform her music, perspectives and solutions. Her doctoral research focused on the ways in which pre-colonial Indigenous Nations shaped large regions of Turtle Island (aka the Americas) to produce abundant food systems for humans and non-humans.
Willem Koning is, among many other things, the founder of the former Wayamu Foundation and Kumaka Foundation. Together with Indigenous young people he is committed to keeping the language and culture of Indigenous peoples alive. Willem is an educator in the field of decolonisation and colonial history and Indigenous cultures, and an interdisciplinary artist and multi-instrumentalist.
Juliana Perrone Celotti is an architect & designer, originally from Brazil and based in the Netherlands. In February 2022, she graduated as an architect at the Academie van Bouwkunst in Amsterdam. Her thesis was the project 'United Indigenous Nation', focused on Brazil – a platform for Indigenous Peoples to debate, express themselves, and exchange knowledge in a mission to develop a world more in equilibrium with nature. To protect Indigenous Peoples is to protect the environment and the Earth's future. Her research consists of learning to better understand different Indigenous cultures and their relationship with nature.
Teresa van Twuijver is a designer, artist, researcher and journalist. She lives in Amsterdam and has a background in (new) media art and interaction design. Currently, her focus lies with clothing and textiles for everyday use, traditional and emerging (digital) experimental technologies in fabric manufacturing and their combination, new (organic) textile materials, biology and speculative storytelling. Her recent work, the Zaankogerland (HOPECHEST2090) project, Zaans Regional Dress after the Worst Thinkable Flood, explores the central question of how survivors – pioneers on a new Wadden Island in the former Zaan region in the year 2090 – will dress. What do they wear and what do they make, within set limits of lost knowledge about textiles, clothing construction and scarce materials?
Hakim El Amrani designs green and healthy spaces with his design studio, Studio NousNous. His mission is to blur the lines between space and nature and create rejuvenating, healing spaces by combining the inside and the outside and by implementing nature based design. In his practice, he applies biophilic design strategies, keeping in mind that cities are growing at a fast pace and ecosystems are getting sicker by the day.
About Designing Cities for All: RE-generation
Over the past two years of Designing Cities for All (DCFA), we've learned about exclusion by design and the (re)design of inclusive cities. Along the journey, a certain question kept popping up: what exactly does 'for all' entail? After focusing mostly on the 'who' over the past two years, DCFA is rebooting as Designing Cities for All: RE-generation. This way around, the series is also incorporating the 'what' by looking through the fresh lens of regenerative design. This emerging field might very well be a promising answer to the challenges of our time, as it focuses on the design of products, services, systems and processes that lead to both social and ecological recovery and that keep the systems healthy.