When talking about designing the future cities for all, we also need to take a close look at how the designers of the future are being educated. They will be partly responsible for what cities will look like in the future and who will live and belong in these cities. Last year we talked about how education is organized at the moment and if there is enough awareness in the curriculum for exclusion by design. This time around we will talk with teachers, researchers and students about initiatives and projects they are setting up related to this topic. What is the role of education in our society and how can we design education for all?
This program will be subtitled live! To follow with live subtitles, click this link.
You can attend this event physically or online. When making your reservation, choose between a physical spot or an online reservation.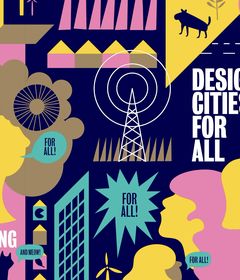 Dossier
Designing Cities for All
The call for a fair, safe and healthy living environment for everyone.
Mieke Lopes Cardozo is a senior lecturer in Education and Inclusive Development at the Amsterdam Institute of Social Science Research, and part of the Governance and Inclusive Development Research Group of the University of Amsterdam. She is also an Associate Fellow at the Center for International Education at the University of Sussex. Mieke's academic research, education and supervision focuses on the role of education in processes of regeneration, peacebuilding, social and gender justice and inclusive development in the contexts of Sri Lanka, Aceh/Indonesia, Bolivia, Myanmar and Higher Education in the Netherlands.
Roberto Rocco is an Associate Professor of Spatial Planning and Strategy at the Department of Urbanism (TU Delft). He is a specialist in governance for the built environment. This includes issues of spatial justice and social sustainability as crucial dimensions of sustainability transitions. He also leads the discussion on diversity and inclusion at the faculty he works for and he is one of the people behind A Manifesto for the Just City
Vasilis van Gemert works as a lecturer at the University of Applied Sciences in Amsterdam, The Netherlands where he teaches the next generation of digital designers. He also gives workshops to design teams about designing for, and with, people with disabilities. Recently he set up a minor called Exclusive Design. During this minor, students are instructed to design tailor-made solutions for and with people with disabilities.
Mari Fujiwara and Haris Arnautovic are both trainees Digital Transformation Design at the Digital Society School . They do research on how we might use (speculative) design as a vehicle to speculate about the potential or alternate futures of the Amsterdam University of Applied Sciences. What is the role of knowledge institutions in our future cities?