When talking about designing the future cities for all, we also need to take a close look at how the designers of the future are currently being educated. They will be partly responsible for what cities will look like in the future and who will live and belong in these cities. How is (design) education organized at the moment and is there enough awareness in the curriculum for exclusion by design and attention given to designing for inclusion? We will discuss these topics and more during this Designing Cities for All education special.
You can attend this event physically or online. When making your reservation, choose between a physical spot or an online reservation.
Praveen Sewgobind is Research Professor Diversity & Inclusivity at the Design Academy Eindhoven. He is an activist-academic researcher working to further diversity and ethnicity theory in the Netherlands. The framework and drive for research in his Professorship at DAE focuses on theorising and materializing the conditions for inclusivity and diversity. Diversity and inclusivity are urgent topics that are too often used to make institutions look good, instead of being used as tools to truly enable a sense of belonging. This sense of belonging is fundamental for real inclusivity and diversity.
Born and raised in the Netherlands to Surinamese parents, Aminata Cairo left for the United States to pursue her college education. She obtained a dual Bachelor in Psychology and Physical Education, Master's Degrees in Clinical Psychology and Medical Anthropology, and a Ph.D. in Medical Anthropology. Her passion is to use her academic skills to positively impact communities. In 2017, she became the first and only Lector (Research Professor) of African descent in the Applied University system in the Netherlands, with a focus on Inclusive Education. Since then she has become a sought-after speaker and consultant on diversity and inclusion issues. Her new book Holding Space was recently published. Check the Book Review Livecast about Holding Spacehere .
Nishant Shah is the Director of Research and Outreach and Professor of Aesthetics and Cultures of Technology at the ArtEZ University of the Arts, where he is responsible for building a research corpus that looks at the role that art and design education and practice can play towards building resilient futures, equitable societies, and critical diversity. Nishant is also connected as a Faculty Associate to the Berkman Klein Center for Internet & Society at Harvard University, where he examines the current conditions of technology, culture, fakeness, and art. His book Really Fake , will be available in July 2021. According to Nishant, design thinking begins with asking the right question.
For the last 17 years Sobhi Khatib has worked with/for over 70 organizations to advance their efforts on innovation, strategy, storytelling, diversity and inclusion. To name a few of those organizations: Netflix, AlJazeera, United Nations, Amnesty International, Greenpeace. Currently, Sobhi leads a program on systematic change at Amsterdam University of Applied Sciences . The program focuses on designed systems with emphasis on three topics: smart cities and government as platform, environmental sustainability, and a project on the intersection between art, technology and society. In addition, the instruction courses on diversity & inclusion.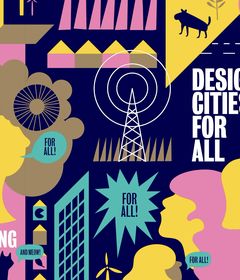 Dossier
Designing Cities for All
The call for a fair, safe and healthy living environment for everyone.