In Designing Cities for All, we take a deep dive into (re)designing inclusive cities. Together with designers, scientists, experts, educational institutions, other involved partners, and six Fellows. This particular series of livecasts is curated by architect Lyongo Juliana, who wants to investigate human beings and their identity. How can architecture and design facilitate your identity and – the other way around – how can your identity shape the architecture of your surroundings?
This event can only be attended physically at our studio. The recordings will be made available later on and can be viewed via
dezwijger.nl/terugkijken
or via our YouTube channel.
Maurice Crul (Amsterdam) is a Professor at the Vrije Universiteit Amsterdam and the Erasmus University in Rotterdam. He is the international chair of IMISCOE, a network of excellence that includes 38 research institutes in the fields of migration and diversity in 18 European countries. In the last twenty years, he mostly worked on the topic of education and children of immigrants, first within the Dutch context and in the last ten years in a comparative European and transatlantic context. In 2017 he was awarded the prestigious ERC Advanced Grant to carry out Becoming a Minority (BaM), a project that examines the experiences and perspectives of people without an immigration background in European majority-minority cities.
David Sim (Copenhagen) is creative director at Gehl, an urban design consultancy developing equitable, healthy, and sustainable cities for all. He is trained as an architect in his native Scotland and in Scandinavia and now specialises in urban planning and design all over the world. David has developed numerous citizen-engagement tools while rethinking master plans as flexible development frameworks, exploring denser and more diverse urban places while maintaining a human scale. Davis is also an educator, and spent seven years at Lund University reforming architectural education toward a more holistic approach. In 2019, he published the book Soft City, the story of how to build denser and more diverse places that enhances the everyday life of people.
The work of urban sociologist and anthropologist Charlot Schans (Amsterdam) starts from the understanding that the most loveable, sustainable, and equitable cities around the globe are the result of effective co-creation between a variety of stakeholders. How can we enhance collaborative city-making, cross-cutting barriers between disciplinary silos and public and private domains? Placemaking Europe has developed several open-source toolboxes for all to access, learn from, and practice. For example, 'Be Inclusive' teaches you how we can build an inclusive city in a context when pressure on the capacity and offers of the city is increasing, given the gentrification, expansion of privately-owned space, and flock of tourism.
Mohamed Ahaddaf (Amterdam) is a talented ud-player, composer and musician from Morocco who's firmly rooted in Andalusian culture and developed himself in jazz and Arabic music. He graduated from the Tetouan Conservatory and in 2010, he founded the Ahaddaf Quartet. In addition, he is also part of the multidisciplinary ensemble Marmoucha Collective. What the ud is to Arabic music, is what the piano is to Western music – Mohamed combines different instruments like the (electric) ud and the piano and brings a blend of music from different cultures, combining Western jazz with his Andalusian roots and Middle Eastern influences. How do crossovers arise and what can architecture learn from music?
For DCFA Fellow Lyongo Juliana (Amsterdam), architecture is not just about making locations more beautiful and in balance, it is about creating a people's experience. In recent years, he has investigated the degree of diversity and inclusiveness of architecture in Amsterdam. In the coming months, Lyongo will continue his research in Pakhuis de Zwijger's two-year programme.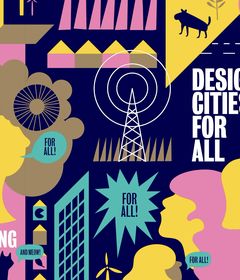 Dossier
Designing Cities for All
The call for a fair, safe and healthy living environment for everyone.