In Designing Cities for All (DCFA) we dive into the matter of (re)designing inclusive cities. Next to inviting many designers, scientists, experts, educational institutions, and other involved partners to participate- we invited a total of six Fellows to curate part of the programme. After our 2021 Fellows Lyongo Juliana, Dark Matter Labs, and Galit Ariel, and OneWorld in the first months of 2022, we are happy to welcome Daphina Misiedjan as our next Fellow! In her DCFA Fellowship, Daphina, who is an expert on environmental justice and human rights, will take us on her mission to (re)think the way people and the environment are related. Together we'll explore how different social and environmental circumstances can create inequalities on a local, regional and international level.
This programme will be subtitled live! To follow with live subtitles, click this link.
You can attend this event physically or online. When making your reservation, choose between a physical spot or an online reservation.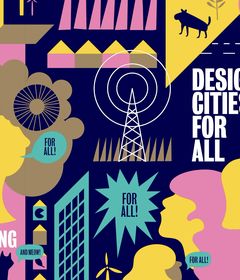 Dossier
Designing Cities for All
The call for a fair, safe and healthy living environment for everyone.
About the speakers
Dr. Daphina Misiedjan is an assistant-professor in human rights and the environment at International Institute of Social Studies (ISS), The Hague and 2020/2021 Fellow at The Netherlands Institute for Advanced Study in the Humanities and Social Sciences (NIAS). In addition, she is an expert within the UN Harmony with Nature program. She specializes in issues concerning human rights and environmental justice, specifically concerning Environmental Justice within the Kingdom of the Netherlands, Rights of Nature and Environmental Justice form local city and neighborhood perspectives.
Environmental Justice (EJ) historically focused mostly the fair distribution of benefits and costs regarding environmental exploitation. Marginalised communities receive mostly the cost in the form of pollution while they contributed the least to environmental degradation. In the context of the Netherlands, environmental justice still requires elaboration and deepening. Daphina looks at the growing problem of air pollution and health disparities from the perspective of EJ. Listen to her Brainwash talk here.
Dr. Radha D'Souza is professor of International Law, Development and Conflict Studies at the University of Westminster (UK). She was a lawyer at the High Court of Mumbai (IN) on the topic of labour law, constitutional and administrative law and human rights. Radha works as a writer, critic and commentator. She is an activist for social justice and collaborated with labour and democratic rights movements in India as an organiser and activist lawyer. She also worked with social justice movements in the Asia-Pacific region to focus attention on the effects of international economic policies on countries in the Global South. She is the author of the book What's Wrong with Rights?, which examines what is entailed in reducing rights to 'human' rights.
Sarah Mead is a Senior Legal Associate at the Climate Litigation Network (CLN), a project of the Urgenda Foundation. In 2015, the Urgenda Foundation won a landmark climate case against the Dutch government, which forced the government to increase its climate ambition. The Climate Litigation Network was established to support similar litigation around the world, to hold governments accountable for their climate inaction. Sarah specialises in international environmental law and international human rights law – with a focus on States' obligations in light of the climate crisis. She is co-editor of the forthcoming collection The Environment through the Lens of International Courts and Tribunals (Asser Press, 2022) and co-lead of the project of the World Commission on Environmental Law (WCEL) project: Judicial Handbook on Climate Litigation. She previously worked in the Office of the Chief Justice in Seychelles and in private practice in New Zealand. She has an LL.M (Adv) from Leiden University, and an LLB from Victoria University of Wellington.
Ana María Arbeláez-Trujillo is a PhD Researcher at Wageningen University. She is part of the Riverhood project which is funded by the European Research Council (ERC). Her research combines political ecology and legal anthropology to understand how hydroelectric projects and other water infrastructures impact riverine communities and how these communities mobilize to protect living rivers. She is committed to building bridges between academia and civil society to advance Environmental Justice, especially in Colombia.
She is a lawyer from the Universidad de Caldas and a specialist in Environmental Law from the Universidad del Rosario. She holds a MA in Public Policy from the International Institute of Social Studies (ISS) and the Institut Barcelona d'Estudis Internacionals (IBEI).