Overused terms like participation, engagement, co-creation, involvement, and inclusion, to name a few, have always been a matter of concern in designing cities. However, what does intentional participatory design mean? And why should we practice it? These questions are often neglected in discussions on designing cities for all. In this series, we aim to rethink the city for and by everyone by discussing who the designer is, what barriers and challenges are to shift from the user to co-designer, and how to make a true impact. With designers, researchers, practitioners, and policymakers, we will dive into the different components of participatory design within spaces, products, policies, and systems.
You can attend this event physically or online. When making your reservation, choose between a physical spot or an online reservation.
Henk Ovink (Amsterdam) was appointed in 2015 by the Dutch Cabinet as the first Special Envoy for International Water Affairs. As the Ambassador for Water, he is responsible for advocating water awareness around the world, building institutional capacity and coalitions amongst governments, multilateral organizations, private sector and NGO's, and initiating innovative approaches to address the world's stressing needs on water. Ovink is also Sherpa to the UN / World Bank High Level Panel on Water. Henk Ovink served on President Obama's Hurricane Sandy Rebuilding Task Force where he led the long term innovation, resilience and rebuilding efforts. He developed and led the 'Rebuild by Design' competition and initiated the National Disaster Resilience Competition. Before joining the Task Force Ovink was both Acting Director General of Spatial Planning and Water Affairs and Director National Spatial Planning for the Netherlands. He teaches at Harvard GSD, the London School of Economics and the University of Groningen.
Henk's book – written together with Jelte Boeijenga – "Too Big. Rebuild by Design: A Transformative Approach to Climate Change" explores his climate and water work for the Obama Administration.
Grisha Zotov (Amsterdam) is the founder of Amsterdam-based bureau Architectural Prescription. Since 2015 the office engages in design on both urban and architectural scale and offers computational consultation services for design professionals. Before establishing his own practice, Grisha gained experience in the offices of BIG, OMA, UNStudio and Architekten Cie. Originally from Ukraine, Grisha co-founded CANactions school of urban studies in Kyiv. Currently he teaches Urban Design studio at the Amsterdam Academy of Architecture.
Ekim Tan (Amsterdam) is an architect from Istanbul based in Amsterdam. She obtained her doctoral degree at the Delft University of Technology with a focus on 'City gaming', a method that refers to the specific implementation of serious games to city development questions. Later she published her book, Play the City: Games Informing Urban Development (2017) to provide a deeper understanding of our values, experiences, and intellectual attitude. In 2010, she founded Play the City, an Amsterdam and Istanbul-based city gaming practice that helps governments and market parties effectively collaborate with stakeholders. In 2016, Ekim co-founded Games for Cities, and umbrella organisation of game[like] practices worldwide. Play the City leads the way in applying games to complex, multiplayer city challenges.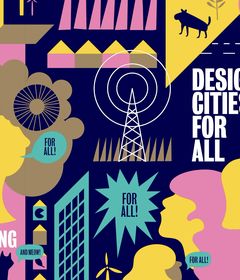 Dossier
Designing Cities for All
The call for a fair, safe and healthy living environment for everyone.