Overused terms like participation, engagement, co-creation, involvement, and inclusion, to name a few, have always been a matter of concern in designing cities. However, what does intentional participatory design mean? And why should we practice it? These questions are often neglected in discussions on designing cities for all. In this series, we aim to rethink the city for and by everyone by discussing who the designer is, what barriers and challenges are to shift from the user to co-designer, and how to make a true impact. With designers, researchers, practitioners, and policymakers, we will dive into the different components of participatory design within spaces, products, policies, and systems.
During this programme, Shay Raviv – curator at Inclusive Society, co-founder of de Voorkamer and long-time DCFA advocate – will facilitate the conversation as well as share her own experience and expertise.
This programme will be subtitled live! To follow with live subtitles, click this link.
You can attend this event physically or online. When making your reservation, choose between a physical spot or an online reservation.
Thobile Chittenden (City of Johannesburg) is a Community Builder and Purpose Pioneer and recent TedX Speaker with a passionate interest in Social & Creative Entrepreneurship, as well as Non-Profit Organisations. Thobile is also a Director at The Change Collective Africa which focuses on Purpose Projects and a Board Member of an inner-city school in Johannesburg called City Kidz. Currently, Thobile is the CEO of Makers Valley Partnership, a community organisation in the east of Johannesburg's Inner City. Makers Valley is a neighbourhood in Johannesburg inner city. The name 'Makers Valley' refers to the growing presence and activities of many forms of creative entrepreneurism in the area. The evolving community culture builds on versions of the Makers Movement within the 4th Industrial Revolution which encourages creativity, sharing, giving, learning, participation, mutual support and positive change.
Fulco Treffers (Amsterdam) is an urban planner, architect, and project manager at 12N Urban Matters . 12N Urban Matters is a studio that seeks out the connection between man and building, between future, past and present; between nature and concrete, between economic and social purpose. 12N likes to work on projects with great social relevance. In this regard, organic urban planning and resident participation are specialties within 12N. With wide experience in different other projects such as the Space-S Eindhoven and Berlijnplein , Fulco Treffers's specialties vary from co-creation and circular design to urban acupuncture. He connects to the place by connecting to people. The residents are his main focus, their ownership, and responsibility to their own future. Treffers translates, shares, and connects to design principles, which leads to new insights and results.
Setareh Noorani (Rotterdam) is an architect, researcher, zinester, and is part of the experimental collective Zenevloed, among others. She uses various media in her projects and artistic contributions to explore ways of publicizing and embodying, questioning processes of trauma and time; always moving in the grey space between academic research and art. This is expressed in the researching, disrupting, and exposing of archives through spatial research and (self-)publishing. Her current research at Het Nieuwe Instituut focuses on the qualitative, paradigm-shifting notions of decoloniality, feminisms, queer ecologies, non-institutional representations, and the implications of the collective, more-than-human body in architecture, its heritage, and ambiguous future scenarios – all part of the projects Collecting Otherwise. Setareh received the Museum Talent Prize 2021 for this work.
Meghann Ormond (Wageningen) is Associate Professor in Cultural Geography at Wageningen University & Research. Her research, teaching and societal engagement reflect her deep concern with how differently mobile people's roots, rights and vulnerabilities are recognised and included in the places they visit and in which they live. Her main research interests focus on the intersections between tourism, migration and heritage; transnational health and social care; and transformative and participatory learning. Meghann curated Roots Guide: Nederland (Mehus et al. 2022), an atypical interactive guidebook of the Netherlands that invites users to deeply connect with diverse people and places throughout the country. She is heavily involved in the expansion of the Migrantour network throughout Europe and, together with De Voorkamer and community partners in Utrecht's Lombok neigbourhood, currently co-creating the Netherlands' first Migrantour guided walking tour.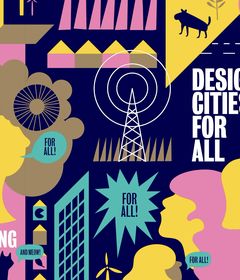 Dossier
Designing Cities for All
The call for a fair, safe and healthy living environment for everyone.