In their Designing Cities for All Fellowship, de Chrononauten rethink the shape of trust and democracy in the digital age. The first episode of this three-part series zooms in on the digital public domain. The arrival of electronic media has splintered democratic communities. As a result, we no longer agree on what we used to consider facts. How can we re-establish a common truth?
In this programme, we talk with futurists, journalists, scientists and designers about truth-finding and gaining new trust in sources by redesigning the Architectures of Trust. But first, de Chrononauten will take you on a brief journey to the future.
You can attend this event physically or online. When making your reservation, choose between a physical spot or an online reservation.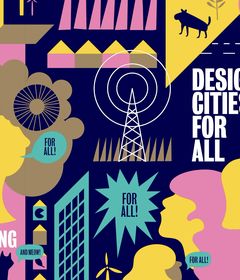 Dossier
Designing Cities for All
The call for a fair, safe and healthy living environment for everyone.
About de Chrononauten:
Edwin Gardner and Christiaan Fruneaux are two futurists who have been researching our era for over ten years. In the Atlas of the Long Now, they interpret our rapidly changing world from the perspective of the great history, the long now and the deep future. If we stretch the moment we think we live in, to decades, centuries, and even millennia – what do we see?
Edwin was once trained as an architect at TU Delft and Christiaan studied history at the University of Amsterdam. In 2012, they started Studio Monnik because they were curious about the contours of a truly sustainable and equal society. How could such a future society work and feel? And, in line with that question: how can you think about the future in a credible way at all? After five years of research, they presented the World Tree model, a historical-futuristic lens with which they could develop credible future scenarios. Ever since, they have been helping companies and governments to get a grip on the rapidly changing society.
The next step for them is to make their societal analyses, future scenarios, and imaginations part of the public debate in the hope it will inspire long-term thinking.
About the speakers:
Gwenda Nielen is the director of TILT, an organisation that counters disinformation and online manipulation. Nielen was a lieutenant-colonel in the Dutch army and is an expert in the field of hybrid conflict, among other things.
Aiganysh Aidarbekova is a Bellingcat investigative researcher and trainer from Kyrgyzstan. She has investigated corrupt officials, built databases of citizens, monitored war crimes – all using open source materials from Instagram to Google maps to governmental websites. Bellingcat is an independent international collective of researchers, investigators and citizen journalists using open source and social media investigation to probe a variety of subjects. Bellingcat members have won multiple awards including ones from European Press Prize.
Pedro Noel is a Brazilian 'meta-journalist' and the founder of Associated Whistleblowing Press, a nonprofit network dedicated to the defense of human rights through transparency, freedom of information and speech, whistleblowing and journalism.