How we tell stories and which stories are told, shape our reality and our perspective of the world. In past DCFA programs, we have seen that the narrative in the design field is still dominated by a eurocentric, heteronormative, cis male and white gaze. To design for all, it is essential to involve all stories and perspectives in the design process. In this series, we will explore the history of erasure, the manifestations of colonisation in the present, ultimately reimagining a just and decolonised society for all. Just like design, colonisation touches our daily lives. Decolonisation of design starts with breathing life into the multitude of stories in our society that have been erased and pushed to the margins of society – experiences of Indigenous peoples, LGBTQI+ perspectives and stories of enslaved people, just to name a few.
You can attend this event physically or online. When making your reservation, choose between a physical spot or an online reservation.
Joris Lechêne is a Franco-British social communicator who has lived and worked in five countries and three continents. Black, gay, foreigner and neuro-divergent, Joris has spent most of his adult life disentangling his multiple marginalized identities in a world that simultaneously views him as an outsider and an insider. As a Social Media Influencer and Anti-racism, Bias and Privilege Trainer, he draws on his experience with the combination of the various identities at the intersections of 'race', neuro-diversity, class and sexuality. He uses this unique vantage point from which to communicate and explain social concepts and speak up on the topics of systemic inequalities, discrimination and biases.
NIÑO DIVINO'S work is honest and personal, constantly practicing a vulnerable spell and a lonely dance between Nostalgia and Melancholia. Grasping feelings of strangers and making them his own. His childhood years are essential to his creative persona; a place he constantly revisits for inspiration, an altar for his offerings, an homage to all who have transformed and shaped him. Incarnating through an imaginative process the memories, feelings and cultural symbols of his upbringing. His mother Violeta is one of the main inspirations for his creative practice. NIÑO DIVINO constantly embodies rituals and family habits through his work as a way of honoring the female figures who shaped him. Fashion design has been a playground for him; he sees fashion as a lifestyle, finding technical defiance by using unconventional materials to construct his garments and therefore challenging the fashion industry and history to its maximum potential. Finding ways to orchestrate different visuals, meanings, elements and symbols into sounds that could be linked with his culture and folklore for his music.
Leana Boven is a cultural programmer, curator and researcher with a background in gender and (post)colonial studies. Her work revolves around counter-culture, diasporic togetherness and belonging, spatial justice, decolonial climate justice, and collective and communal care. Leana curated the exhibition On Collective Care & Togetherness (Oct. 2020 – Jan. 2021) at MAMA in Rotterdam. Currently, Leana works as a curator at Casco Art Institute : Working for the Commons. She also works as a curator of the SALWA Gatherings at SALWA, and is curating and programming several programs as part of Wider Perspectives this year for Gemaal op Zuid. Leana also teaches at Willem de Kooning Academy within the Social Practice Department.
Cheroney Pelupessy is a dancer, choreographer, and artistic director at 'Art&'. In 2010 Cheroney graduated as a performing dancer from the Art & Entertainment College in Amsterdam. After graduating, she participated in the TV show So You Think You Can Dance. To get closer to her Moluccan/Indonesian culture she recently created the multidisciplinary art project Keturunan. In the broadest sense, this art project revolves around connection: between creator and performer, between stories, between dance styles, between artist and audience, and an internal connection between different ethnicities that share a lot of cohesion. The current generation(s) may not have experienced the anguish of the complex history themselves, but they do feel the pain of their ancestors. In the research process, it is explored in what way these connections live on simultaneously. You can still see Keturunan on tour in various cities.
TEASER I DOCU DIASPORA from Beyond Walls on Vimeo.
Anoushka Khandwala is an image-maker, writer and educator exploring decolonial ways of making and seeing. She writes about how identity, culture and politics manifest within the art and design world for Elephant, AIGA Eye on Design, Creative Review and Eye. Anoushka has spoken internationally on subjects ranging from anti-racism to intersectionality, and currently teaches at Central Saint Martins in a role that challenges the canon of communication design.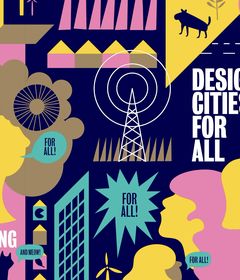 Dossier
Designing Cities for All
The call for a fair, safe and healthy living environment for everyone.