How we tell stories, and which stories are told, shape our reality and our perspective of the world. In past DCFA programmes, we have seen that the narrative in the design field is still dominated by a Eurocentric, heteronormative, male, and white gaze. To design for all, it is essential to involve all stories and perspectives in the design process. Just like design, colonisation touches our daily lives. Decolonisation of design starts with breathing life into the multitude of stories in our society that have been erased and pushed to the margins of society – experiences of Indigenous People, LGBTQI+ perspectives, stories of enslaved people, just to name a few. In this series, we will explore the history of erasure, the manifestations of colonisation in the present, ultimately reimagining a just and decolonised society for all.
You can attend this event physically or online. When making your reservation, choose between a physical spot or an online reservation.
Danick Trouwloon (she/her), born and raised on Curaçao, is a researcher, community organizer, and lover of all things literary. Danick joined 6 ISLANDS in the summer of 2021, after co-founding BPOC Bookclub with Alex in August 2020 and collaborating with 6 ISLANDS on a bookclub event in March 2021. By being part of 6 ISLANDS, she hopes to contribute to ensuring that her communities are able to articulate their own experiences on their own terms, fostering communities rooted not only in shared geographies, but also shared stories and values. Passionate about equality, justice, and sustainability, in her day-to-day life Danick works as a PhD candidate on societal impact, where she tries to unpack how scientific research interacts with environmental governance on Curaçao.
6 ISLANDS zine is an initiative born out of the need to talk about the position of the 6 islands — Aruba, Bonaire, Curaçao, Saba, St. Eustatius and St. Maarten – within the so-called "Kingdom of the Netherlands". From an intersectional approach they explore the experiences of Afro descendants and Indigenous Peoples currently part of the ABCSSS Community.
Daniela Ortiz lives and works in Urubamba, Peru. Through her work she aims to generate visual narratives in which the concepts of nationality, racialization, social class and genre are explored in order to critically understand structures of colonial, patriarchal and capitalist power. Her recent projects and research revolve around the European migratory control system, its links to colonialism and the legal structure created by institutions in order to inflict violence towards racialized communities. She has also produced projects about the Peruvian upper class and its exploitative relationship with domestic workers. Recently her artistic practice has turned back into visual and manual work, developing art pieces in ceramic, collage and in formats such as children books in order to take distance from eurocentric conceptual art aesthetics. Besides her artistic practice she is a mother of two, gives talks, workshops, and participates in various discussions, struggles and organizations against the European migratory control system, institutional racism and against the removal of children from their families.
Geoffrey van der Ven is a Dutch-Nigerian spoken word artist with a focus on unheard BIPOC and LGBTQ+ stories. Without representation, stories disappear from the public eye and lose their meaning. If these stories are not told, it is as if they never existed. Geoffrey is also an ambassador for Spraakuhloos, the Rotterdam Street Culture Festival and recently won the "Poet of the Year" award at the Queer & Feminist Poetry Awards." He has performed on spoken word stages such as Tell'em, Woorden worden Zinnen, and Mensen zeggen dingen. Geoffrey also performs at various events such as Museum Nacht, Rotterdam Pride, and History Month Breda. On 1 September 2022 his first performance "Het is Niet Nieuw" will premiere during Amsterdam Fringe Festival. In this intimate poetic performance he explores the hidden queer history of Africa.
Chautuileo Tranamil has worked on a global scale with grassroots communities, especially Indigenous peoples. As a Mapuche-Pewenche herself, she is committed to the well-being of Indigenous communities around the world. Through her work, she is always celebrating the spirit of Indigenous peoples, and honoring their rights, cultural beliefs and local practices. She has studied Political Sciences, International Relations and Conflict Studies in the Netherlands with a focus on Latin America, international public rights and Indigenous peoples. During her work and private life, she has become aware that climate change impacts the Indigenous communities more significantly than others at a global scale. In addition, solutions without Including the voices of the most marginalized are unlikely to be fair, or sustainable. Chautuileo has years of experience in the non-profit field, is a TEDx speaker, a Global Landscape Forum speaker, moderator and advisor for different NGOs in the field of business development, CSR, and fundraising.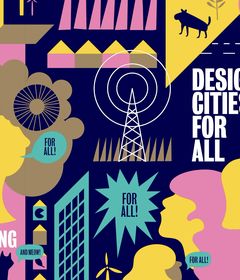 Dossier
Designing Cities for All
The call for a fair, safe and healthy living environment for everyone.