When talking about Designing Cities For All, we also need to take a close look at how the designers of the future are being educated. In past DCFA episodes, we explored the challenges we are facing of individual, institutional, and systemic inequity, and highlighted that inclusion happens by design, or not at all. We have also seen that the dominant narrative of design and design thinking is often still rooted in Eurocentric perspectives, and systems of oppression and exclusion. To design for all, designers can no longer think in silos. Collaboration and crossing disciplines is essential.
What do students think about these topics? And how are they creating their own voice within the design field?
Join us live in the studio for the DCFA special and our season opening! After the first hour, we will also engage in an interactive game to explore how we might redesign the education system!
You can attend this event physically or online. When making your reservation, choose between a physical spot or an online reservation.
Charmaine de Heij (The Hague) investigates personal and contested histories in her artistic work. It takes the form of photographs, which often include still-lifes and portraiture. With her photography, she reflects on contemporary issues that also concern her on a personal level. Charmaine examines the incomprehension of the world we live in today and occurrences close to her. The topics her photography touches upon vary from the psychological state of being to identity. Charmaine's heritage is a mix of Dutch and Surinamese. With her work she aims to represent her cultural heritage and create understanding.
Jonathan Tang (The Hague)is a Cantonese-Dutch visual artist with a background in architecture. Through his work, which is a combination of sculptures, photographic and archival material, he exposes invisible mechanisms of power structures with the aim of creating a better understanding of the position of the individual in contemporary society.
Priscilla Namwanje (Kampala) is an urbanist, researcher and ardent urban activist from Uganda. She holds a Bachelor's degree in Architecture from Makerere University Kampala, and a Master's degree in Urbanism from TU Delft Netherlands. Her vision is to use her career in urbanism to support Global South cities in becoming more inclusive and sustainable. Over the last five years, she pioneered research within informal settlements in her hometown Kampala, under the themes of socio-spatial justice and urban resilience. She is also a recipient of the Holcim Award for sustainability, Next Generation first prize-Middle East& Africa 2020. Currently, Priscilla is spearheading ReFrame, an Urbanism research initiative based in Kampala.
Daisy Dawson (Eindhoven) was born in the UK, grew up in France and is now living in The Netherlands where she studies at the Design Academy Eindhoven. Daisy's neurodiversity had a lot of impact on her relationship towards design and her own practice. As a collaborative designer she focuses mainly on creating inclusive spaces and experiences for people and with people. From public speaking in panels, consulting, creating summer schools for neurodiverse people and ongoing design research with Unblock.space ; Daisy is looking into sharing her theory that neurodiverse people are designers by default and should have a key role in designing spaces.
Marijke Lucas(Tilburg) is a designer and design researcher from the Netherlands with a background in communication design. For over twenty years, she has been an active member of the design community in various roles and disciplines. The need to investigate how designers contribute to the present Real World made her decide to follow the Master's of Education in the Arts program at Fontys Hogeschool voor de Kunsten in Tilburg. For her master thesis, she investigated the current design discourse in the Netherlands and looked for ways to contribute to the dialogue about diversity and inclusion within the design community. With her work as a design researcher and educator she invites designers, design students and educators to research and reflect on conditioned frames of reference and thinking patterns rooted in Modernism.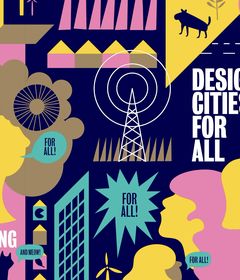 Dossier
Designing Cities for All
The call for a fair, safe and healthy living environment for everyone.