Let's wrap up two years of Designing Cities for All!
In 2021 and 2022, Pakhuis de Zwijger's research and activity programme Designing Cities for All (DCFA) has invited hundreds of inspiring designers, creatives, academics, policy makers and other experts to the table to discuss how we can create cities of belonging – where everyone feels at home. We've learned so much and zoomed in on so many dimensions of exclusion by design — architecture, climate, (digital) democracy, equity, technology, care, journalism, participatory and co-design, environmental justice, decolonisation, public spaces for all…
This evening, we'd like to invite you to a night of talks, art, music, looking back and looking forward, and the launch of not one but two DCFA publications: the DCFA Principles and the 2022 DCFA Essay Book: More Perspectives on Designing Cities for All, with essays by 16 incredible DCFA advocates. Please come and join us!
This program will be subtitled live! To follow with live subtitles, click this link .
You can attend this event physically or online. When making your reservation, choose between a physical spot or an online reservation.
More Perspectives on Designing Cities for All
More Perspectives on Designing Cities for All holds sixteen essays by a diverse range of authors committed to creating cities of belonging, where everyone can feel at home. These inspiring essays will help you understand how design is part of the problem, but also holds the key to the solution.
Excludes shipping costs (NL: € 4,80 EU: € 9,60)
About Designing Cities for All
Designing Cities For All is a two-year research and presentation programme and is made up of various components. The programme is a combination of desk research, interviews and practical research on the one hand (supported by a total of six Fellows who will each work on the programme for three months) combined with the associated activities of dossier development; and on the other hand various forms of transfer and exchange of practical experiences and generated knowledge.
About More Perspectives on Designing Cities for All
The past two years were marked by some deeply disruptive developments on the international stage – the Covid-19 pandemic, Russia's military invasion of Ukraine and the very recent devastating heatwaves in India and Pakistan, to name a few. Inequality, increasing political and societal polarisation, alt-right sentiments and the violation of basic human rights are on a steep and, frankly, scary global rise. Crises aplenty – housing, education, energy, food, (mental) health. Not to mention the ever lurking doom of the climate crisis. More than ever before, exclusion by design surfaces on the micro, meso and macro level. Our systems were not designed to catch us in the event of catastrophe. At least, not all of us. In 'More Perspectives on Designing Cities for All', the contributors explore different layers of in/exclusion within design – from healthcare, urban planning, environmental (in)justice, participatory design, journalism, or the ethics of designers.
Essays by:
Leslie Kern, Daphina Misiedjan, Oluwatomilola Adefioye, Wing Yan Man, Tadzio Bervoets, Anna Noyons, Shay Raviv, Darko Lagunas, Radha D'Souza, Stacy Mac Donald, Designalism, OneWorld, Setareh Noorani, de Chrononauten, Yelizaveta Strakhova and Roberto Rocco.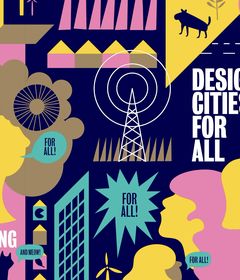 Dossier
Designing Cities for All
The call for a fair, safe and healthy living environment for everyone.