Unexpected Muslims is the initiative of a group of documentary makers who map Muslims in unlikely places in the world. In collaboration with the NISIS research school, Unexpected Muslims will screen the beautiful documentary 'Somos Musulmanes'.
This event can only be attended physically at our studio. The recordings will be made available later on and can be viewed via
dezwijger.nl/terugkijken
or via our YouTube channel.
With amongst others: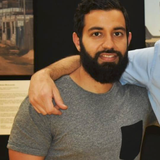 In the misty mountains of San Cristobal de Las Casas, sheltered under improvised houses, lives a small Muslim community of Tzotzils, an ethnic group of Mayan descent. But what is their story? In the midst of the Zapatista Revolution, a movement that fought for the emancipation of indigenous peoples, a group of Sufi Muslims traveled from the Iberian Peninsula to Mexico, to the Chiapas region, with the idea that Islam would strengthen the revolutionary character of the movement. . Commander Marcos did not embrace this idea, but during their discussions several leaders of Tzotzil families converted to Islam, dramatically leaving Mexico's dominant Hispanic-Christian tradition behind. In doing so, they changed the fate of their clan…
After the screening there will be an interview with one of the filmmakers of Unexpected Muslims, Dhia Ben Naser. This film is part of a program of the national graduate school for Islam Studies, NISIS. On 7 October there will be a public lecture in the afternoon (from 4 to 5 p.m.) at the UB (UvA), in the Belle van Zuylenzaal at Singel 425 in Amsterdam, where filmmaker Dhia Ben Naser will talk with a specialist (name to be confirmed) about another Unexpected Muslims documentary entitled 'Hui People'. The subject of this documentary is a Muslim minority in China. More information about this afternoon program and registration can be found on the website of NISIS.
The documentary 'Somos Musulmanes' is in Spanish with English subtitles.
Duration: 1 hour and 5 minutes
About the speakers
Dhia Ben Naser became passionate about filmmaking during his early years of economic studies at the university. Autodidact, he first started producing music videos and short films, before gradually turning to documentary filmmaking with Repères & Vocations. It is within this framework that he co-directed three documentaries, "Road to Sarajevo", "On the footsteps of the Hui people " and "Somos Musulmanes".