Industrial hemp has seen a steady rediscovery in past decades. Are we experiencing a breakthrough moment for this extremely versatile and sustainable crop? It needs little water, no pesticides, yet absorbs large amounts of carbon dioxide during growth, provides housing, medicine, textiles and jobs. Can hemp contribute to a system reset? German photographer and climate impact storyteller Maren Krings set out on a six-year journey to examine how hemp can help create circular economies. Krings has photographed more than 200 projects in 26 countries on four continents and interviewed more than 80 industry experts. This evening she will present her publication 'H is for HEMP', which shows how various industries have changed to more sustainable versions already to set the starting point for a conversation with an expert panel on this topic.
On the event it will be possible to buy a copy of the Limited Collector's Edition printed on hemp paper!
You can attend this event physically or online. When making your reservation, choose between a physical spot or an online reservation.
Who is joining the evening?
Maren Krings is author of the book `H is for HEMP´ and a photographer and Climate Impact Storyteller from Germany. Her work is published and exhibited internationally and she authored four photobooks. For six years she documented the worldwide rediscovery of industrial hemp in 26 countries on four continents. Krings photographed over 200 projects and interviewing more than 80 industry-experts to show proof

of

the plants potential to mitigate the socio-ecological crisis. The encyclopaedia is printed on tree-free exclusively produced hemp paper by Hahnemühle.
Alicia Fall, Founder and Visionholder of Her Many Voices Foundation, has been a lifelong doer and creator. She shows a path forward to heal both the planet and the people, by embracing our full history and connecting to one another. Inspiring and factual, Falls tells about the history of hemp, modern day uses, and ways to work with communities and municipalities to develop sustainable practices using this plant.
Gerbrand Korevaar is an art historian and curator of the Hash Marihuana & Hemp Museum (Amsterdam and Barcelona), which celebrates its 35 years anniversary in 2022. He is especially interested in cannabis and industrial hemp history and the numerous stories hidden in the museum's collection that reflect this impressive past.
Mark Reinders is CEO of the HempFlax group of companies. HempFlax focuses on the production and processing of sustainable resources, semi-finished and finished products made from ecologically grown fibre hemp and flax. By professionally improving the development and innovation of renewable natural fibre products, HempFlax stands at the outset of a sustainable industrial chain.
Marriël Edzes is co-founder of GreenInclusive. They develop and produce products in which CO2 is stored for a long time. In collaboration with their partners, they can close chains and accelerate the transition to a circular economy.
Jasper Van Den Munckhof was program director of the government funded Energiesprong program and member of the board of the market funded association Stroomversnelling. Therefore he was deeply involved in changing the Dutch market structure to fit the needs for a energy neutral build environment. As a member of the board of Energiesprong UK and as international program director in France and an advisor to New York State he has been leading the successful effort to expand the program internationally. Now he is working on the transition of bio-based materials and is also co-founder of Nieuwe Bodem (regenerative agriculture).
How did Krings six-year journey look and what is it about?
ENG-Hemp-Trailer-Maren-Krings-9-21.mp4 from Maren Krings on Vimeo.
The Doughnut Economy model played a vital role for Krings´ explorations of the industrial hemp world to be placed in a broader context of the socio-economic crisis. Krings used Kate Raworth's factors, which are framing the social foundation and related them to hemp. Krings shows in eleven chapters of her book how the plant is used to bring humanity back into the sweet spot of the doughnut on the social foundation as well as on the planetary overshoot.
H is for HEMP – Limited Collector's Edition (tree-free)
There is a special inaugural Limited Collector's Edition of only 700 copies on Hahnemühle ́s hemp paper. All books are signed and numbered by the Author and arrive in environmentally friendly uncoated paper and no plastic wrapping! On the event it will be possible to buy a copy of this Limited Collector's Edition! Price: €140,00.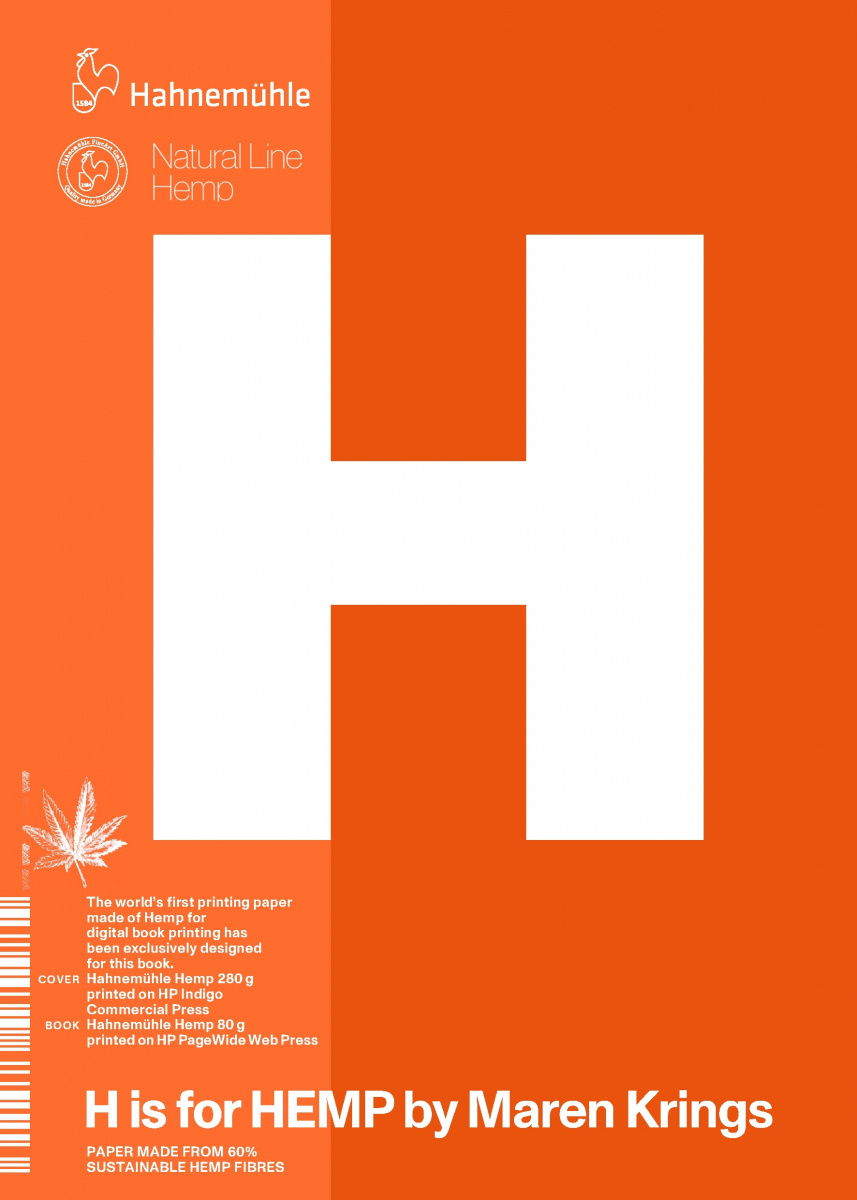 Exhibition Hash Marihuana & Hemp Museum
In the Hash Marihuana and Hemp Museum, located in the city centre of Amsterdam, a selection of Maren's work is displayed within the context of the Doughnut Economy Model developed by Kate Raworth. Here hemp's potential for easing the planetary overshoot we have produced through modern industries and societies is explained to the visitors. The exhibition can be visited daily until 31 December 2023 in the Museum's location dedicated solely to the rich history and various current uses of industrial hemp (Oudezijds Achterburgwal 130).