In the programme series Designing Cities for All (DCFA) we dive into the matter of (re)designing inclusive cities. Apart from involving many designers, scientists, experts, educational institutions and other partners to participate, we've invited a total of six Fellows to curate part of the programme. After our 2021 Fellows Lyongo Juliana, Dark Matter Labs, and the first season of 2022 Fellows Galit Ariel, and OneWorld and Daphina Misiedjan, we are happy to welcome the Chrononauten as our last Fellows of 2022! In their DCFA Fellowship, de Chrononauten – a small collective consisting of futurists Edwin Gardner and Christiaan Fruneaux – (re)think the shape of trust and democracy in the digital age. Together, we explore the implications of a new (online and electronic) era on three levels: the public domain, public culture and public governance.
You can attend this event physically or online. When making your reservation, choose between a physical spot or an online reservation.
In this programme, among others: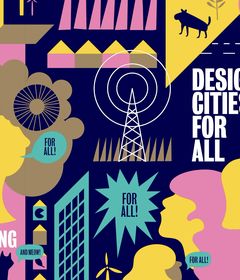 Dossier
Designing Cities for All
The call for a fair, safe and healthy living environment for everyone.
About de Chrononauten:
Edwin Gardner and Christiaan Fruneaux are two futurists who have been researching our era for over ten years. In the Atlas of the Long Now, they interpret our rapidly changing world from the perspective of the great history, the long now, and the deep future. If we stretch the moment we think we live in, to decades, centuries, and even millennia – what do we see?
Edwin was once trained as an architect at TU Delft and Christiaan studied history at the University of Amsterdam. In 2012, they started Studio Monnik because they were curious about the contours of a truly sustainable and equal society. How could such a future society work and feel? And, in line with that question: how can you think about the future in a credible way at all? After five years of research, they presented the World Tree model, a historical-futuristic lens with which they could develop credible future scenarios. Ever since, they have been helping companies and governments to get a grip on the rapidly changing society.
The next step for them is to make their societal analyses, future scenarios, and imaginations part of the public debate in the hope it will inspire long-term thinking.