Through the medium of fashion, AFRIEK combines design tailoring, craftsmanship, art, and storytelling within Africa and Europe. Their story started in Kigali (Rwanda) and Amsterdam (The Netherlands), with the ambition to explore many more cities and collaborate with many more individuals. AFRIEK believes that at each juncture, you can learn, understand and improve, re-shaping the way humans across the globe collaborate with one another. With an ethical and sustainable mission at the core of the brand, they believe in building global partnerships through mutually beneficial, equal, and respectful exchanges.
You can attend this event physically or online. When making your reservation, choose between a physical spot or an online reservation.
AFRIEK made a short documentary (20 minutes) in which they take the viewer on a journey of how the brand has grown into a transnational collective, that showcases the beauty and power of cultural exchanges, aiming to contribute to a more equal world.
Tonight, the docu premieres in Pakhuis de Zwijger, followed by a talk with founder Sivan Breemhaar and other speakers.
Sivan Breemhaar is the founder of AFRIEK, a fashion brand producing high-end fashion in Rwanda for the European market since 2013. Sivan is a global thought leader on sustainability, organic cotton, fair wage, fair trade and original fashion, about to launch a new collection that has a completely transparent, local supply chain – starting with organic GOTS certified + fair trade cotton from the region. Sivan was raised in the Netherlands, has a Master Degree in Human Rights and Conflict Studies, and received the Dutch Young Sustainability award last year.
Tobi Onabolu is a filmmaker, creative director, spoken word artist, and cultural strategist, focused on cultural advocacy in relation to Africa and its diaspora. His focus lies on "supporting the empowerment of Black people globally, connecting the dots through inter-continental cultural collaboration. Phase one is through healing". Therefore, he centres the Black (human) experience in the process of healing through energy work, capturing the tangible manifestation of healing. His work has seen him collaborate with the likes of Uber, Bumble, Foot Locker, ART X Lagos, and Soho House, with his work featured across exhibitions, newspapers and billboards, as well as in publications such as Dazed, gal-dem, AFROPUNK, GQ, Postscript London, and shado mag.
Zinzi de Brouwer (she/her) is an Advocate, Entrepreneur, Academic, Creative Director and founder of Studio Palha, an equity-centered community design studio based in Mozambique and the Netherlands in which female artisans take the central stage in bridging craft and design to new fashion narratives. Through fashion, she links academia and industry to foster social and environmental justice in specific regard to African fashion narratives and Indigenous sovereignty. She co-founded Stories of Near in 2015, the first trend forecasting studio dedicated to the African continent as part of the global map. In 2021, she joined the Amsterdam Fashion Institute, as head of Society & Context pushing the urgency of Diversity, Equity and Inclusion forward. She recently became the interim head of Design. Her research and practice are focused on looking through the fashion lens as a means to heal, bring joy, well-being, and belonging, through non-Western perspectives.
Willa Stoutenbeek is the founder of W.Green. Willa's impetus for change came in 2010, when the denim company she was working for went bankrupt and her professional life was completely upturned. She took the opportunity to step back and really examine herself, the work she was doing, and her contribution to the world. Willa seized such an opportunity, and the result was W.Green, a branding & communication agency focusing on fashion, food and lifestyle. Having seen the failures of the fashion industry up close and in person, Willa finds herself drawn to modern, conscious brands and being able to spread their message – in a more sustainable and conscious way. Her work is often featured in numerous leading Dutch magazines, such as Vogue, Glamour, ELLE, Marie Claire, Grazia and also gave a TEDxTalk about Sustainable Fashion in 2013.
Stephane Barbier is a consummate designer, passionate about all aspects of the creative process, with an elevated focus on craftsmanship, authenticity and love for detail. Across Design, Art Direction, product Development and creating a Global Vision, he has brought his passion for fashion into different brands, like Turnover, Tommy Hilfiger and AFRIEK. Since 2018, Stephane has focused on print design and has been working for Fabienne Chapot. He also designed the Imigongo print together with Crista Uwase for AFRIEK – embodying the beautiful result of Cross-Cultural Collaboration based on equality.
Lisa Konno is a fashion designer based in Amsterdam. She walks a different path in fashion by working on various projects that involve design to highlight socially relevant stories. In 2015 she began by creating collections from textile waste that made statements about the unethical habits of the fashion industry. Since the work on the short film NOBU – a stylized portrait of her father – filmmaking has become a place for her to express narratives through fashion. It has allowed Lisa to use the optimistic, fun and aesthetic look that fashion can bring to point out human stories, instead of using fashion's appeal to seduce into overconsumption. At the moment she experiments by combining fashion with documentary, ceramics and performance. Through this she strives to create flexibility and relevancy in what it means to be a fashion designer.
Muriël Dalmulder is an international heart based leadership Alchemist and Keynote Speaker based in Amsterdam. She is the founder of a purpose based leadership method to help you retrieve your Spark, while she works with healing sound vibration of ancient mantras to deep relaxation. Muriël ditched her comfy C-level marketing jobs for beautiful brands like Diesel and Red Bull, in pursuit of career freedom and wanting to follow her heart to help people to be limitless and change their lives in a sustainable way. Her mission in life is to help leaders to be aligned with their purpose and core power. Free of stress, free of fear, free of perfectionism and high expectations – so they can be happy and fulfilled in all areas of life.
Rudy Asibey is co-founder of Alkebulan which is a multidisciplinary community of creatives, with both an African (ancestry) and a Western background gathering to deepen and research their African heritage. She focuses on how the community aims to change perception and shifting the negative prejudices to positive images. Last year Rudy published her autobiography Ik hoop in which she shares how it felt to grow up in the Netherlands as a black woman. Therrby, she expresses her frustration while touching upon different issues concerning discrimination and racism.
Marvin Stanley is the marketing coordinator at Fashion for Good, an innovative fashion platform focusing on sparking and scaling technologies and business models with outstanding potential to shift the industry. He has been passionate about diversity and inclusivity within the sustainable fashion industry for over 5 years, which is why Marvin completed his Master's thesis diving into intersectional environmentalism in fashion at the Amsterdam Fashion institute last February.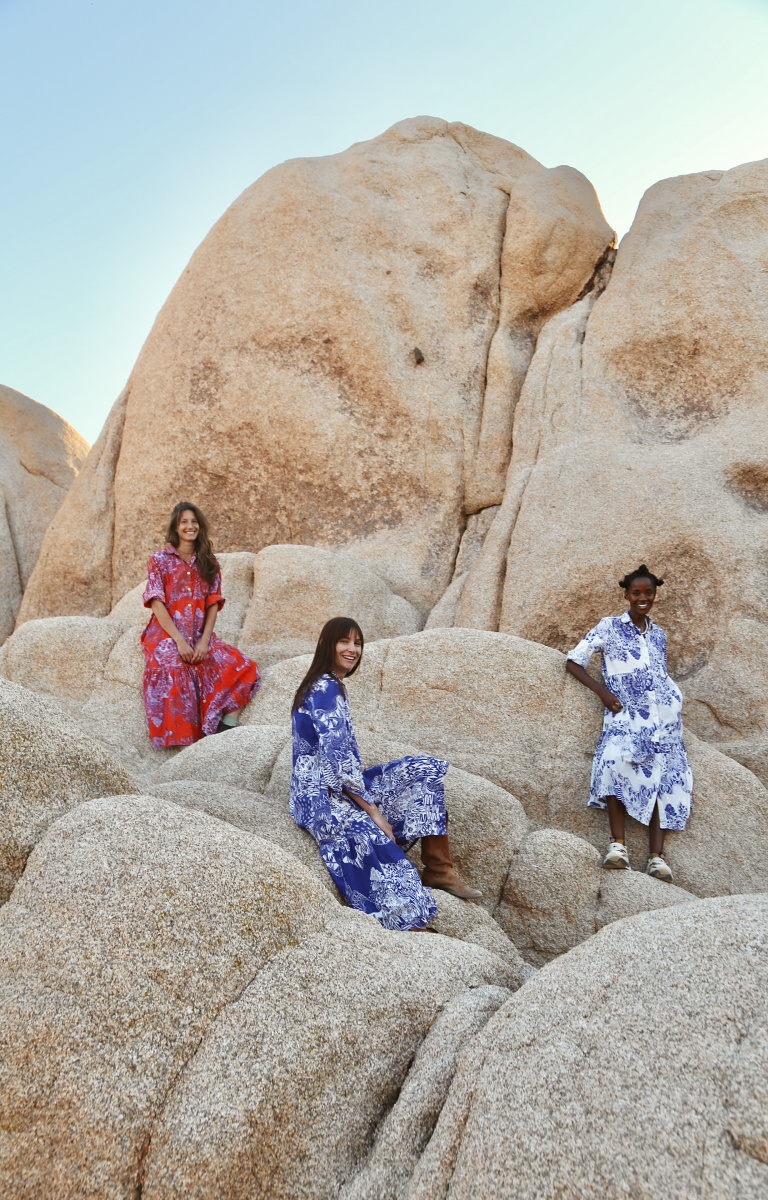 The Imigongo Print Dress is AFRIEK's latest collaborative project. The print design – inspired by Imigongo, a traditional Rwandan art form – is a collaboration between the Rwandan artist Crista Uwase and the French textile designer Stéphane Barbier, and the dress is designed by Dutch designer Lisa Konno. The fabric is printed at UTEXWRA, a local Rwandan mill and printer, and sewn by the AFRIEK team of tailors in Kigali. You will find the name of the tailor who made the dress in the neck label.