In Designing Cities for All, we take a deep dive into (re)designing just cities, together with designers, scientists, experts, educational institutions, ánd six Fellows. Inequality and exclusion are also affected by how we define our digital world. Tech giants are encroaching on our streets in very tangible ways, disrupting our neighbourhoods. This particular series is curated by Techno Futurist Galit Ariel, who wants to evoke new ways to hack the city (for good). How can we design bottom-up tech solutions? In this second episode, Galit will talk with Neil Livingston about the cultural and personal costs of digital gentrification, and the effect of tech on the organic and uncoordinated intimacies between people, spaces, and places.
You can attend this event physically or online. When making your reservation, choose between a physical spot or an online reservation.
Neil Livingston is currently a second year PhD in the Humanities program at York University in Toronto, Canada. He returned to the academy from 22 years in the praxis of deejay culture, performance, and multimedia production to acutely examine the connections between race and music through theories of resistance, media ecology, and political economy. Neil's current research examines the geo-political presence of Jamaican immigrants in Toronto, and the role of reggae music as a force of culture and rebellion. The outcomes of this research are intended to specifically fortify the transfer of intergenerational knowledge through Rastafari. In addition, Neil is also the founder of beatzMASSIVE*, an experimental Electronic – Jazz collective created to challenge the unconscious themes of their surroundings through musical, visual and cultural exploration
Galit Ariel is a TechnoFuturist, author, and creative who explores the wild and imaginative side of immersive technologies. She is the author of Augmenting Alice – The Future of Identity, Experience and Reality, a book that explores the way Augmented Reality's diffusion will shift core paradigms and interactions related to culture, space, embodiment, agency, and ethics. Through her art/tech futures agency Future Memory Inc. she helps organisations and policymakers shape their technological futures and develop immersive experiences, interaction tools, and narratives. Galit is currently conducting her research-by-design Ph.D. at York University, exploring paradigms of immersive presence. In her DCFA Fellowship, Galit will explore the impact of tech-infused urban environments on agency, representation, and self-expression, evoking new ways to hack the city (for good).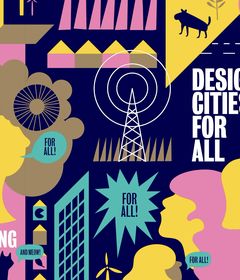 Dossier
Designing Cities for All
The call for a fair, safe and healthy living environment for everyone.