How do we design cities that are not just created for, with and by all people, but every (living) thing in them?
In the new series Designing Cities for All: RE-generation, we will delve into the subjects of Regenerative Design, Cooperatives & Commons, (Climate) Just Design, Inter-Being Design, Degrowth and (Re)design Education during two years of creative, interactive, intersectional, participatory and practical programmes, and together with designers, professionals, students, storytellers, policymakers and other experts from many different disciplines. This first session, we'll introduce you to our first DCFA Fellow of the year and two regenerative creatives who are putting the theory into practice. We'll also touch upon the different themes and plans, and even briefly introduce the DCFA team itself. Most of all, we hope to hear your input: what would you like DCFA: RE-generation to cover?
We'd love to see you there!
You can attend this event physically or online. When making your reservation, choose between a physical spot or an online reservation.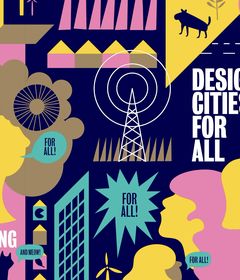 Dossier
Designing Cities for All
The call for a fair, safe and healthy living environment for everyone.
About Designing Cities for All
Over the past two years of Designing Cities for All (DCFA), we've learned about exclusion by design and the (re)design of inclusive cities. Along the journey, a certain question kept popping up: what exactly does 'for all' entail? After focusing mostly on the 'who' over the past two years, DCFA is rebooting as Designing Cities for All: RE-generation. This way around, the series is also incorporating the 'what' by looking through the fresh lens of regenerative design. This emerging field might very well be a promising answer to the challenges of our time, as it focuses on the design of products, services, systems and processes that lead to both social and ecological recovery and that keep the systems healthy.
About the first DCFA: RE-generation Fellowship
Environment, social justice, economy – it's become clear that our dominant systems are broken. In her 3-month DCFA Fellowship, Singapore-based urbanist Sarah Ichioka will dive deeper into the possibilities for systemic change. What promising alternative systems and regenerative practices are already emerging around the world? And who are taking the first steps towards these essential changes?