Liam Young's animated short film Planet City (Vimeo-screened via this page from April 24th till April 28th) provocatively explores how centuries of colonisation, globalisation and never-ending economic extraction and expansionism could be reversed to solve climate change and the exploitation of both natural and human resources.
"Although absurd, the proposal actually demonstrates very meaningful relationships to some of the technologies that are gonna be necessary when we have to deal head-on with the changing climate. The ways that we are prototyping the necessary lifestyle and cultural changes that are gonna be needed in the city hopefully have resonance, because they are not just pure fantasy, but rather they're grounded speculations." According to Liam, using fiction and film as a new kind of sight, we can design and prototype a whole range of possibilities about what the future might be and put them into the world with enough force that might find traction. "Or that at least they might connect with audiences so that we can have a shared conversation around the futures that we all wanna be living in together."
Together with Liam and other guests, we will talk about strategies for the degrowth of humanity and utopian design solutions for our cities for all.
This event can only be attended physically at our studio. The recordings will be made available later on and can be viewed via
dezwijger.nl/terugkijken
or via our YouTube channel.
Planet City (full video) will available on this page via Vimeo from April 24th till April 27th:
Designer and Director: Liam Young
Commissioned by: NGV Melbourne & Ewan McEoin
Liam Young (Los Angeles) is a speculative architect and director who operates in the spaces between design, fiction, and futures. Rather than designing buildings as physical objects, he tells stories about the way that spaces, buildings, and cities are changing in the future. His work explores the increasingly blurred boundaries among film, fiction, design, and storytelling with the goal of prototyping and imagining the future of the city. Using speculative design, film and the visualisation of imaginary cities, he opens up conversations querying urban existence, asking provocative questions about the roles of both architecture and entertainment. Liam is the co-founder of urban futures think tank Tomorrows Thoughts Today and nomadic design research studio Unknown Fields Division.
Ever feel like we should be doing more in the building industry to address today's global challenges? Nyasha Harper-Michon (Amsterdam) sure does. We could be doing so much more to mitigate the climate crisis, create resilient cities and communities as well as design safe and inclusive spaces and places. Nyasha considers herself an Archtivist – a term she has coined for architecture and design professionals driving economic, environmental, and social reform to foster positive changes in society and within the profession. She is involved in various projects from the future of design and technology to fostering diversity and inclusion within the architecture field and works as an architect and business developer for RAU Architects, a studio specialised in sustainable and circular economy design thinking and construction methods.
Edwin Gardner (Amsterdam) is a futurist, architect, and creator of future scenarios and worlds. With Christiaan Fruneaux he runs De Chrononaten, a weekly newsletter/community for long-term thinking, and works on a richly illustrated guide of Amsterdam in 2091. It is titled 'Alles Komt Goed' and drawn by graphic novelist and illustrator Jan Cleijne. All work is based on their own historic-futuristic research into how societies change due to shifts in technology, economy, and culture over long spans of time, and how these can be bent towards making a more inclusive, sustainable, and adventurous society reality.
Artistic researcher and exhibition maker Arne Hendriks (Amsterdam) is an art historian by origin. He is concerned with sustainability, people, and devising radical solutions to the problems that concern people today. He deliberately explores the borders of specific cultural values that define our relationship with the planet. Arne believes we should be more generous towards ourselves in allowing radical new ideas and practices into our relationship with the ecology.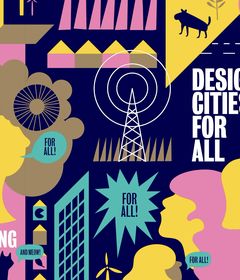 Dossier
Designing Cities for All
The call for a fair, safe and healthy living environment for everyone.