Imagine living in a city that looks after its inhabitants, takes care of their surroundings, and enables people to care for themselves and others. What does such a city look like? How does it feel? In this series, we're rethinking the city from a feminist and care perspective. Caring cities place people, health, safety, and collective wellbeing at the heart of decision making, emphasizing the value of paid and unpaid care work for all. Together with designers, researchers, artists, policymakers and activists we will uncover how we can (re)design cities, systems, spaces and human relationships to enable a culture of care grounded in values of compassion, empathy and equity for all.
You can attend this event physically or online. When making your reservation, choose between a physical spot or an online reservation.
Juliet Davis (Cardiff) practiced architecture and urban design in London for ten years before entering academia in 2007. She is currently Head of School at the Welsh School of Architecture, Cardiff University, where she teaches in Urban Design and in architectural history and theory. Her research spans the field of Urban Design and Planning history and theory, reflecting particular interests in urban change and regeneration, post-industrial cities, and health and wellbeing. A long-standing focus of research has been the history of urban transformation in East London, prior to and following the 2012 Olympic Games, with an emphasis on the relationship between social and spatial change. Since 2017, she has been working on a book for Bristol University Press entitled 'The Caring City: ethics of urban design' which considers the potential of city-making through the lens of care ethics.
Lior Steinberg (Rotterdam) is an urban planner and co-founder of Humankind, a multidisciplinary collective accelerating the transition towards urban happiness for all. He helps cities to look beyond functionality and to plan urban spaces that make people smile. All the projects Lior participates in have one thing in common: they create people-oriented cities. Being a Jane Jacobs' enthusiast and a fan of great public spaces, he is keen on making cities better with an emphasis on local, innovative interventions and on including residents in urban planning.
Elke Krasny (Vienna) is Professor for Art and Education at the Academy of Fine Arts Vienna. She is a feminist cultural theorist, urban researcher, curator, and author. Krasny's scholarship addresses questions of ecological and social justice with a focus on caring practice in architecture, urbanism, and contemporary art. Together with Angelika Fitz, she edited Critical Care. Architecture and Urbanism for a Broken Planet (MIT Press, 2019). Her forthcoming book Living with an Infected Planet. Covid-19 Feminism and the Global Frontline of Care (transcript, 2022) develops a feminist perspective on imaginaries of war and realities of care in pandemic times.
Simon van Dommelen (Amsterdam) is a social and cultural entrepreneur, initiator and advisor. He is the founder and director of LOLA (Stichting Leegstand Oplossers Amsterdam). LOLA is a vacancy manager that offers space to social initiatives, starting entrepreneurs, artists and other creative talent. They provide responsible vacancy management for buildings and surroundings and bring buildings to life.
April Ranshuijsen (Nijmegen) is an expert on the UN Convention on rights of persons with disabilities, European and world champion in wheelchair hockey and managing consultant for inclusive societies at BMC Advies. She is currently working with BMC on the 'Inclusion with Impact' approach. True inclusion requires a different way of looking, thinking and acting. Equitable participation runs like a thread through the life of April. From her own experience she knows how (well-intentioned) separate worlds have been created in the Netherlands and how this can lead to exclusion. According to April, the keys to success are a design for all approach, collaboration with experts whom have the lived experience and making pacts. It is her mission to do something with this. At BMC, she now conducts research into inclusion among municipalities and publishes a series of articles.
Firoez Azarhoosh is the founder of De Meevaart and 'kwartiermaker' at Samen Vooruit. He is specialized in community and urban development, combining ideas from science, art history, literature, organizational theory and current societal developments. With this lens, he uncovers social and organizational flaws in the interaction and communication between people. This is also the core of community and urban development, bridging people with different backgrounds or opinions, and finding a common ground.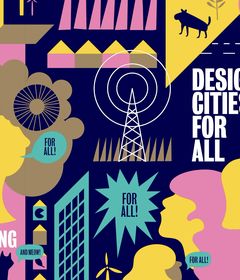 Dossier
Designing Cities for All
The call for a fair, safe and healthy living environment for everyone.