In 2015, UN-Habitat and the Creative Industries Fund NL began collaborating in the field of urban development. Specifically, the partnership supports 20 designers who work together in teams at five urban labs. The participating designers spend a year working at one of the labs, collaborating with an international, multidisciplinary team on urgent assignments that are formulated based on recommendations from the related city or urban area. Now that the New Urban Agenda has been ratified following Habitat III, what can we expect in terms of local implications and policy implementations? We invite the audience to join this session as we reflect on Habitat III through the UN Urban Labs and other projects that were part of Habitat III.
Reflecting on Habitat III, Pakhuis de Zwijger's project Fabrica Ciudad, connecting pioneering local and international City Makers and other stakeholders, will be introduced by Charlot Schans of Pakhuis de Zwijger and Herman Weeda of JAM Visual Thinking.
Another project that was presented at the conference is Future Cities, created by Yvonne Brandwijk and Stephanie Bakker. They will show video impressions of their multi-media project and share their experiences in Quito where they invited two of their main characters Louison Mbeya from Kinshasa, Congo and Aung Soe Min from Yangon, Myanmar.
Rogier van den Berg, project leader of UN Urban Labs, and Martijn van der Mark, Creative Industries Fund NL, will explain UN Urban Labs and the collaboration between UN Habitat and the Creative Industries Fund N.
The following 5 urban labs will present their projects and results:
Fabrica Ciudad
Pakhuis de Zwijger opened a City Embassy in Quito during the Habitat III conference to connect pioneering City Makers and other stakeholders from civil society organisations, public authorities, knowledge institutions, and businesses working towards livable, inclusive, prosperous and sustainable cities. Under the working title Fabrica Ciudad (Urban Factory or 'Make the City') weekly programmes focused on social innovation, City Makers' practices and new forms of governance and local City Makers were connected to renowned international speakers and incoming delegations.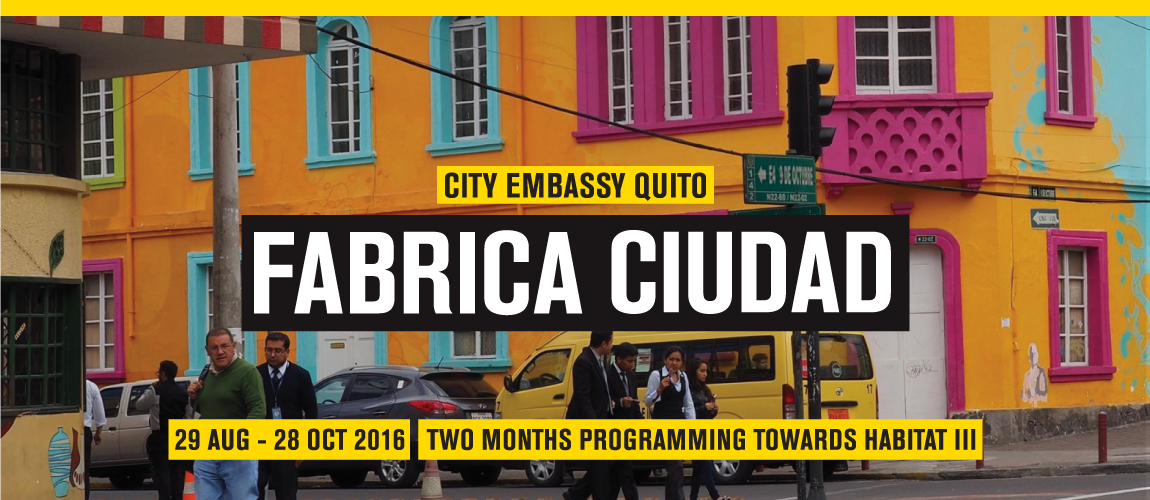 Future Cities
Future Cities is a transmedia project of photographer Yvonne Brandwijk and journalist Stephanie Bakker in collaboration with de Volkskrant. The project explores five of the world's most exciting and emerging urban areas and consists of a five-part web documentary, print stories and a series of 4 events in Pakhuis de Zwijger. Yvonne and Stephanie will reflect on their exhibition at Habitat III where they invited two of the main characters of their multi-media project.