How often do you check your smartphone every day? Take whatever number comes up and double it, and then you might be getting close. Whether that is a good or a bad thing, you can't argue that smartphones have improved our lives in ways we never even thought of: they bring information to the developing world, can keep you safe, help people cope with illnesses and disabilities and save us a lot of time. Tonight we talk digital: we invite four industry experts, technology innovators and digital disruptors to talk about their practices and tactics. What do they have to say about smartphone technology?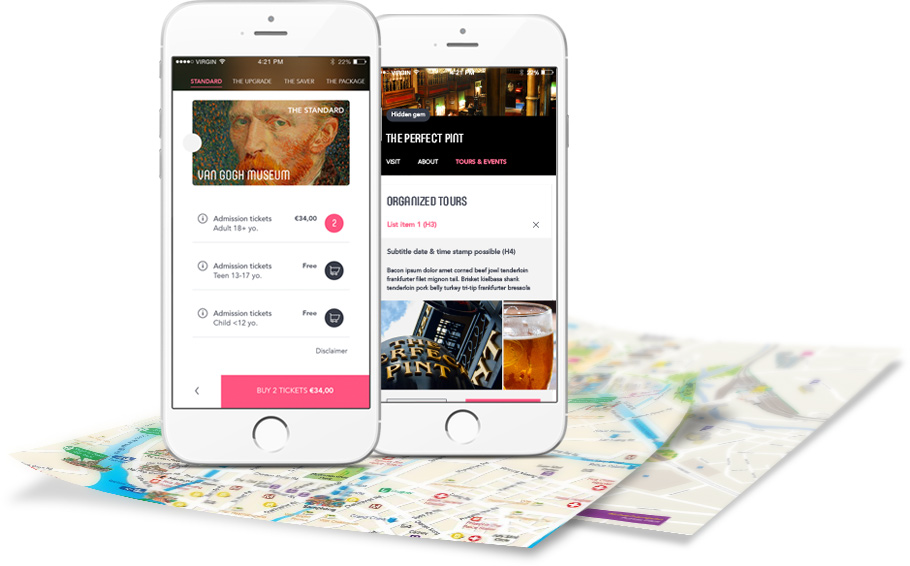 weCity accompanies millions of visitors to Amsterdam, while they decide on their next destination. With local WiFi sites and a highly intuitive app that uses a specially designed algorithm to deliver tailored travel tips and recommendations, they show the uniqueness of European cities by presenting a range of museums, attractions, restaurants and shops. Places that visitors eager to discover and are nurtured by residents. In cooperation with these local heroes, weCity creates new connections between the mobile and the physical world, by developing new services that improve urban experiences. Because weCity runs on WifiSpots, with an own Wifi network with SSID, you can also use the app if you don't have access to mobile data – perfect when you are a tourist!
Find My Phone
Did you know that in the Netherlands, 300 police reports a week are filed for smartphone-theft? Besides losing your expensive device, a stranger has access to all of your photos, videos, e-mails, messages and contacts. After Anthony van der Meer's phone got stolen, he quickly realised just how much of his personal information and data the thief had instantly obtained. So, he let another phone get stolen. This time his phone was pre-programmed with spyware so he could keep tabs on the thief in order to get to know him. The short documentary Find My Phone follows a stolen phone's second life by means of using spyware. How well can you actually get to know someone when you base yourself on the information retrieved from their phone?
Fabrique
Querine van Casteren works as an interaction designer at Fabrique and was involved with the realisation of a 'day finding' app for the British museum Tate. With the app, you can discover the museum at your own pace. During your visit, the user is given up-to-date tips and advice on what to do and see in the museum thanks to technology like beacons and the Tate website API. Still, as a designer, you never start designing straight away with the intention to realise a smartphone application or to use as many newest technologies. You have to put the user first, and your goal is to create a (positive) change in his or her behaviour. How do you make sure you don't fail to achieve your objective?
Florin
With his fintech startup Florin, Bas de Vries aims to make transactions more simple ánd social. Florin – launched in August 2016 – is the only Dutch app for sending ánd requesting money to any phone number. Inspired by bitcoins payments, Bas and his partners soon realised the way we see money as a means to transfer value is changing. Florin's mission is to spend less time on money and more on friendship. Using the encrypted technology of iDeal and already labeled as 'the Snapchat among payment apps', Bas believes that paying with your phone is the new standard and we can make it a lot more fun!