As the local government has come to facilitate, rather than control, social innovation and sustainable practices, the city of Buenos Aires is witnessing the rise of a new player in its urban development: its creative citizens. Social designers, architects and other creatives are actively addressing the challenges in their city. What could the more rational and planned city makers movement in Amsterdam learn from the highly social, holistic and hands-on approach of these Argentinian creatives? In anticipation of the Metropolitan Field Trip to Buenos Aires from 6-12 November 2017, we invite Argentinian and Dutch city makers (with their roots in social enterprise, sustainability, design and art) to explore and discuss their achievements, common challenges, and social gains.
CityLabs: social design for sustainable cities
A Goood Foundation and Pakhuis de Zwijger work on establishing a structural partnership between the Netherlands and Argentina in the field of sustainable (urban) development, together with several institutions and organisations from both countries (*). By organising public events, Metropolitan Field Trips and the creation of international creative CityLabs in both Buenos Aires and Amsterdam; various stakeholders that are working on social design, circular and sustainability (city) challenges are brought together for knowledge exchange and bilateral business creation. In this way the circular economy is put to practice, accelerating the transition towards sustainable cities.
This initiative will be introduced by Caro Isern (Buenos Aires, 1970): architect, social designer and sustainability specialist working in the Netherlands and Argentina. She is the director of A Goood Foundation, which initiates and supports projects with the focus on increasing public awareness, transfer knowledge and generating sustainable practices for starters and professionals working on sustainable design.
About the Argentinian city makers: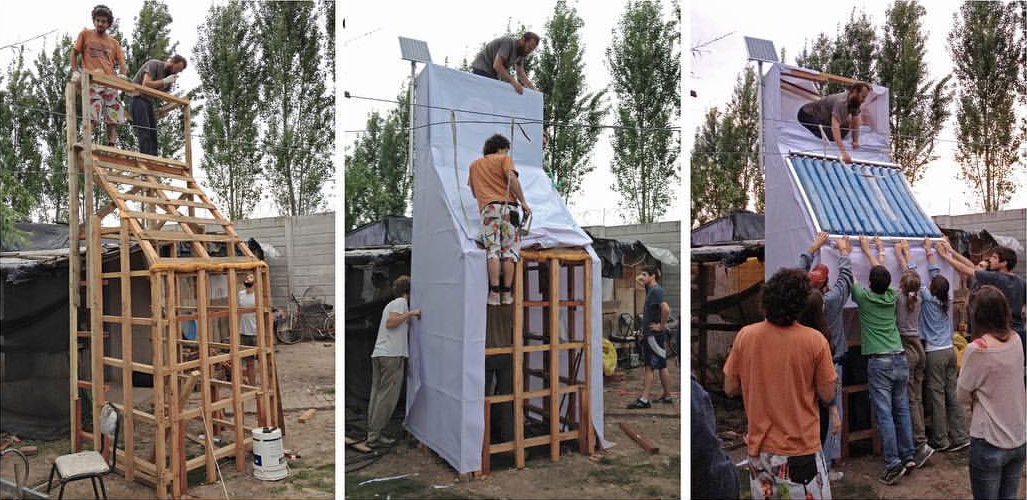 © Plug-in Social
Aleja Isa graduated in Architecture at the University of Buenos Aires (FADU-UBA). She is co-founder of Wulcon, a social enterprise in Buenos Aires that seeks to reduce emissions of greenhouse gasses by developing alternative business models in the energy sector, thereby obtaining a social benefit (environmental) through a commercial and economically successful strategy. She and Luciano Intile are also co-founders of Plug-in Social, a program to improve precarious housing through sustainable social development.
Luciano Intile (1980) also studied Architecture at the FADU-UBA. He is partner at IR Arquitectura, a cooperative design platform composed by architects and industrial designers trained in different academic and practical areas. The platform serves as an open, malleable and symbiotic system, with a focus on social, environmental and economic issues, and the objective of creating urban, architectural and object-based models.
Alejandro Borrachia is professor of architecture at the University of Buenos Aires (FADO UBA) and director of the Research Institute for Design and Georeferencing (IGEO) at the University of Morón (Buenos Aires), where he produces prototypes of sustainable homes on a real scale. He merges private assignments, academia and research in his practice, approaching architecture with a holistic view of the world and contemporary societies.
 About the Dutch city makers:
Eva Gladek (New York City, 1983) is molecular biologist, industrial ecologist and founder of Metabolic, a consulting and venture building company in Amsterdam that uses systems thinking to tackle global sustainability challenges. Metabolic aims to transform the global economy into one that is fundamentally more circular, regenerative, and equitable by design.
Sascha Glasl (Frechen, 1977) is a German architect and researcher based in Amsterdam. He is co-founder of the office Space&Matter, a proactive architecture agency of spatial thinkers, makers and initiators. With off- and online architectures we design and develop community focused environments and processes.
(*) Metabolic and Space&Matter are both partners in this cross-sectional coalition that aims to establish the partnership between the Netherlands and Argentina in the field of sustainable (urban) development.