Lecture series in the context of the publication 'The Flexible City – sustainable solutions for a Europe in Transition' by the authors Tom Bergevoet en Maarten van Tuijl. The book presents a toolbox for the new spatial assignment of the future European city. Building new space outside the city boundaries is no longer desirable. Instead, what exists should be made sustainable. This new spatial assignment is explored in the book through examples and instruments of different European cities. Now one of the authors, Maarten van Tuijl is guiding as a lead expert an European URBACT network of nine cities who are transforming post war fringe areas in their cities.
The post war fringes across Europe are up for a new interpretation and an update in order to stimulate compact cities and counter suburban sprawl. Although more people are living and working in these peripheral areas than in our inner cities, they do not get the same amount of attention and care. The urban fringe of most European cities lacks a clear structure, good public space and a clear identity.How can interventions be made here and a new quality and identity be introduced?
The Urbact network (SUB) URBAN nine cities that are re-inventing the urban fringe to increase its density and quality and to transform it into a sustainable area. This evening the first results of this network will be presented, with a focus on the urban challenges Antwerp, Baia Mare, Barcelona, Brno, Casoria, Dusseldorf, Oslo, Solin and Vienna are dealing with.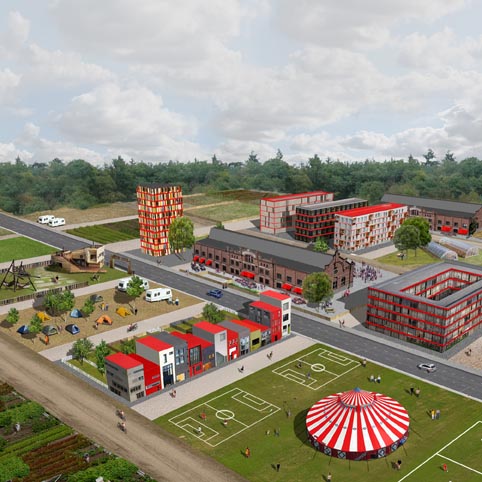 Programme
20.00 welcome
Moderator: Isabelle Verhaert (network coordinator, city of Antwerp)
20.05 – 20.20 introduction (sub) urban. Re-inventing the urban fringe
Maarten van Tuijl (temp.architecture, Urbact Lead Expert) introduces the topic of the European network and links it to the book 'The Flexible City'.
20.20 – 20.40 Transformation across borders
Short intermezzo: three dilemmas European cities in the sub>urban network are facing by representatives of five cities (through skype).
- Annie Attademo - Casoria (Italy)
- Gordan Cengic - Antwerp (Belgium)
- Betina Holt Haraldsen - Oslo (Norway)
20.40– 21.30 Expert debate (with the audience)
A debate about the challenges and opportunities of transforming the post war urban fringe and the dialogue between different European cities.
- Maarten van Tuijl, temp.architecture, Urbact Lead Expert, co-author the Flexible City
- Ivan Tosics, URBACT thematic pole manager, principal of Metropolitan Research Institute (MRI), Budapest
- Christian Rapp, city Architect Antwerp, founder RAPP+RAPP, professor TU Eindhoven
- Toine van Goethem, Municipality of Amsterdam
21.40 – Drinks and afterparty