Nearly every European city, town and village grew considerably in the twentieth century because of the unprecedented growth in European economies and populations. As a result, the stock of property in Europe increased rapidly. Existing properties now do not always meet the current needs. So they have to be transformed and/ or require maintenance, for example regarding energy efficiency. The maintenance and re-use of the existing stock is becoming an increasingly important task across Europe.
Although most parts of Europe are still experiencing population growth and economic growth, our cities, towns and villages will not expand as much this century as they did in the previous century. There is simply not enough room for this. Transformation is therefore the obvious solution for areas where there is growing demand for space. This means infill where possible in low-density urban districts and changing the designated use of sites that have become abandoned.
The increasingly uneven population growth across the continent is also resulting in regions that are suffering from population and economic decline. They face the threat of high vacancy rates. That makes the question of how to deal with existing property even more urgent. Which is better: a change of designated use or demolition?
While the European approach to urban development is still very much geared to new buildings and urban expansion, the challenge of how to reuse the existing stock is growing in day-to-day practice. Tonight will be hosted by the H-team (Dutch re-development team).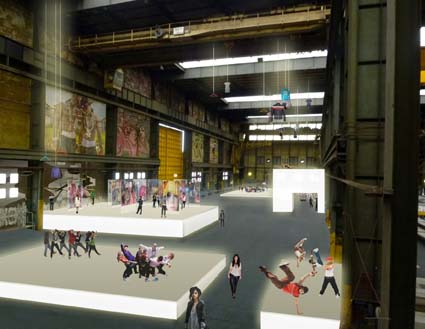 Programme
20.00 welcome
by moderator Maarten van Tuijl (H-team)
20.05 – 20:15 re-use across the border
relating the booktheme to subtheme from urban expansion to re-use: Tom Bergevoet (temp.architecture)
20.15 – 20.30 introduction into 5 themes: from urban expansion to re-use
5 diabolic dilemmas of reuse in city development (gebiedsontwikkeling) related to European examples. Pitched by H-team & guests
- Joep de Roo (Eurodite / Linkeroever)
- Gert Kwekkeboom (The Cloud Collective)
- Willemijn de Boer (H-team, ANNA Vastgoed en Cultuur)
- Gerben van Dijk (H-team, Bouwstenen voor Sociaal)
- Hilco van der Wal (H-team, APPM)
- Teun van den Ende (H-team, College van Rijksadviseurs)
20:30 - 21:30 Discussion in groups
Discussions / gesprekstafels under guidance of debaters / guests
21:30– 22:00 wrap-up and reactions
Presenting the solutions for re-use on a European scale, with reactions from the audience and a panel of experts.
22.00 – drinks and afterparty