The refugee crisis is not over. Since the EU-Turkey Statement took effect in March 2016, the number of refugees in Greece has far outgrown its capacity. Greece is no longer a temporary place to rest as part of a journey to Europe. It has rather become a prison, a wall guarding the EU. In September 2015, EU countries agreed to relocate more than sixty thousand refugees from Greece over the next two years. As of January 2017, however, only eight thousand of those promised relocations have occurred. Methkal and Abdulazez are Syrians who are currently stuck in Greece. They invite you to see and listen to the struggles they are facing, in order to bridge the distance and circumstances that divide us.
Photographs
The photographs exhibited are taken by 18-year-old Adulazez.
This is what he wanted to share about himself.
Your eyes is the way toward the truth, you can realize everything through it
by photograph and by art I am trying to contact with your eyes
I am trying to tell you thousands words, thousands stories from the other world
"the truth"
here I started my trip with photograph!
here I started silently shouting to the whole world through it
My name is refugee! My camera is my eyes and my arts is my mind
My goal is telling you the truth just, please open your mind and look behind the events!
I have love just, all my love to you.
The poems exhibited are written by Methkal, and this is his message about himself.
My name is Methkal Khalawi, I'm 27 years old and was working in oil fields as electronic technician. I studied electronic engineering, but didn't finish it, and English literature as well, but couldn't finish it either. When I began to write poems seven years ago, I used to write in Arabic, but when I came to Greece I began to write in English. It's like a hobby for me and I like it a lot. It helps me to continue my life.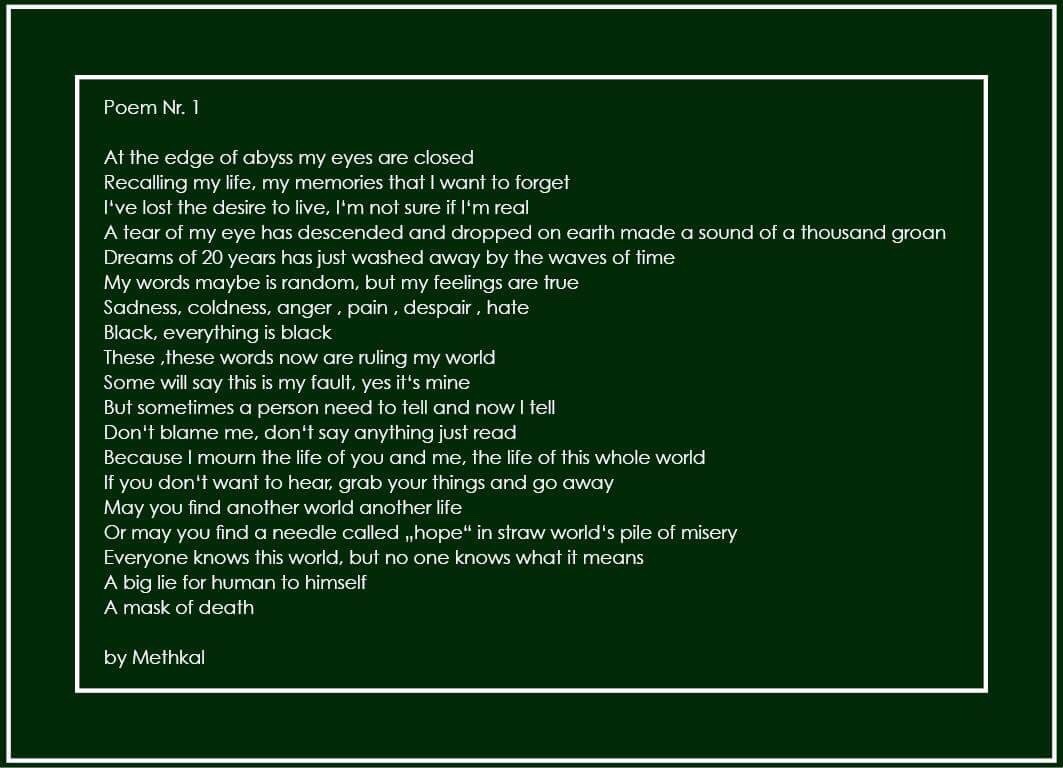 The exhibition is a joint initiative of Verhalen van Vluchtelingen and Voices on the Move. More of Abdulazez's photography can be found on his Facebook page Through Refugee Eyes. Together with the start of the exhibition, there is a special event at Pakhuis de Zwijger: De Vluchtroute #14 'Stuck In Greece', with storytelling, art and lectures. You can attend the event here: https://dezwijger.nl/programma/stuck-in-greece